Press
Scott Gimple Talks Morgan Crossover With TVLine; Saturn Nods for Fear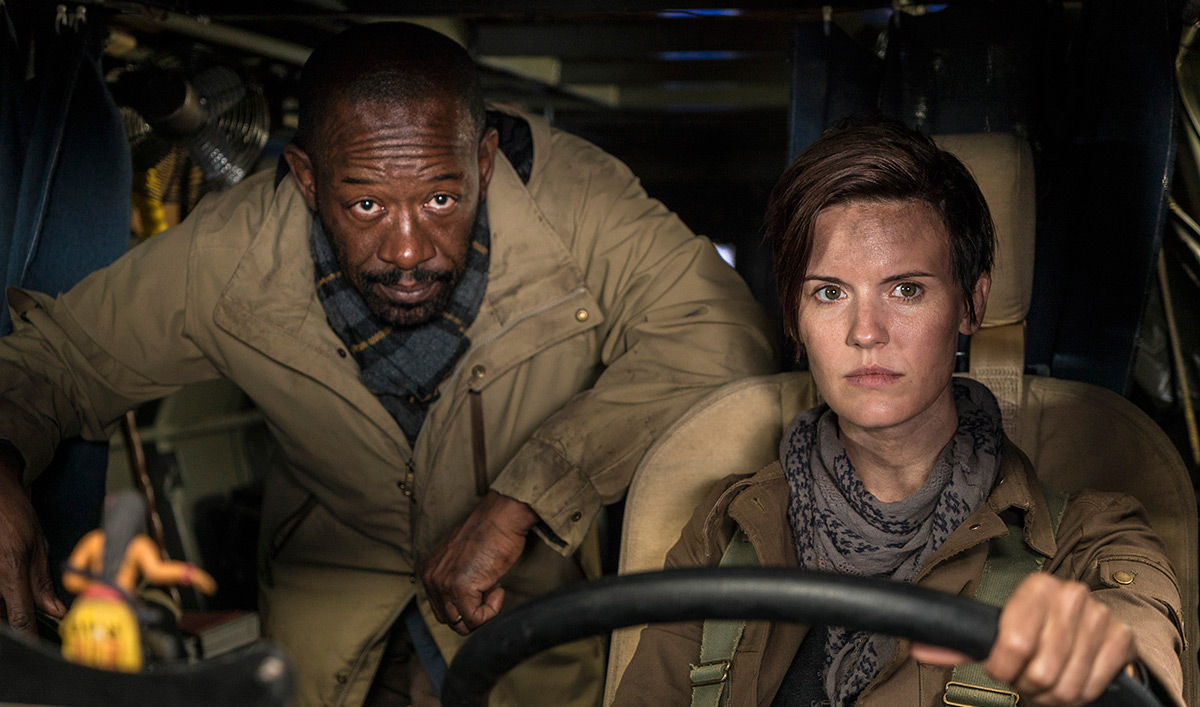 This week, Scott Gimple discusses Morgan's crossover with TVLine, while Variety reports on Fear the Walking Dead's three Saturn Award nods. Plus, TVLine reports the Season 4 Premiere will be shown in movie theaters in tandem with The Walking Dead Season 8 Finale. Read on for more:
• Scott Gimple discusses Morgan's crossover with TVLine, saying, "The story we had planned for this season very much [aligned] with the idea of Morgan going on to Fear. This is very much The Walking Dead's Morgan story. But it's just, at its conclusion, where he was at really opened the door emotionally for him to enter the world of Fear."
• Variety reports that Fear the Walking Dead nabbed three Saturn Award nods, for Best Horror Television Series, Best Performance by a Younger Actor (Alycia Debnam-Carey) and Best Guest-Starring Performance (Michael Greyeyes).
• TVLine reports that some movie theaters will host screenings of The Walking Dead's Season 8 Finale followed by Fear the Walking Dead's Season 4 Premiere on Apr. 15.
• ComicBook.com features a poster — depicting Rick and Madison separated by Morgan — for the double feature, which is being billed as "Survival Sunday."
• Teasing Luciana's Season 4 return, Danay Garcia reminds TV Guide, "I have a history with Nick now, the fact that I left him. And I have a history with the Clark family, too. If you remember in Season 3, I just met them." Bleeding Cool also interviews Danay Garcia.
• Entertainment Weekly introduces a new teaser where viewers "hear from both Morgan and Madison as the two share stories from their past."
• Entertainment Weekly offers a deleted scene from Season 3, Episode 7, "The Unveiling," that "shows Ofelia (Mercedes Mason) challenging Nick (Frank Dillane) in the midst of the war between the two competing sides."
• Screen Rant, calling Season 3 "arguably the most critically successfully run of the series thus far," showcases a deleted scene from the Season 3 Premiere, "Eye of the Beholder," that "sees Troy clash with both Travis (R.I.P) and Nick."
• Entertainment Weekly reports that Michael Satrazemis is "in a year-round apocalypse," in his own words, because The Walking Dead's director of photography and sometime director has joined Fear the Walking Dead as a directing-producer while continuing his duties on the original show.
• ComicBook.com spotlights the character biographies of Season 4's new characters, including Jenna Elfman's Naomi, Garret Dillahunt's John and Maggie Grace's Althea.
• ComicBook.com views a new Fear the Walking Dead Season 4 teaser that "allows audiences to hear from its characters, both new and old."
• Cinema Blend checks out a deleted scene from Season 3's "This Land is Your Land," which features "one of Ofelia's final scenes, where she gets to have a sad and final laugh with Crazy Dog."
Fear the Walking Dead returns Sun., Apr. 15 at 10/9c. Click here to add the premiere to your calendar.
To stay up-to-date with the latest news, join the Fear the Walking Dead Insiders Club.
Read More