Q&A
(SPOILERS) Fear the Walking Dead Q&A — Ray McKinnon (Proctor John)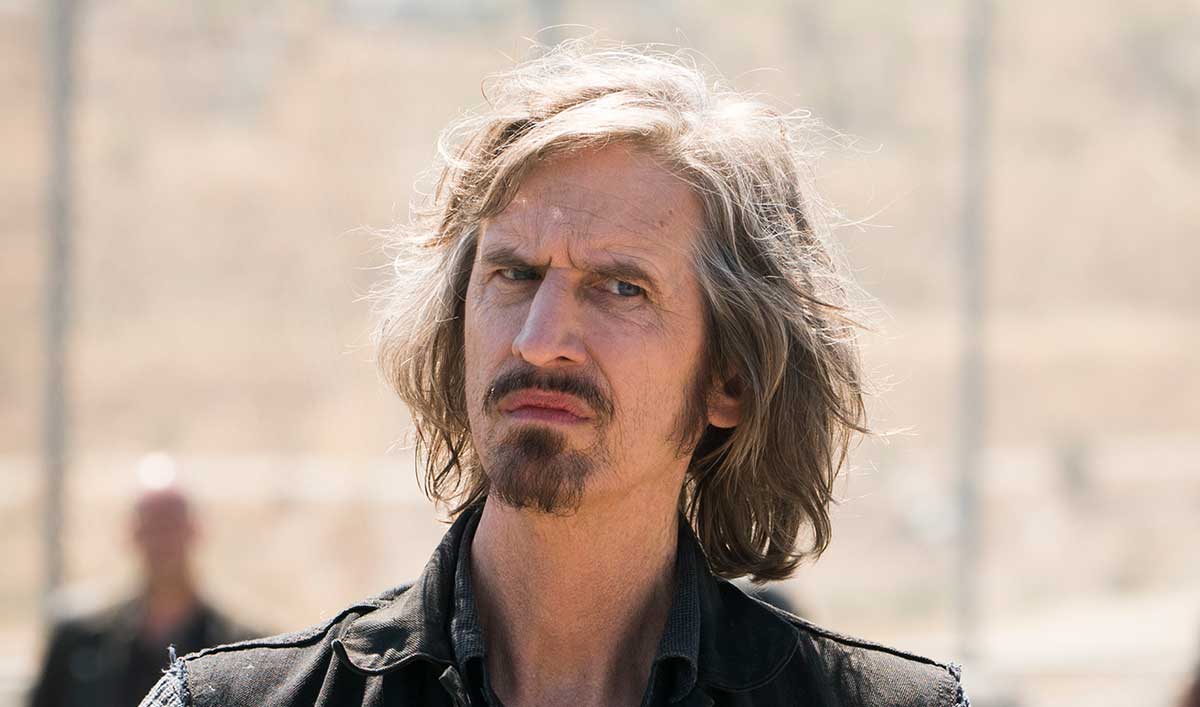 Ray McKinnon, who plays Proctor John on AMC's Fear the Walking Dead, talks about reuniting with Kim Dickens on the screen, playing such a dastardly character and why Alicia should be afraid.
Q: What drew you to this story?
A: Money and adding to my pension points. [Laughs] I was in Budapest, Hungary visiting my girlfriend and Dave Erickson reached out to me with a really lovely email proposing this character. I knew Dave from Sons of Anarchy and he's a dear friend. I also know Dave Alpert and Robert [Kirkman]. In our first season of Recitfy, they loaned us their accounting offices from The Walking Dead to use as our writers' room, so there's been a longtime connection with those guys. The character spoke to me and while reading, I started to get excited. He's dastardly and delicious and very bright. It was really an exciting character to think about playing, so I just jumped in. I went from Hungary to California for about three days and then straight on to Mexico.
Q: As the founder of "the proctors," what kind of leader does John strike you as?
A: I loved the philosophical theme of this season with the idea that water is so important, which it is. It's also a 21st century issue in the world today. The closest thing to an apocalypse these days would be a revolution or an overthrow of the government. What always happens after a revolution and after the turmoil is somebody comes in to fill the vacuum and it's usually the kind of people similar to Proctor John, who are Machiavellian and perhaps a lack of a certain kind of conscience that allows them to make decisions that other human beings couldn't make. He's filling what he sees as a vacuum in society. If he's not controlling the water, there will be chaos and someone else like him will come in. That's the ongoing battle: Can we collectively run our society or do we always need this power structure above us to dictate?
Q: If John's surgery doesn't succeed, he'll have Eddie and Alicia killed. How did that land on you when you read it in the script?
A: He certainly has some kind of personality disorder, narcissistic tendencies and he's definitely extreme… He has a certain kind of motivation to offer people. [Laughs] Maybe he feels that as a leader, if he goes, they should go. He's definitely cold-blooded. Cold blood running through those veins!
Q: Still, he does seem to have a soft spot when he's talking to Alicia about his aunt. What did those scenes uncover for you?
A: You could say that he's not a sociopath and he's just become this cold-blooded person because of circumstance, but it also begs the question: can people who really are cold-blooded also feel something akin to love for who they care about? …He siphons other people's emotions. He may not have access to that real empathy and love, but he can latch onto that in others as he watches them tenderly express themselves to each other.
Q: Does he care about Alicia?
A: He has a kind of narcissistic love and narcissists want others to love them. They demand loyalty above all else and I think that's the setup with the story with Alicia. Will you serve me? Some of that "serving," I feel is left out in the open about what exactly that means and how dangerous that is for her.
Q: At the end of the episode, the proctors are attacking the dam, where Alicia's family is.  How do you imagine this might affect John and Alicia's dynamic?
A: He's very attached to her, but if she fights, he will kill her. That would hurt him to do that. He's going to be left. "You're the lucky one, Alicia, because you're going to die! I'm going to be left suffering and grieving you." [Laughs]
Q: You've worked with Kim Dickens on the screen before. Now, you're acting on opposing sides. Has that been fun for you?
A: I knew Kim back from Deadwood. We spent a season together on Deadwood. I've always admired her work and we became friends and now I get to be dastardly towards her character! It's a little strange at first. [Laughs] But you're playing a role and before you know it, you're two characters in a situation rather than two friends who are acting in a situation. That's what happened and it was a joy to work with her. She sets such a tone to the whole show. She's generous and welcoming to guest stars as we come in. This is the 15th episode of the third season, so you know they're all worn out but they're all so damn gracious. It's a real testament.
Read a Q&A with Edwina Findley, who plays Diana.
Watch full episodes of Fear the Walking Dead on amc.com and AMC apps for mobile, Fire TV, Xbox One, Apple TV, Roku and Chromecast.
Fear the Walking Dead airs Sundays at 9/8c. To get more exclusive interviews with the cast, join the Fear the Walking Dead Insiders Club.
Read More