Q&A
(SPOILERS) Fear the Walking Dead Q&A — Edwina Findley (Diana)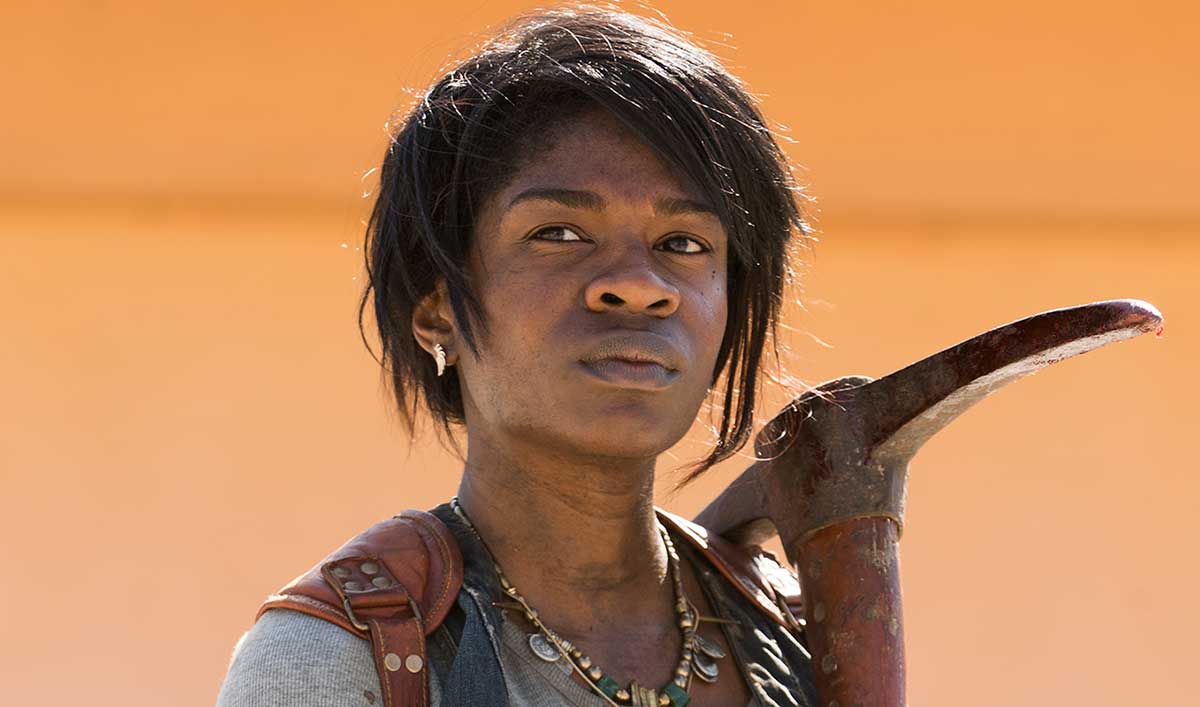 Edwina Findley, who plays Diana on AMC's Fear the Walking Dead, talks about keeping her role a secret from social media, her character's intricate wardrobe and how kickboxing prepared her for the apocalyptic world. 
Q: You make quite the entrance in Episode 14! Was that your very first scene on the show or did you film out of order?
A: It actually was my very first day and my very first scene. I came to Mexico and we did a two-hour costume fitting and it was so detailed. Every trinket and every item from my wardrobe, down to having teeth on my belt from zombies, was so well thought-out and planned based on this life I've been living out here in the wild all by myself and everything I've collected along the way. After doing that, it was go time the very next day.
Q: Two seconds on-screen and Diana's already expertly hacking away at the Infected. How did you bring that physical intensity?
A: As I was reading the script, I thought, "Okay, clearly she is an expert at this. Who is this woman?" It's funny because I'm a new mom, so I'd been in all these workout classes after having my baby to get fit. I was in this kickboxing class and for some reason, I kept having this vision of me knocking out these enemies who were coming at me. It was crazy when I was offered this role and saw what it was because it was like I was training for this without even realizing it. [Laughs] It was absolutely perfect.
Q: What about your huge pickaxe? Were you impressed by Diana's choice of weapon?
A: Absolutely. They gave me a real pickaxe at first during fight rehearsals and it's really heavy. To think about Diana, who's been out here for so long, being able to just wield and swing that thing with such precision – I was very impressed by her. I'm impressed with how she's made this pickaxe an extension of her own body. I was also impressed by myself. The warrior has entered the building! [Laughs]
Q: This is your first time playing a character in the apocalyptic world…
A: It is. I have a lot of friends on The Walking Dead – many of whom did The Wire together where I used to play a gangster. I'm also really close friends with Danai [Gurira], who plays Michonne. So, a lot of my friends are a part of that world. I'm such a fan of the writing on Fear the Walking Dead. The relationships, the characters, the struggle and the journey are so human and so extremely relatable. As a viewer, I'm already on the edge of my seat, gasping and wondering what's going to happen next just like everybody else. To now join the show with such a fierce character is a real treat.
Q: Did you have to keep your role a secret from those around you? Who was it hardest to keep it from?
A: It was so hard, especially because I was always going back and forth to Mexico… I think the hardest to keep it away from was social media, honestly, and not being able to post anything. Followers and fans want to know where you are and what you're doing and I'm just like, "Here's a picture of my baby and what I ate for breakfast." Meanwhile, I'm swinging a big pickaxe at zombies. It was definitely hard to make sure nobody in the social sphere knew what I was working on.
Q: Can you talk a little about shooting with Alycia Debnam-Carey?
A: Alycia is so sweet and so open and just genuine. I had a pleasure getting to know her. She's so mature and insightful and she has a great handle on the world around her. She's also so dang funny. In between scenes, she's cracking jokes and she's partially why I'm addicted to iced coffee on set. Every five minutes, she was asking for one and she had me hooked. It turns out we live in the same neighborhood in L.A., so we've promised to do brunch when we are back in our pre-apocalyptic world where brunch is a regular part of human life.
Q: Both Diana and Alicia seem to have these tough exteriors but are able to bond pretty quickly. How do you compare the two women?
A: They're both in search of friendship and connection in this lonely world where you can't trust anyone. It's hard for Diana to let her guard down and let Alicia in. At first, she's really protective but when she finally does open up, they realize they both needed that connection. Unlike Alicia with her family, Diana's has been surviving alone most of this time. She knows how to protect herself and she's streetwise, but she's also wounded. She's had to fend for herself for a long time. I believe a lot of the people close to Diana have died. Alicia, whether she chooses to embrace them or not, still does have a family that loves her. I think they also have had different upbringings. I envision that in Diana's previous life, she's always had to be a fighter in some way and I think that explains why she's survived for so long. The different dynamics are interesting and I think they can teach one another.
Q: Despite their shared "no friends" rule, do you think they make a good team so far?
A: I absolutely think so. As much as they don't want to admit it, they need each other. They're better together than they are alone even though they're from two different sides of the track. Ultimately, they literally end up saving one another's lives and I think they themselves are starting to realize, "Hey, girl. We might want to stick together!"
Read a Q&A with Justin Rain, who plays Crazy Dog.
Watch full episodes of Fear the Walking Dead on amc.com and AMC apps for mobile, Fire TV, Xbox One, Apple TV, Roku and Chromecast.
Fear the Walking Dead airs Sundays at 9/8c. To get more exclusive interviews with the cast, join the Fear the Walking Dead Insiders Club.
Read More