Press
THR Examines Midseason Premiere; Alycia Debnam-Carey Talks to EW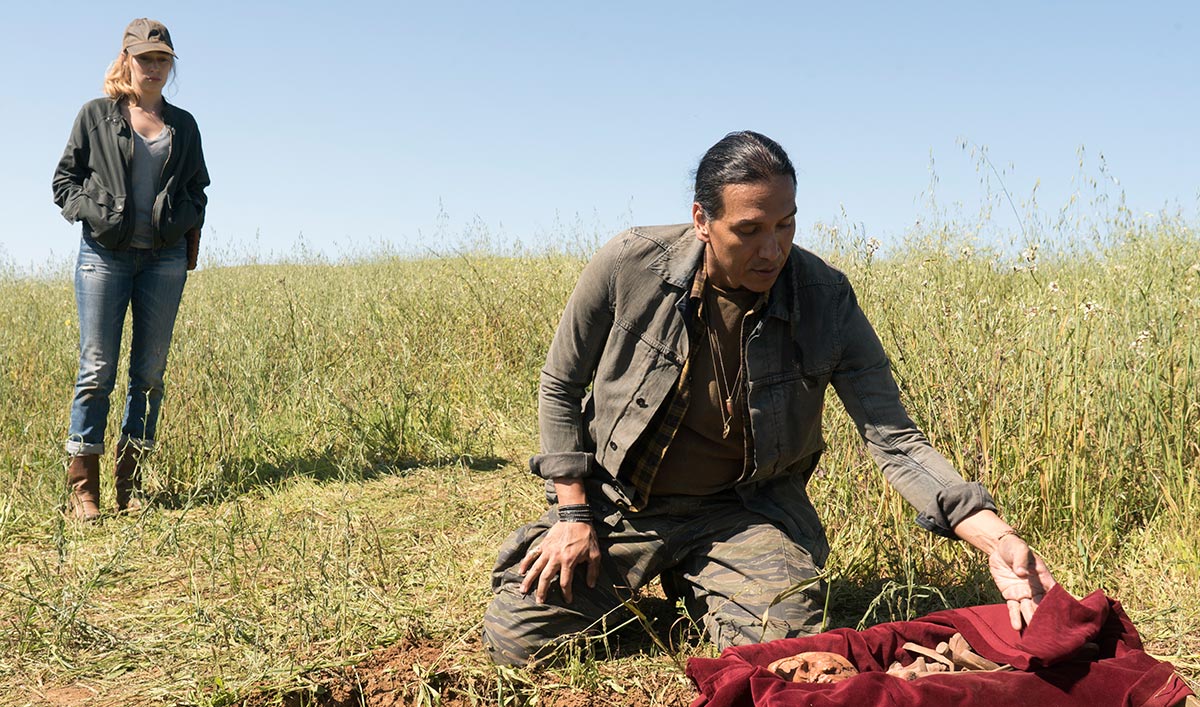 This week, The Hollywood Reporter examines the Midseason Premiere with Dave Erickson, while Alycia Debnam-Carey talks to Entertainment Weekly. Plus, TV Guide applauds Alicia as the leader the show needs. Read on for more:
• Talking about Madison and Nick with The Hollywood Reporter, Dave Erickson reveals that "to me, there was always going to be some kind of conflict between mother and son. There was going to be a final confrontation between the two of them way down the road. There's echoes of that as we get toward the end of the season."
• Teasing future episodes, Alycia Debnam-Carey explains to Entertainment Weekly, "Alicia is on her own at the ranch and she has to take a lot of responsibility for a lot of people. And there's a big threat coming. There's a storm a coming and she's going to have to deal with that."
• TV Guide applauds Alicia: "Unlike Jake, she has an iron spine; and unlike her mother, she still has a moral compass. She may be the exact leader Fear the Walking Dead needs."
• Dave Erickson tells Entertainment Weekly, "The back half really is a season about reuniting. Having scattered everyone to the four corners, it's really about bringing them all back together, and giving them something of a common cause."
• TVLine asks Dave Erickson about Daniel and Ofelia, and he explains that "you can bank on a father/daughter reunion. The circumstances of that reunion will be incredibly dark and twisted, but yes."
• Dave Erickson reveals to Cinema Blend that Troy will be back, that "in the act of not putting Troy down, in scapegoating him and sending him out into the wilderness, [Madison]'s taking a different tack. She's going in a direction that we haven't seen her go in before."
• Colman Domingo, speaking with Digital Spy, says that "all the players are going for broke in every single way. I'm just telling you right now, when you get to episodes 15 and 16 [of Season 3b], it's going to blow your mind."
• CarterMatt, which is "probably more excited for what lies ahead than we've been at any other point in the show's run," has a wishlist for the Season 3 Midseason Premiere.
• ComicBook.com cheers, "Fear the Walking Dead has emerged as one of the best show's on Sunday nights in its most recent episodes."
• "I think that the trauma of [Jeremiah Otto's] murder is gonna stay with [Nick] for a while, and he'll continue to be haunted by it, and that's gonna steer him through the back half," Dave Erickson says to Cinema Blend.
• Ruben Blades, speaking with BT.com, says, "Salazar's concern has always been his family. He is going to go wherever they go. Everything else is secondary. He will stick by Ophelia no matter what."
• Daniel Sharman tells Showbiz Junkies, "What I think is so good about the show is the outside perimeters of what they are saying is this is a zombie apocalypse but it doesn't feel like it's that thing. It's a very specific and very well-made investigation into human beings."
• For recaps and reviews of Season 3, Episode 9, "Minotaur," and Episode 10, "The Diviner," check out BuddyTV,
CarterMatt (9 and 10), ComicBook.com (9 and 10), Entertainment Weekly, Forbes, 411mania.com, Hidden Remote, IGN, MarketWatch, Syfy Wire, Undead Walking (9 and 10) and Vanity Fair.
Watch Part 1 and Part 2 of the Midseason Premiere on amc.com and AMC apps for mobile, Fire TV, Xbox One, Apple TV, Roku and Chromecast.
To stay up-to-date with the latest news, join the Fear the Walking Dead Insiders Club.
Read More