Q&A
(SPOILERS) Fear the Walking Dead Q&A — Lisandra Tena (Lola)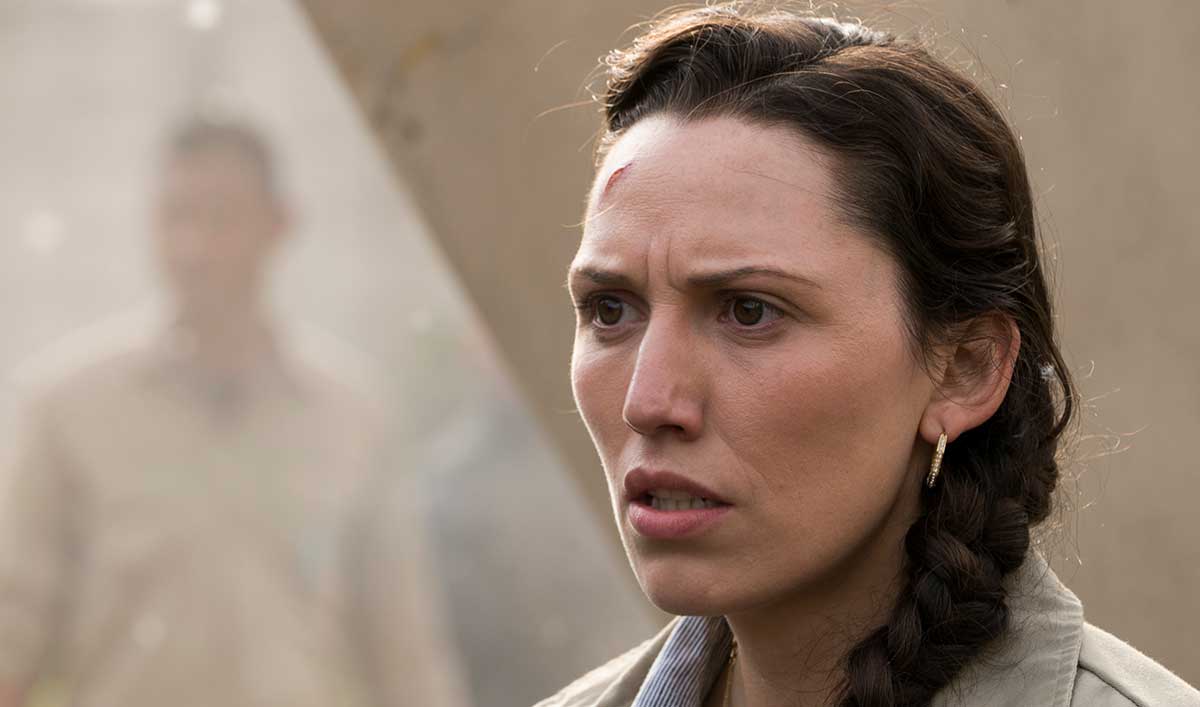 Lisandra Tena, who plays Lola on AMC's Fear the Walking Dead, talks about joining the apocalyptic world, the pressure on Lola's shoulders and Madison's attempt to negotiate for a precious commodity. 
Q: What immediately stood out to you about your character, Lola?
A: She was very strong. I noticed that right off the bat. She wasn't a weak character but she was also a compassionate character, which we don't see much of on the show. [Laughs] That had some weight. Also, the fact that she's Mexican resonated because I'm Mexican-American. All my family is from the north side of Mexico.
Q: What was it like for you as an actress to immerse yourself in the apocalyptic world?
A: It was exciting and challenging at the same time. I was definitely nervous. Being able to work in Mexico was something profound – to be able to go back and shoot there because that's where it's actually taking place. That was definitely a blessing, for sure.
Q: Daniel's violent streak definitely differs from how Lola chooses to run things. How do you compare the two as leaders?
A: I definitely see that he's been shaped by this world. He's experienced the outer world probably more so than Lola has, which is why she hasn't developed that sense of violence. She sees that deep down inside, he's a kind person and if it wasn't for this situation and these circumstances, he probably wouldn't be this way. She definitely sees past that. He would probably still have these leadership qualities, but violence might not be the first thing he goes to. She doesn't have the same understanding of what it's really like to be out there and how people have become.
Q: Is it possible for them to co-exist or are there bound to be problems?
A: I think it is possible because he's partnered up with her now. She's leading the dam, so it's her call and she has a say. She feels this may open him up to not being the person he has been out in the world. She sees that there's hope for him and that's why she's okay with him there.
Q: What was your experience working with Rubén Blades so closely?
A: What was it like?! Oh my god! He's a delight. He's really wonderful to work with. He's definitely calming, although he is a riot. He's always cracking jokes and he's very playful, but he's a grounded person. He's open and so easy to work with. We had great chemistry right off the bat. I don't know if it has anything to do with us being Latino. [Laughs] It's funny because we're both so serious on the show, but right before takes, we're cracking jokes.
Q: In Episode 11, Lola is originally adamant about not negotiating with Madison. What causes her initial fear?
A: Lola is hesitant because of what happened with Dante and how that turned out. She doesn't trust Madison. She doesn't know who this person is. Even though Daniel knows her, Lola doesn't know her. Something Madison wants to trade are guns and Lola doesn't want to encourage violence. That's not how she wants to run things. It's the fear. She fears losing the dam to some strangers. She's more guarded now.
Q: Lola says Madison is trying to save her own children while she herself is trying to save her city. How would you describe the pressure on Lola's shoulders right now?
A: Lola understands what Madison's going through and the fact that she has a family, but she needs Madison to know the gravity of the situation and that this isn't personal. Lola's trying to protect her family, which is her city. So, she wants her to know she's using caution. The line is really profound because it tells you so much about the character. This is her mission in life – to protect and serve her community and her people. You can see that it just comes naturally to her. There's no question about it. Madison would try to do the same for her family.
Q: She's in a powerful position right now as "the Water Queen." Do you think she made the right call by agreeing to trade with Madison for guns to protect herself?
A: You know how sometimes when we're going through something, we only see what we want to see. When she does actually agree to this, people are now coming to the dam, which is putting that whole area at risk. I think that's when it becomes clear to her that something has to be done. She may have to just trust Madison and trust Daniel's advice. They've been able to survive in the world, so perhaps this will work out.
Read a Q&A with Colman Domingo, who plays Strand.
Watch full episodes of Fear the Walking Dead on amc.com and AMC apps for mobile, Fire TV, Xbox One, Apple TV, Roku and Chromecast.
Fear the Walking Dead airs Sundays at 9/8c. To get more exclusive interviews with the cast, join the Fear the Walking Dead Insiders Club.
Read More