Q&A
(SPOILERS) Fear the Walking Dead Q&A — Daniel Sharman (Troy)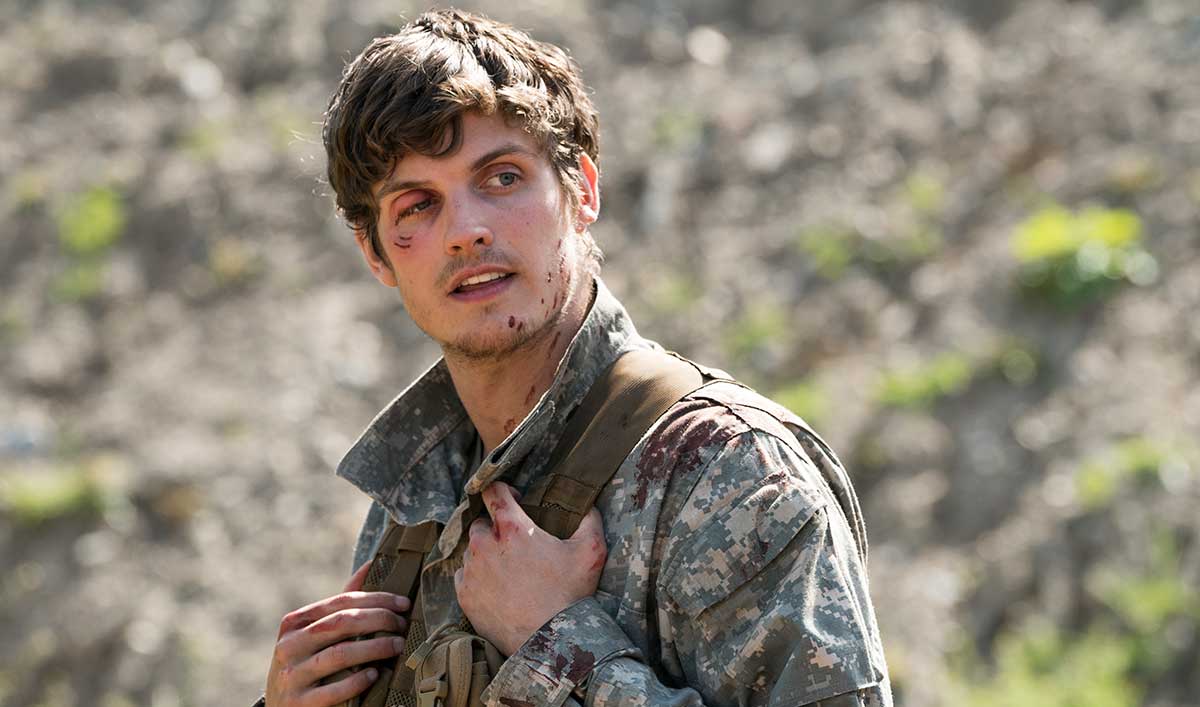 Daniel Sharman, who plays Troy Otto on AMC's Fear the Walking Dead, talks about Troy's inner world, who's in charge of the ranch now, and how Kim Dickens ruined spoons for him.
Q: Considering all the powerful players, who's really in charge of the ranch now that Jeremiah is gone?
A: There's a struggle for anyone to really find where they are in this order of things. That's being perfectly manipulated by Madison. The interesting thing is that she doesn't need to be the leader, and it's almost better to be able to influence the leader. She's done a really smart job of manipulating in order to not be the symbolic leader but more of a power player. I think that might continue to happen, and you'll see the puppet strings being pulled by all members as all of these families are in survival mode.
Q: The "community" obviously feels different now that Walker and the Nation are here. Is the enemy still the Infected, or is it each other?
A: What I think the writers have done really smartly this season is they've used things like jealousy and ego to really build a world where human beings will always be human beings. Whenever any kind of big upheaval happens, humans will always find a way to win. What's great about the scripts is that humans are flawed and troubled. Human beings will always f—k it up, and that's really interesting to me. We're all fallible. I think the series really explores what happens when you push human nature to the limit and what humans will do once civilization collapses.
Q: What's it like for someone like Troy to be a prisoner on his own land?
A: For Troy, all of this is a nightmare. There are things that Troy's been shielded from because he's obviously not been in school or any of those things. He's had a way of learning how to interact. It's an incredibly interesting time for Troy. He's being confronted by his fears and the things he's learned and have been instilled in him since he was a boy. There are some interesting dynamics happening. The ideologies he's come to know are being challenged. In some ways, he's learning more than any other character.
Q: Can you share some behind-the-scenes bits from the shootout scene that transpires when Troy is asked to give up his weapons?
A: The thing I remember specifically about it was working with Frank [Dillane]. There was a nice period of time where we were living in the same place and got to go through it and work out bits and pieces. Over two days, we spent hours and hours breaking glass and jumping and shooting guns, but what we really wanted to tell was this story of these two boys who had such a different upbringing. These two men should be out in the world or going to university and yet, they're here in this life-or-death situation and trying to survive. We wanted the relationship, more than anything, to be important in that. We had a great time. With all the long hours, it was fun.
Q: Before Nick confesses his deed during the shootout, does Troy truly believe his father's death was a suicide, or did he always have his doubts?
A: I think he always knew. He always suspected there was something deeply wrong because it didn't fit the idea of his father. Something was askew there. When he's told by Nick that Nick was the one who killed his father, the first thought is, "Oh, then you're here because of guilt. This stand you're making doesn't mean as much." For me, he always knew that Nick was probably a part of it. I think his biggest disappointment is that now this bravery he's seeing doesn't mean anything. Human beings have always failed Troy along the way and now, somebody who seems to have a genuine reason for being brave – which is what Troy values – is suddenly questioned.
Q: What is the significance of Troy asking Madison to be the one to escort him to his exile? What draws him to her?
A: His fascination with Madison is extremely deep and extremely complex. He badly wants Madison to be the one to take him because of the obvious safety reasons but also, he wants to be able to look at her and have those last moments with somebody that he's played this game of chess with for so long. I think that interaction right at the end is about Troy really setting weapons down and saying, "I'm tired of playing this game. Can we just set this aside for one moment?" She can't do that, and that's another huge betrayal and loss to Troy. She can't quite set this down even when this game has been played for so long and they've both lost so much. He just wants to be able to relate as people, and she can't do it and it becomes a trigger.
Q: Can you ever look at a spoon the same way again after your very first scene with Kim Dickens?
A: [Laughs] No! When Kim and I sat down for lunch on set, soup was definitely off any of my menus for a bit. She's definitely ruined spoons for me.
Watch full episodes of Fear the Walking Dead on amc.com and AMC apps for mobile, Fire TV, Xbox One, Apple TV, Roku and Chromecast.
Fear the Walking Dead airs Sundays at 9/8c. To get more exclusive interviews with the cast, join the Fear the Walking Dead Insiders Club.
Read More