Q&A
(SPOILERS) Fear the Walking Dead Q&A — Colman Domingo (Strand)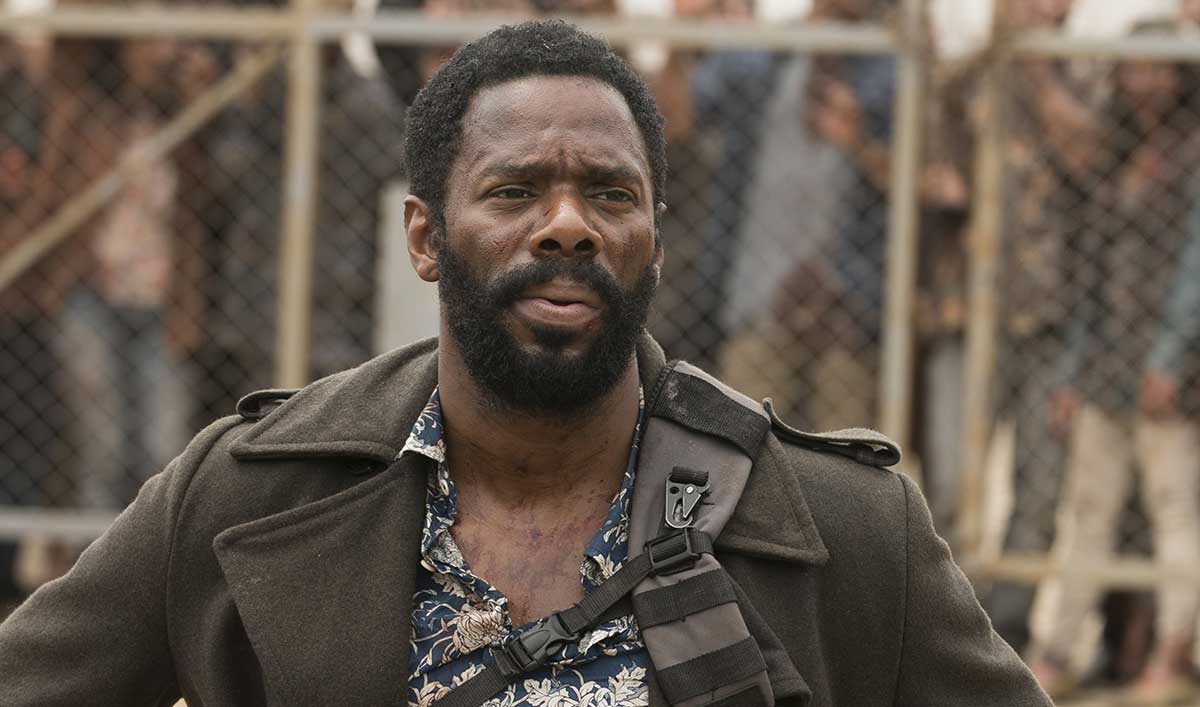 Colman Domingo, who plays Victor Strand on AMC's Fear the Walking Dead, talks about the situations his character always lands himself in, reuniting with Kim Dickens and why heading to the dam might be a risky decision.
Q: Episode 10 finds Strand getting roughed up and in debt to some dangerous people. Does he have a knack for landing himself in these kinds of situations?
A: [Laughs] I think he does! He's always the guy that lands himself on top. I think he's excited by life or death situations. He rather fight it out than standby. That's something we learn about him and it justifies why he burns the Abigail. He rather light a fire to it and go forward and embrace the apocalypse.
Q: He also gets to reunite with Madison after a while, and she jumps right into saving him. How would you describe the evolution of their relationship?
A: They start to bond last season and there's love there. It's a relationship we don't often see on television – love between a man and a woman that's not sexual. There's this deep intimacy and they really know and understand one another. They're willing to make sacrifices, stick by each other's side and challenge each other. They're reuniting now after they've had to do some real work on themselves to get to this point and be fully invested. Strand went off on his own and started over. They make a good power duo. [Laughs]
Q: Was this the first episode you filmed with Kim after being apart for a bit?
A: Yeah. We had completely separate storylines all season, so we couldn't wait to finally come together after 10 episodes. We heard it was a possibility, but we didn't know. I had no idea what was going on at the ranch – and I didn't want to know. When I would read scripts, I would just read my storyline. So, when I met up with Kim, anything that she told me was brand new. I think our characters as well as who we are as humans are echoing each other. Colman was just as excited to see Kim as Strand was to see Madison. I love working with Kim. We have a natural sense of playing together and discovery of the work.
Q: Madison and Strand share a moment when he learns about the loss of Travis. How do you imagine Travis's death affects him, if at all?
A: I think it lands on him more in a sense of how to take care of Madison, knowing that was her everything and she risked it all for Travis many times. Strand's there so she can lay on his shoulder and it's like, "You don't have to be strong with me. Everyone else expects you to be strong." Even Travis expected her to be strong. I think in many ways, she was stronger than Travis but also needed Travis and now, Strand gets to let Madison take a breath.
Q: Strand says his mother named him Victor because she knew he'd always "win." How'd that line land on you when you came across it? How does it affect how he lives his life?
A: When I first read it, I thought it was some of the most fantastic storytelling – especially when it comes to a name. Knowing that Victor Strand is a wordsmith and the idea that maybe that's even been inspired from his mother who probably let him know that words have meaning and his name has meaning. To know that he will always find strength and he'll always be victorious – that's something we learn about Victor Strand. He has such a self-knowledge that he will overcome many challenges in his life that he will meet. That affects how he lives his life, which is why he's willing to take risks in many ways.
Q: Can you share some behind-the-scenes details from the scene where a chained-up Strand defends the front gate from Infected? What kind of choreography went into it?
A: We have an extraordinary stunt team and we rehearsed it. I'm pretty quick with my stunts, apparently. We learned the whole sequence in about 10 minutes, but it was set up by my stunt double and the stunt coordinators. They make it very seamless for you and very safe. You work at it and find ways to help you define it even more so, making it personal for your character. There are little elements you may add or be asked to add that makes it more personal – how you kill, the stakes that you're playing, what time of day it is, if you're exhausted, what you've been through – that help dictate some of the way you play it. You may play it a little longer or shorter or a bit more violently. Being chained up already brings out this visceral reaction. It's very barbaric – the idea that you truly have no power and you're there to protect this fortified place and you'll risk your life doing it. It's really devastating.
Q: Is water the new currency in the apocalyptic world these days? If so, who holds the power at this point?
A: I think that's what we're searching for. The one who holds the resources and the things people need the most to survive. We all need water, we all need soil – very basic things. Everyone's trying to find out how to get on top and how to bargain. It's like what they do at Burning Man with the barter system. That's exactly what they're doing. And how do you find what to trade when you have nothing?
Q: Madison insists Strand take her to the dam. From Stand's perspective, what could go wrong if he does?
A: Strand has seen some things go down at the dam. [Laughs] People who used to be remotely friendly are not so friendly at all. Daniel was already not the warmest man in the world. He's someone who would grate someone's skin off to get information out of them and now he's just full-on the Terminator. So, Strand is not truly ready to go back there! But he does have to figure it out and he has some obligations to fulfill. He has to do a solid for Madison because she saved his life. For lack of a better expression, he's like "f—k!" But again, he's someone who thrives in situations that are life and death. I'm sure on this ride to the dam, he'll figure out a lot of things.
Read a Q&A with Daniel Sharman, who plays Troy.
Watch full episodes of Fear the Walking Dead on amc.com and AMC apps for mobile, Fire TV, Xbox One, Apple TV, Roku and Chromecast.
Fear the Walking Dead airs Sundays at 9/8c. To get more exclusive interviews with the cast, join the Fear the Walking Dead Insiders Club.
Read More