Press
TV Guide on New Trailer; Esquire Eager for More Kim Dickens in Season 3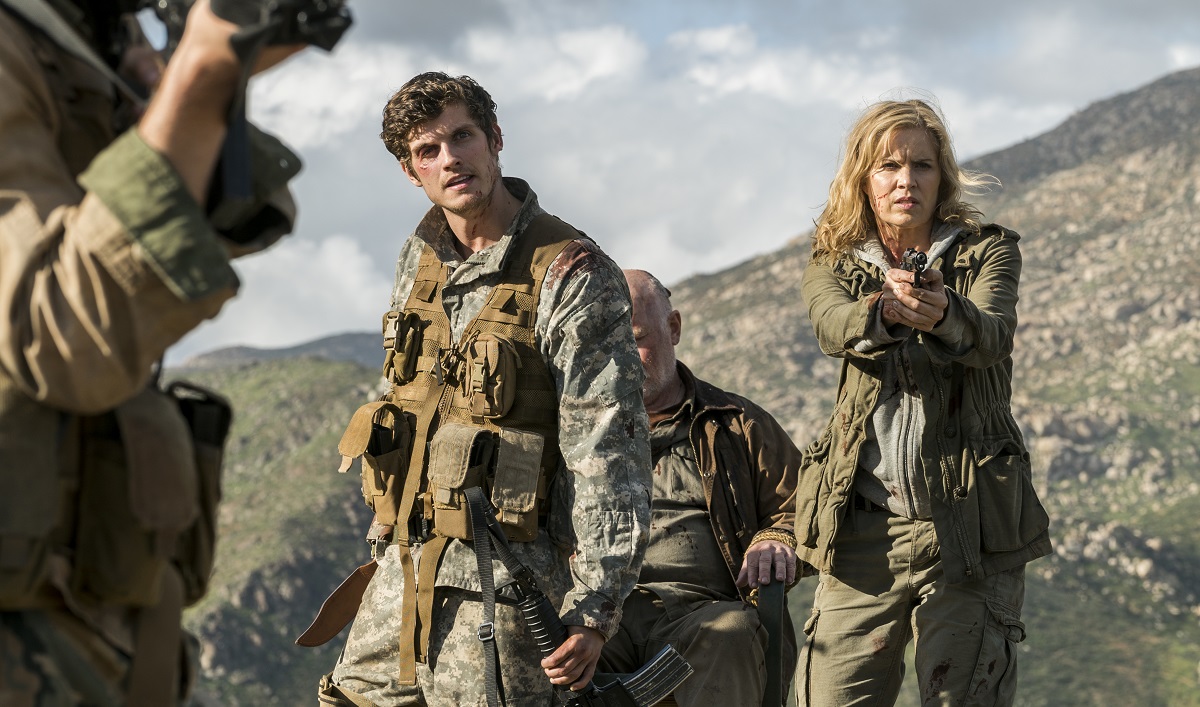 This week, TV Guide checks out a new trailer for the second half of Season 3, while Esquire is eager to see more Kim Dickens. Plus, Alycia Debnam-Carey talks about what's to come with ComicBook.com. Read on for more:
• TV Guide spotlights a trailer for Season 3's second half and speculates the new episodes will focus on "uneasy alliances with enemies in order to move the greater good forward. Given the non-stop barrage of in-fighting in the 30-second tease, it's pretty obvious that doesn't go so well."
• Anticipating the season's second half, Esquire says the show continues "to highlight the amazing talent that is Kim Dickens, who plays anti-heroine Madison Clark. And we're OK with that."
• Speaking with ComicBook.com, Alycia Debnam-Carey teases, "We've done some really, really cool stunt stuff which is in the latter half of the season which I can't really talk about but there are some great new places for the infected to be hiding that we've never done before."
• In another promo for the second half of Season 3, International Business Times says Madison and Strand are reunited, and "Strand reveals to Madison that the apocalypse is global."
• Indian Country Media Network speaks with Michael Greyeyes, who says, "What I think is amazing about Qelataqa Walker is that he is an ex-lawyer, smart, articulate and passionate about the politics of his people. In all of this, old rules and old paradigms are lost."
• BT TV considers Fear the Walking Dead one of the best spin-offs ever: "The dynamic of an extended family with their own mix of dark secrets, drug problems and troubled histories has helped the show slowly bloom into a menacing and thrilling equal to the original series."
• Danay Garcia tells MyMBuzz.com that, if Luciana were to die, "I'd like her to leave in a battle. One where she's fighting for whatever she believes and her intention is clear until the end."
• BT TV speaks with Daniel Sharman (Troy Otto), who says Season 3 left off with "this uneasy truce between Broke Jaw Ranch and The Nation. We've introduced all these elements and really established these different elements. The second half of Season 3 is what happens when we put them all together."
• Speaking with Digital Journal, Kelsey Scott says Fear the Walking Dead: Passage was "rather empowering for this female-driven story to focus more on these women's fortitude and intellect, than their appearances."
• Digital Journal interviews Mishel Prada, who says Gabi, her Fear the Walking Dead: Passage character, is "so lost and unsure of herself, but as the story unravels she manages to find her inner strength and stand up for her own damn self."
Watch Season 3 Full Episodes on amc.com and AMC apps for mobile, Fire TV, Xbox One, Apple TV, Roku and Chromecast.
To stay up-to-date with the latest news, join the Fear the Walking Dead Insiders Club.
Read More