Q&A
(SPOILERS) Fear the Walking Dead Q&A — Alycia Debnam-Carey (Alicia)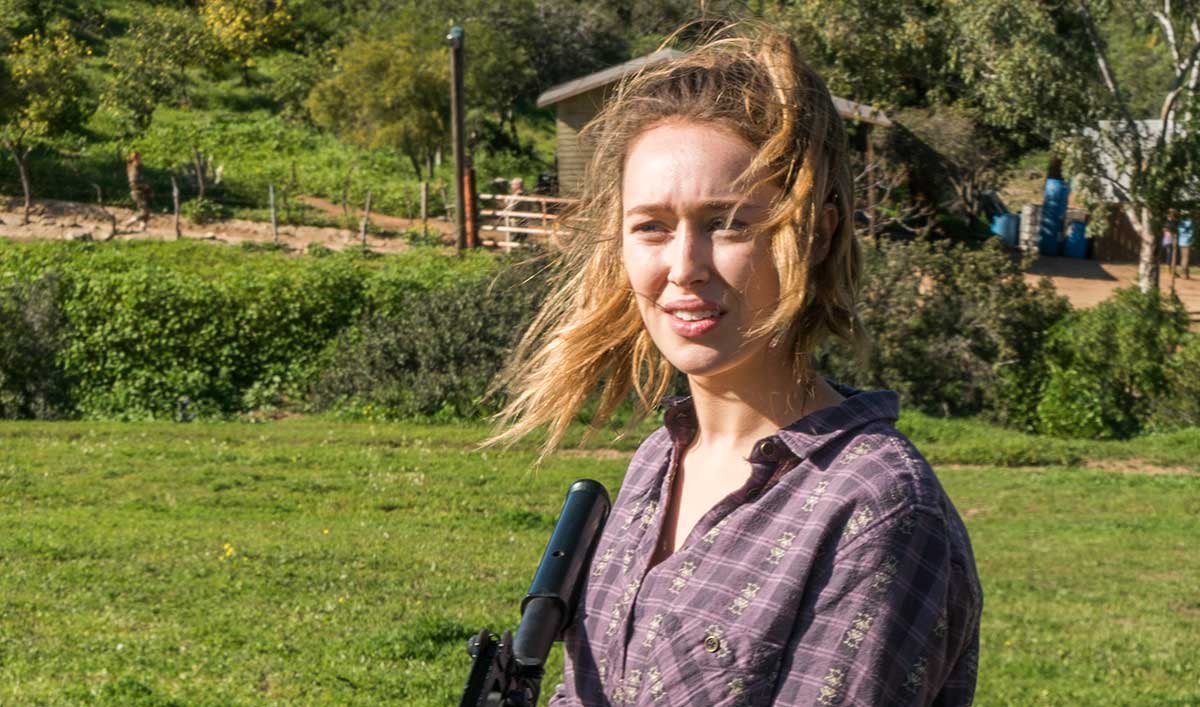 Alycia Debnam-Carey, who plays Alicia Clark on AMC's Fear the Walking Dead, talks about Alicia's budding romance with Jake, how the apocalypse has changed her character, and the hardest part about filming at Broke Jaw Ranch. 
Q: Despite her growing romantic relationship with Jake, Alicia is confident she's not in love. Is that a conscious decision because of how unpredictable the world is now?
A: Absolutely. I think a lot of how she's reacting right now is in relation to her newfound knowledge and deeper understanding of mortality. Travis died so suddenly after being rescued, so I think she's trying to grapple with what actually has value and meaning in this world. She's going from being a young girl to a young woman and there's that development going on too. It's not just about her trying to understand humanity in this world; it's also her trying to figure out who she is as well. In Episode 5, she says she had everything figured out and she knew what she was going to do and she just doesn't have a plan anymore. Now, she's just trying to take a risk and see where that will take her. I think when you go through something traumatic with someone, you are bonded in a certain way.
Q: How has losing Travis affected Alicia?
A: I think she feels partially responsible, or at least partially guilty, for the loss of Travis. She's the one that had to deliver the bad news to her mother and that's weighing on her the entire time. She's the one that lets go of him in the helicopter – and he allows her to – but she lets him go… To have to tell that news to someone so close to you, you feel like the bearer of bad news, and she was there when it happened. She's trying to figure out how to keep living and to feel again. She doesn't feel like she's coping well with the loss of people in her life and the crimes she's had to commit, so she's trying to feel something again that may be joyful or normal, and force herself into this feeling of living again.
Q: "Bible study" turns out to just be a group of teens goofing off. Was it relieving to film a lighter scene? Does the apocalypse ever make you forget that Alicia is still just a "normal" teenager at the end of the day?
A: It was great to finally have those moments where she gets to be who she is supposed to be, which is a teenager. That's what we're expecting of her in Season 1 where she was very much a teenager, but because she's been so knee-deep in the apocalypse, she's missed out on a lot of experiences. So, she's trying to see if she can catch up, but it's probably a little too late. She's seen too much and done too much. It becomes quite clear, with these Bible study kids, that she's the only one that's experienced anything. They haven't been outside the walls of the ranch or had to deal with any consequences of the apocalypse because they've been so prepared. Part of her journey is trying to see if she can get back into the person that she was. I think she's feeling quite lost in not knowing where this change will take her. We also don't see her being able to communicate that well with her family or with anybody else. Jake is one of the few people she can talk to because he's shared the same experience, whereas everyone else is sort of off on their own adventure at this point. [Laughs]
Q: With Walker threatening Broke Jaw Ranch, is it a good idea to stick together under the militia at the ranch, as Madison suggests?
A: I think Alicia believes that it is best to stick together at the ranch. They've fought so hard to get there and this is their best chance at survival because everyone there is prepared, but her main objective is to make sure Jake doesn't do anything reckless, and that's what we see in Episode 6. He's willing to go out there and confront Walker about negotiations, reaching a settlement and making this work. Alicia thinks he has no idea of how much things have changed. There are no rules in the apocalypse anymore. There are no codes and ethics and you can't trust everyone. Everyone is out for themselves and if they're not out for themselves, they're out for their family. He doesn't seem to understand that, so her main objective is to make sure he's not doing anything crazy. She seems to be the only one getting through to him and the only one who knows the reality of the situation. So, when he goes off to meet Walker, it becomes a bit of a struggle.
Q: What was it like "living" on the ranch and being in close quarters with that many people after more sparely populated sets?
A: It was a blessing and a burden at the same time. [Laughs] It's an amazing location. It's beautiful and very remote, so you have a lot of time to get to know everyone. We got a lot of rainfall and there are flower gardens with lilacs and wild flowers and green grass, and you've got cows and horses. But there's also no cell reception. At the start of the season, it was quite refreshing because it was like, "I'm going to go to work and then I'll read a book. No, I'll read three books! This will be amazing. I'll get to chat with everyone and we'll all be so connected," and then it quickly became, "I'm sick of having to drive on this bumpy road to get to this location where I can't have any contact with the outside world." It was great and it was also hard. Luckily, we all get along so well and enjoy each other's company. I'm very grateful for that.
Read a Q&A with Danay Garcia, who plays Luciana.
Watch full episodes of Fear the Walking Dead on amc.com and AMC apps for mobile, Fire TV, Xbox One, Apple TV, Roku and Chromecast.
Fear the Walking Dead airs Sundays at 9/8c. To get more exclusive interviews with the cast, sign up for the weekly newsletter.
Read More