Press
Dave Erickson's Preview in EW; Mercedes Mason Talks to ComicBook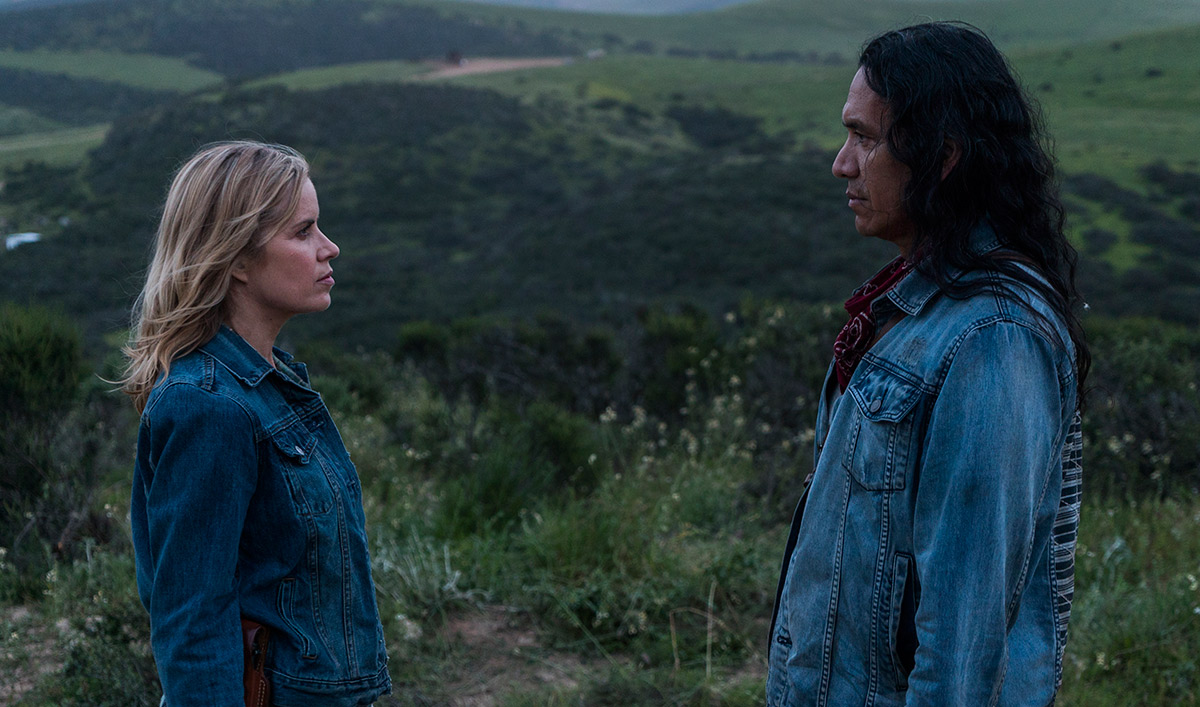 This week, Dave Erickson previews the rest of Season 3 to Entertainment Weekly, while Mercedes Mason is interviewed by ComicBook.com. Plus, Screen Rant reports on Fear the Walking Dead's Sept. 10 return. Read on for more:
• Previewing the rest of Season 3, Dave Erickson reveals to Entertainment Weekly, "We've been doing sort of a slow crawl toward reuniting our dysfunctional blended family, so what we can look forward to is hopefully reconnecting more of our characters."
• Dave Erickson tells The Hollywood Reporter, "One of the big thematics of the season is violence, when is it used, and how do you justify using it. I think we'll see Nick especially in relationship to Madison draw that into very sharp relief as we move forward."
• Responding to Yahoo TV, Dave Erickson says, "The real question is, how overt will Madison be in wielding her power? Because I think the more she does and the more it looks like she's benefitted from the death of Otto, the greater the likelihood that someone is going to suspect that she had something to do with his death."
• ComicBook.com speaks with Mercedes Mason, who thinks the two sides can come together again: "I think there's always reconciliation possibly because again, everything changes so quickly in the apocalypse."
• "All I can [say] is that Ofelia almost died in the desert. She was saved. The people who saved her are who she's now loyal to and dedicated to and that's who you're going to find her with," Mercedes Mason teases to ComicBook.com.
• Screen Rant reports that the Midseason Premiere will air on Sept. 10 at 9/8c.
• Now that the Midseason Finale has aired, TV Guide poses "questions about Madison's leadership, as well as four more left unanswered by the Midseason Finale."
• Rotten Tomatoes applauds Fear the Walking Dead, saying the show is "creatively the strongest it has been since it debuted."
• ComicBook.com tracks the online reaction to the Midseason Finale, noting "the Internet had their passionate responses to the episode."
• Robert Kirkman, interviewed by Forbes, says of Madison that "we've always done our best to try and portray her as being much more capable, much better prepared, and much more well suited for these conflicts…"
• Dave Erickson, shutting down viewer speculation, tells ComicBook.com that Madison is "not related to Rick or anybody else on the other show. And the fact that she's from the south is really just a coincidence."
• Forbes speaks with Kim Dickens, who says Madison "has been a tough cookie from the beginning. You're going to learn more where that comes from this season. We're gonna see her take on that leadership role, and its not always a pretty role."
• For recaps and reviews of Season 3, Episode 7, "The Unveiling," and Episode 8, "Children of Wrath," check out ComicBook.com (7 and 8), Entertainment Weekly, Forbes, 411mania.com, IGN, Movie Pilot, SyFy, TV Fanatic and TVLine.
Watch "The Unveiling" and "Children of Wrath" on amc.com and AMC apps for mobile, Fire TV, Xbox One, Apple TV, Roku and Chromecast. Explore the episode with Chris Hardwick on this week's Talking Dead.
To stay up-to-date with the latest news, join the Fear the Walking Dead Insiders Club.
Read More