Press
Dave Erickson Teases Season 3 to EW; CBR Views Midseason Trailer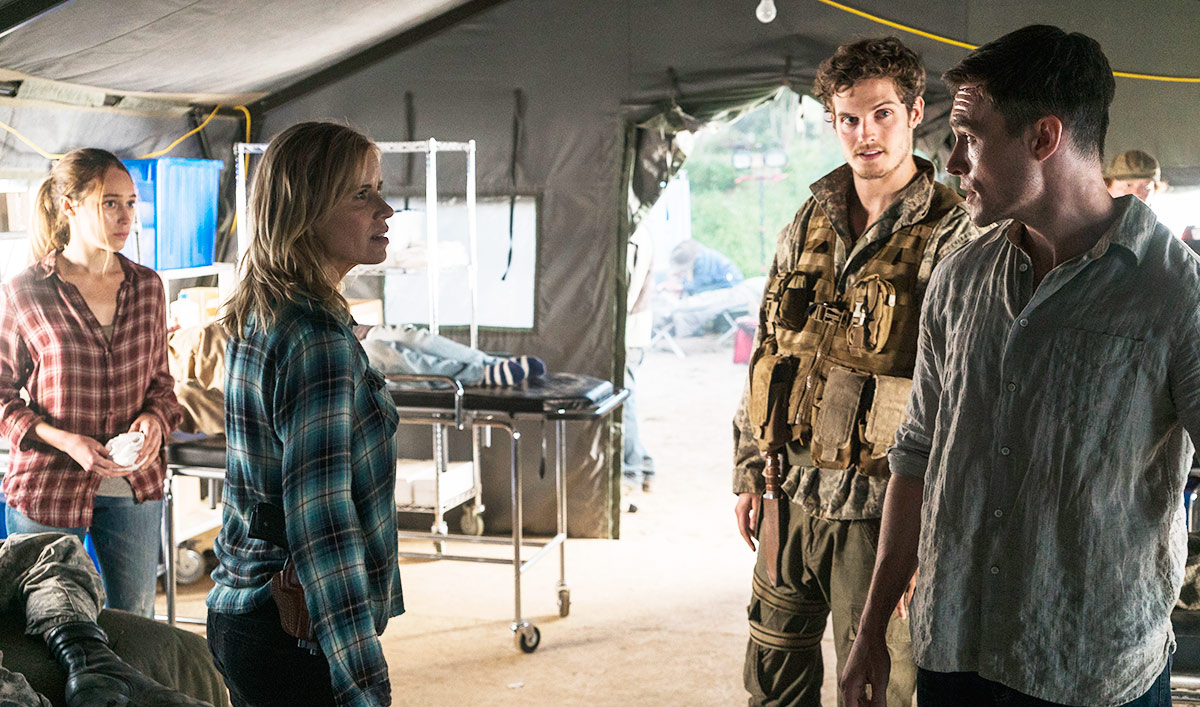 This week, Dave Erickson teases Season 3 to Entertainment Weekly, while Comic Book Resources checks out the Midseason trailer. Plus, TVLine learns more about the new season at Comic-Con. Read on for more:
• Dave Erickson teases to Entertainment Weekly, "I think one of the big questions of the back half is how is Nick and ultimately, Alicia and Madison are going to be able to process what they've done, and then what happens when the sons learn how the father really died."
• Comic Book Resources views the Midseason trailer, which "confirms the heavier presence of more Walkers, shown swarming the survivors' camp. There's also the danger of infighting between the Ranch and Walker's community, not to mention a heavy emphasis on the importance of sharing supplies vs. maintaining separate communities."
• TVLine learns from Dave Erickson at Comic-Con that there's "a bit of a catastrophe by the end of the season that will have a huge impact on every one of the characters."
• io9 quotes Dave Erickson saying at Comic-Con, "We get a lot bolder and bloodier and more zombie than we've ever done on the show before" in the second half of Season 3.
• At Comic-Con, Dave Erickson says, according to ComicBook.com, that Madison's taken control of Broke Jaw Ranch, "but she has to be very careful that her leadership is not so overt that people suspect that she had something to do with Otto's death."
• At the show's Comic-Con panel, Gale Anne Hurd explains, "Not only has Strand lost Abigail and Abigail the boat, but now he's realized that there's no place they can go to where life is normal. I think they've come to the realization that they'll have to forge their own community," reports Comic Book Resources.
• Asked at Comic-Con about crossover possibilities, Robert Kirkman says, according to ComicBook.com, "Fear the Walking Dead takes place roughly around the time of Season 1 and beginning of Season 2 in The Walking Dead. Walking Dead Season 8 is taking place with the theoretical Fear the Walking Dead Season 7. We gotta get there."
• "I think Madison is, probably, might be related to Daryl Dixon," Kim Dickens theorizes at Comic-Con, ComicBook.com says.
• Alycia Debnam-Carey proposes a fitting death for Alicia, according to ComicBook.com: "I'd like having Madison have to shoot me in the head or something. That'd be crazy."
• Vulture notes "the Comic-Con panels for both The Walking Dead and Fear the Walking Dead became small tributes" to the recently deceased George Romero.
• Collider.com, ComicBook.com, Entertainment Weekly, The Hollywood Reporter and SyFy Wire also had accounts of the entire panel.
• Screen Rant checks out the show's Comic-Con poster, noting the image "has a gloriously old school feel to it and echoes some of the Western genre themes that were prevalent in the first half of Season 3."
Watch Season 3 full episodes on amc.com and AMC apps for mobile, Fire TV, Xbox One, Apple TV, Roku and Chromecast.
To stay up-to-date with the latest news, join the Fear the Walking Dead Insiders Club.
Read More