Press
TVGuide's Walker Speculation; Forbes on Relating to Fear's Characters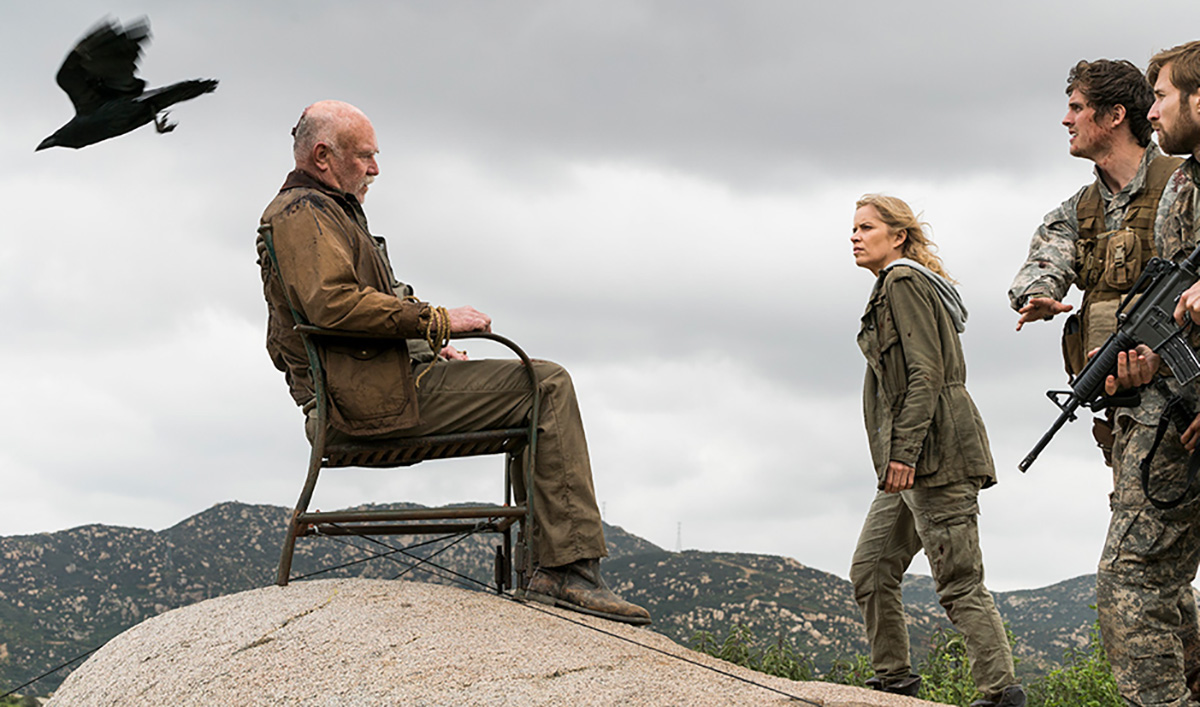 This week, TV Guide speculates about Walker, while Forbes discusses why it relates to Fear the Walking Dead's characters. Plus, TVGuide.com is pleasantly surprised that Alicia and Jake talked about art. Read on for more:
• TVGuide.com expects that Walker is "definitely going to be a major player in the rest of Season 3, and showrunner Dave Erickson's 'border story' is going full Blood Meridian (the character McCarthy's name is a clear nod to the Southwestern author Cormac McCarthy)."
• Forbes relates to Fear the Walking Dead because "No one has iconic costumes or signature weapons. Everyone is just people, scrambling to survive and protect their own."
• TVGuide.com says "it was such a refreshing surprise to hear characters talk about art in 'Burning in Water, Drowning in Flame.' It served as a reminder that at least some of these people are human after all."
• Kim Dickens, talking to Access Hollywood about the Madison/Troy dynamic, says Troy is "charming in his wounded child that's in there behind the psychopath. I think she's drawn to him in a way that she realizes that maybe she can utilize him."
• Decider declares that Fear the Walking Dead "has truly established itself as a solid show on its own. Both the cast's phenomenal acting and the show's refreshingly unique take on the storyline have made the series just as worthy of recognition."
• TV Fanatic, sits down with the cast at ATX to discuss the new season, and Dayton Callie says about playing Jeremiah Otto Sr.:  "You can't play a villain. You can only play a person who believes a certain way. It may not be what other people think is right, but it's what he thinks is right."
• ComicBook.com, thrilled by the current season, explains how the "series has put its foot on the gas pedal and taken off."
• For recaps and reviews of Season 3, Episode 5, "Burning in Water, Drowning in Flame," check out A.V. Club, ComicBook.com, Den of Geek, Entertainment Weekly, Forbes, IGN, Movie Pilot and TVLine.
Watch the latest episode on amc.com and AMC apps for mobile, Fire TV, Xbox One, Apple TV, Roku and Chromecast. Explore the episode with Chris Hardwick on this week's Talking Dead.
To stay up-to-date with the latest news, join the Fear the Walking Dead Insiders Club.
Read More