Q&A
(SPOILERS) Fear the Walking Dead Q&A — Danay Garcia (Luciana)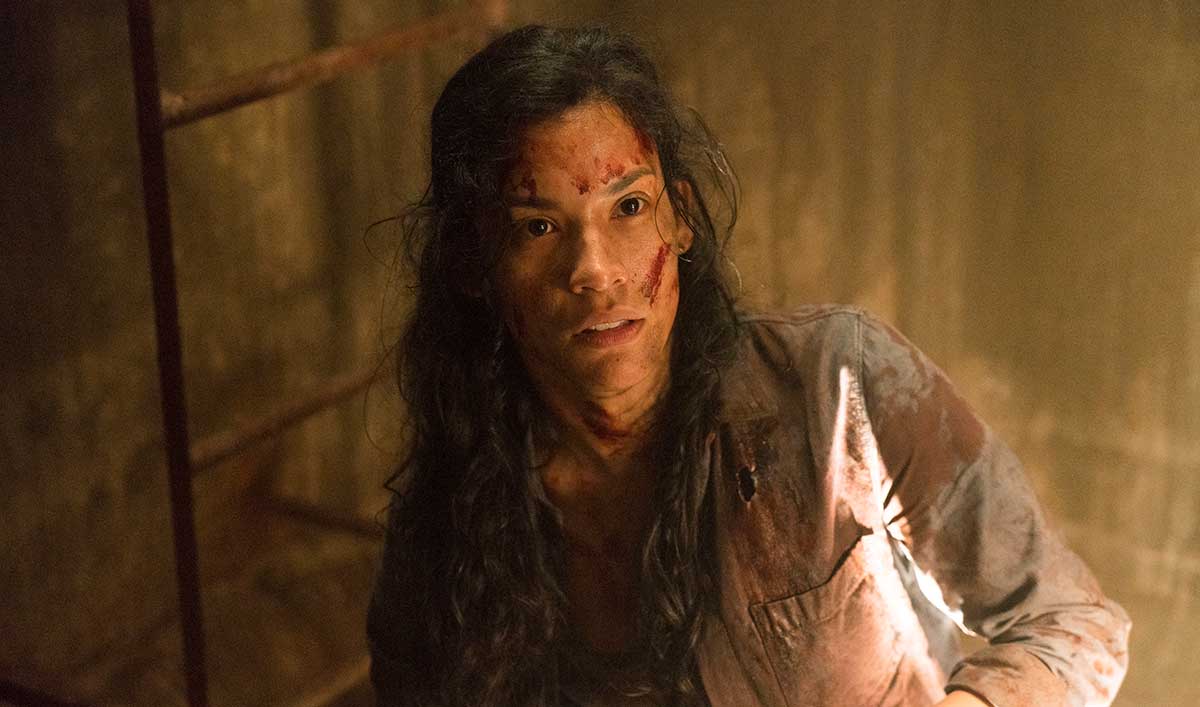 Danay Garcia, who plays Luciana on AMC's Fear the Walking Dead, talks about what's eating away at her character at Broke Jaw Ranch and how she's a "lone wolf."
Q: Luciana was hurt pretty badly last season at the border. Were you worried about her fate at all?
A: I go from one extreme to another. I start so high and end at the bottom of the bottom. What a transformation. What an arc. This doesn't happen overnight. After that journey, I felt like she was still alive. I didn't know and I would find out in a few months, but I had this hope because I was living through her and I was hoping everyone would feel like that. I started getting cute threats from the audience that if Luciana dies, they'd throw a tantrum. [Laughs] I realized that people still felt her. It wasn't done for her. Of course, that's every actor's [dream] – you really feel like it's not over for you – but the moment I got the phone call, I was looking forward to putting on my boots and getting on with the show. This show is so full of such strong women… It's very cool to see the world through very strong women and it's so exciting and such an honor to be a part of the cast.
Q: Your character is indeed strong. Do you feel Nick brings out her vulnerable side? What's it like playing that side?
A: It's really nice to make her strong and give her a knife, but I think her strength really comes from her vulnerable side. She can feel vulnerable and then come back stronger than before. We don't have any control over what comes at us. We just have to be able to feel in the situation and then make a decision. She has those steps ingrained in her. Nick really brings out this side of her. It's trust and unconditional love that he has towards her and it makes her stronger, sensible and cared for.
Q: Troy is ready to kill an unconscious Luciana as soon as she arrives at the ranch. How did that land on you?
A: When I read the script, I realized the entire Clark family is together and I am the new person. I thought, "How are they going to carry me on?" I had no idea if there would be any conflict, but they all became a team to save Luciana. It was a "it's her or we're leaving" kind of a thing. This is what she comes from. This is what family is to her. That was so great. It was such a great sense of family. "Work together or we're leaving. We don't know her, but she's family. If she comes with Nick, then she's family and we're willing to risk our lives for her." These people have no idea about La Colonia and they have no idea what happened and they're doing this completely blindsided. I thought it was a really cool choice by the writers .
Q: Do you imagine Luciana feels any connection to Travis after he helped free her from that military compound?
A: I am a big fan of Cliff Curtis's work, so when I found out I was starting the season with him, I thought, "oh my God!" He blows me away in every take and he's so full of life. Luciana and Travis bond, but he's the one that sets the tone. He's the first one that says, "She's family. She comes with us." When he said that, it was like "this guy is a part of my gang! I want to be in his tribe!" [Laughs] It was a connection right there because she's wounded and she's at her worst and she heard that from someone besides Nick.
Q: Luciana wants Nick to leave, while Madison wants him to stay. Does Luciana expect Nick to follow her?
A: I wanted to make the most effective choices as an actor to play this part of Luciana because she's not a selfish person at all. Everything about her is about giving and helping and being there for people. That gives her satisfaction. The fact is she's not okay at the ranch and Nick can't follow her. It's like, "I can't force you to leave, but if I stay, I die." She has to choose herself. It's the situation that's killing her because these people killed her people. She can't breathe there anymore. Of course, it makes her mad that something can possibly keep him from leaving this place, but there's a part of her that gets it. She just went through this herself. It was a very conflicting scene for me. She wants him to come, but she understands. When you love somebody, you're willing to let go. That was a huge act of love. There was no anger there, just emotional survival. Nick finally got his family back and he doesn't want to leave them again. Frank [Dillane] and I talked about it so much. He was like, "Are we splitting up?! No, you're just going for a walk!" [Laughs] I'm not going for a walk! It was so funny, I swear.
Q: What prompts her to ultimately leave Nick behind and go on her own?
A: She's a loner, she's a fighter and the moment she's healed and can walk and feel her feet again, she's in command. She knows what she wants and this is important to her. She doesn't have a plan, but she knows she has to take care of herself. She needs to pull herself together and in order to do that, she has to leave. She's like a lone wolf at the moment. She's sharpening her knife right know, finding her strategy, and she needs to do that on her own without distractions. Zombies are not a distraction for her. They're a part of her life. [Laughs] She needs to walk and to think. She needs to take two steps back before she goes forward. That's where she's at right now.
Read a Q&A with Rubén Blades, who plays Daniel Salazar.
Watch full episodes of Fear the Walking Dead on amc.com and AMC apps for mobile, Fire TV, Xbox One, Apple TV, Roku and Chromecast.
Fear the Walking Dead airs Sundays at 9/8c. To get more exclusive interviews with the cast, sign up for the weekly newsletter.
Read More