Q&A
Fear the Walking Dead Q&A — Kim Dickens (Madison)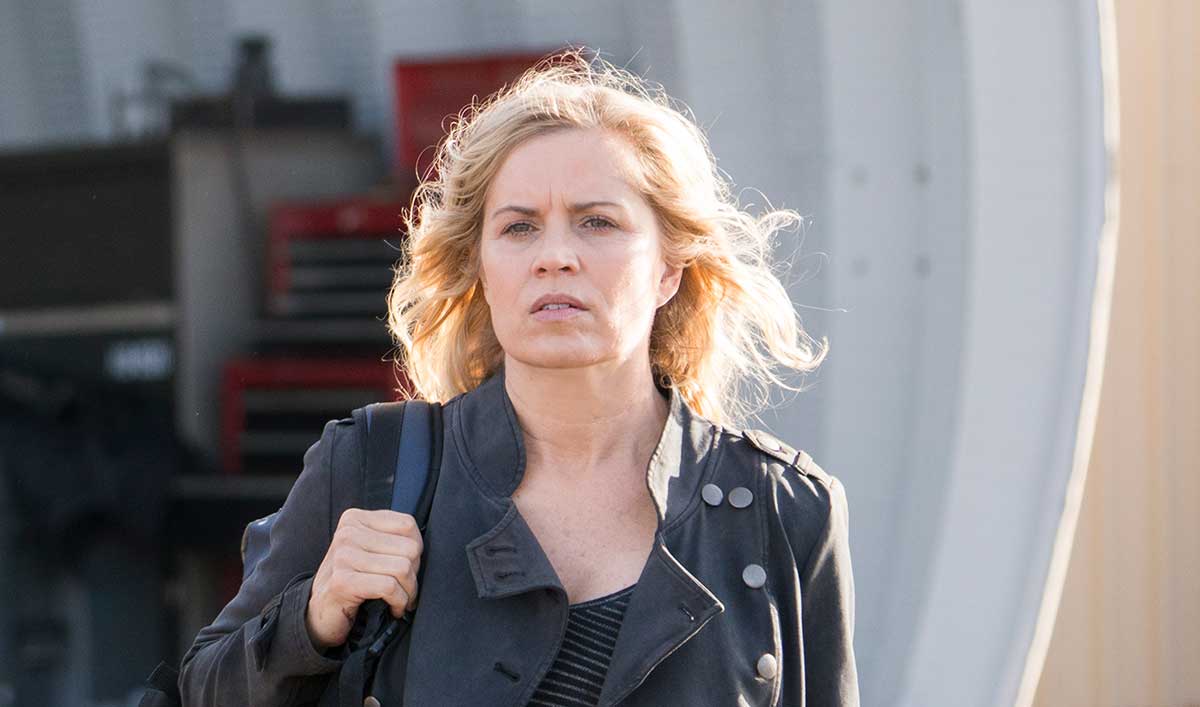 Kim Dickens, who plays Madison on AMC's Fear the Walking Dead, talks about her character "going dark" in Season 3, how the apocalyptic world is changing and the trick to gouging an eye with a spoon.
Q: As Season 3 kicks off, how would you describe the changes in Madison since the show began?
A: Madison quickly goes dark. [Laughs] She's not really crippled by her compassion anymore. I think she realizes pretty quickly what she has to do to survive and to keep her family alive. I think she's one of the first ones who's able to understand that brutality becomes part of the currency. She does what she has to do and it makes for some dark moments.
Q: You jump right into the action at the military compound in the Season 3 Premiere. Do you do anything between seasons to stay mentally and physically prepared?
A: I try to stay healthy and as in shape as I can to be able to do all this stuff, but I don't do any extensive training or anything because we're still supposed to be relatively new into the apocalypse. We're still regular people. We're not superheroes or military or anything like that. For the most part, we do our own stunts, so I do try to stay fit.
Q: Can you share some behind-the-scenes details about Madison's fight with Troy? What goes into gouging someone's eye with a spoon?
A: That was a really great sequence! We did it over two days, which is a while in television. It's a big fight and it's a long and messy fight. We were padded up pretty good, and we worked out the choreography with our stunt team and just went through it. Daniel Sharman is such a wonderful actor and a true professional. The next day, we were a little sore and bruised up, but it was so fun to be able to do it. It's quite a specific and meticulous dance we do, and we had to have control so we didn't hurt each other. They put special effects makeup and a prosthetic on his eye so that I could actually put the spoon in there and move the eye around. It was pretty amazing and really creepy.
Q: Troy seems drawn to Madison. Why do you think that is?
A: I think he's a terribly wounded child inside, and he's never really had love and support from his parents. I think he sees us, at first glance, as this family who is struggling to survive together and there's something compelling to him. Once he does get into a room with Madison and her daughter, he's even more compelled and drawn by their bond and the strength and love that he detects. He's fascinated, and it's so foreign to him. With a little pacing out of his character, she finally discerns what she thinks is his weakness and Achilles' heel… Even though she sees this wounded child, she's not willing to let him get in the way of her family and their survival. It's darkness at all costs.
Q: Why do you think Madison ultimately decides to trust Jake when he says he'll let them go?
A: Madison's in a pretty desperate moment. She's surrounded by the militia. I don't think she worries about risking her own life, but she has the wisdom to know she's taken this as far as she can. What she did got her what she wanted, which is access to her family. Madison will sacrifice her own life for her family. It's a no-brainer for her. She really has to trust Jake in that moment as well as her instincts.
Q: Troy's men are conducting lab experiments to measure how long it takes for an Infected to resurrect "for science." What did you think when you read that in the script? Are moral boundaries starting to get blurred?
A: I think that touches a nerve in people, and it's something that's happened in the past with any sort of genocide or brutality in the name of science. That alone is horrifying. This writing staff is able to explore all elements of humanity that can be activated in an apocalyptic time. I think that's what's so incredible about our writing. They're fearless in their storytelling. I thought it was a really powerful sequence and unforgettable for those characters. There are so many ways to go, and I applaud our writing team for going there.
Q: What was it like reuniting with Frank Dillane after spending a whole half season apart?
A: We're all pretty open-hearted actors, and we're present for each other. We miss each other when we're not working together. We live in the same complex so we're able to go to dinner and stuff like that, but we do genuinely miss working together. We didn't really have to work on that moment where we're reunited because it's just instinctual for the characters and for us and the way it played out. That stuff is not so hard to play.
Q: At the end of the episode, Madison is now with Nick but separated from Alicia and Travis. Does she believe Troy when he says they're all headed to the same place?
A: I think she doesn't know. They've gotten themselves in a situation where they have to take their word for it. There really is no other choice. You'll feel that Madison is on pins and needles. I think that's palpable and she's nervous that it wasn't the truth, but she has to take their word for it – and it's not a trustworthy word.
Watch full episodes of Fear the Walking Dead on amc.com and AMC apps for mobile, Xbox One, Apple TV, Roku and Chromecast.
Fear the Walking Dead airs Sundays at 9/8c. To get more exclusive interviews with the cast, sign up for the weekly Insiders Club.
Read More