Press
Dave Erickson on Premiere With EW; Kim Dickens With TVGuide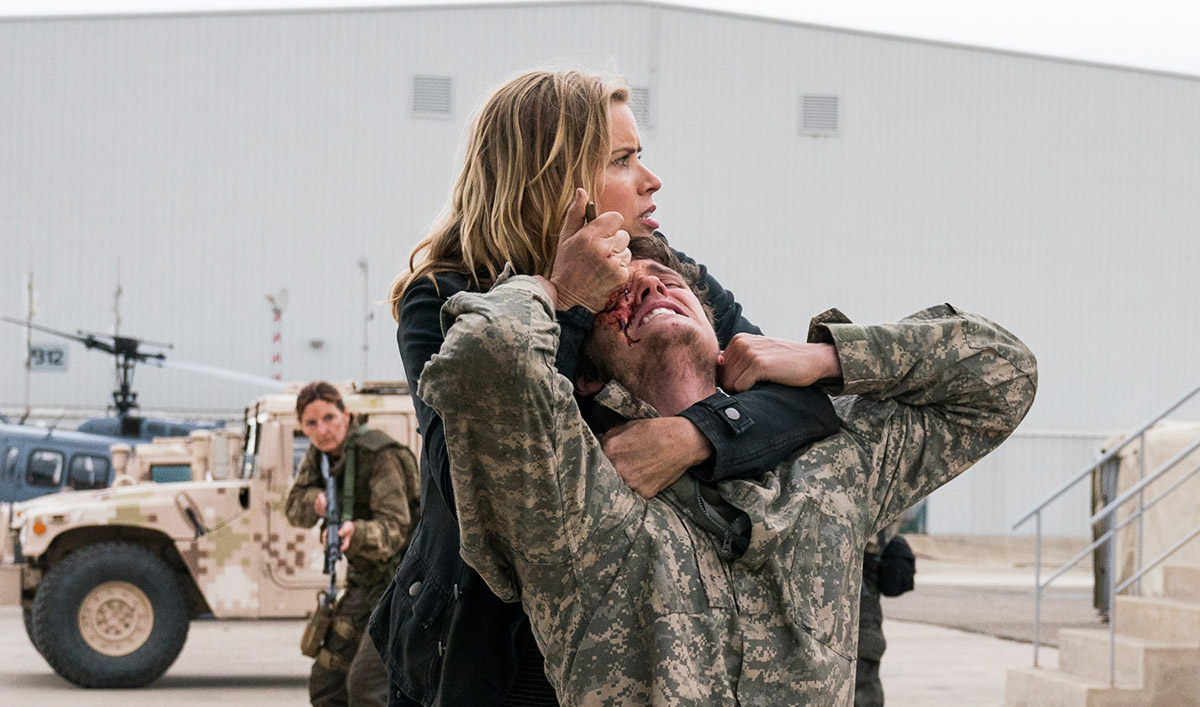 This week, Dave Erickson discusses the Season 3 Premiere with Entertainment Weekly and others, while TVGuide.com talks to Kim Dickens about the eyeball spoon scene. Plus, ComicBook.com gets Dickens' take on Travis' death. Read on for more:
• Dave Erickson tells Entertainment Weekly, "In the wake of Travis' death, Madison really doubles down. Any semblance of mercy that she might have had is going to go away. She's going to kind of check that at the door in an effort to protect her son and protect Alicia."
• "This is a season that exists in the shadow of Travis' death. It's about the emotional impact it has on Madison, Alicia and Nick, and finding some way to mourn him and move on ultimately. If you break it into the stages of grief, that could actually track as well," Dave Erickson explains to The Hollywood Reporter.
• TVLine interviews Dave Erickson, who says Travis' shooting wasn't random: "We'll come to find out that the bullets were fired by a specific group for a very specific reason, and that, of course, becomes part of the larger story as we move forward."
• TVGuide.com speaks with Kim Dickens, who calls the eyeball spoon scene "super fun to do. We had a rig that was put on his face so that I could actually put the spoon in it and move the fake eyeball around. There were a lot of laughs about that one. It was so gross and so real."
• Kim Dickens tells ComicBook.com that Travis' death is "a devastating blow and it makes for incredible storytelling of how people live through that as well with any apocalypse."
• Danay Garcia chats with Bustle about Nick meeting up with his family in the Season 3 Premiere: "This is a different Nick. He was pretty much an orphan. I thought he was an orphan. He was by himself!"
• Uproxx discusses the character played by Noel Fisher (Willy), "who is the victim in maybe the series' best human kill in a scene that seemed to pay homage to H.P. Lovecraft's Rats in the Walls."
• Popsugar reports, "Since Travis has been an integral part of the story so far and was just starting to become a really interesting character, his bloody demise hit fans hard."
• Screen Rant spotlights a promo for the next episode, "Teotwawki," and notes it takes "a closer look at the relationship dynamic among the Otto men."
• Uproxx asserts that the Season 3 Premiere "tried to be more like early seasons of The Walking Dead, and the gambit paid off creatively in a big way, delivering two of the best episodes of the series run."
• For recaps and reviews of Season 3, Episode 1, "Eye of the Beholder," and Episode 2, "The New Frontier," check out BuddyTV, ComicBook.com, Forbes (1 and 2) and IGN.
Watch the two-part Season 3 Premiere, Episode 1, "Eye of the Beholder," and Episode 2, "The New Frontier," (no login required) on Chromecast, Xbox One, Apple TV, Roku, AMC mobile apps and amc.com.
To stay up-to-date with the latest news, join the Fear the Walking Dead Insiders Club.
Read More