Press
Kim Dickens Teases Season 2 Action on GMA; Dave Erickson on Nick's Arc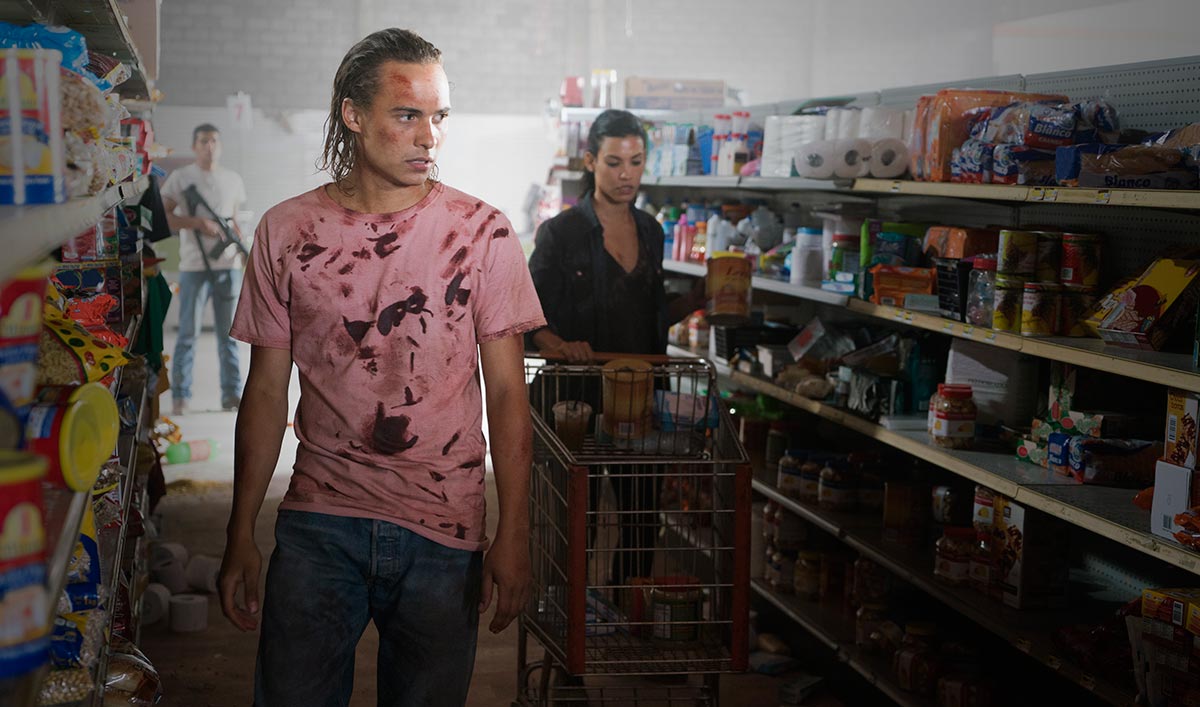 This week, Kim Dickens teases an action-packed second half on Good Morning America, while Dave Erickson discusses Nick's arc with Entertainment Weekly. Plus, Dickens talks about Madison and Alicia's relationship. Read on for more:
• Kim Dickens tells Good Morning America about shooting Season 2, saying, "We're out in the ocean, we're running through the desert, we're running down the beach, we're in resorts, we're everywhere, but it's a lot of activity, a lot of stunts."
• Looking ahead, Dave Erickson teases to Entertainment Weekly that "what we're going to see eventually is a Nick who wants to make good, a Nick who actually has found a community and he wants to earn his place in it."
• Entertainment Weekly talks to Kim Dickens, who says that "with Nick finally making his departure in that way, it will challenge Madison and Alicia. It will challenge their relationship. It will redefine it."
• Guinness World Records reports that Fear the Walking Dead has made it into the new Guinness World Records 2017 Edition book after setting the record for the largest series premiere on cable TV.
• Cinema Blend chats about shooting at the hotel with Alycia Debnam-Carey, who explains, "In terms of scary, just shooting at a hotel at night time is a bit weird. And that hotel is new but still gives you a little shiver up your spine if you think about it too long."
• ComicBook.com learns from Mercedes Mason that Ofelia is off finding herself and that she's "either gonna do herself in or she's gonna become Carol."
• Bustle asks if Nick will "leave La Colonia on Fear the Walking Dead? He has found a family that shares his values, though the rest of his biological family may not fit in as well as he does."
• ComicBook.com asks Dave Erickson about "a bombshell which would alter the mythology of the entire Walking Dead universe should one particular character be telling the truth."
• Dave Erickson, speaking with TVLine, says, "When Travis reconnects with Madison, he's going to be in a much different place emotionally, she's going to be in a much different place emotionally, and, by the end of the season, they will be closer in some strange, bizarre way than they've ever been before."
• Adweek learns from Colman Domingo that he likes Periscope "to give people a little slice of my life on the show. There's so many interesting people in the cast. I love that [Alycia Debnam-Carey] is an amazing musician and how funny [Frank Dillane] is, and I want to give people a sense of that."
• Colman Domingo, interviewed by A.V. Club, says he considers Strand "a climber, an opportunist, and now he's in this place where he has to become a bit more human and find out what really matters, and that's challenging for him."
• NBC News speaks with Michelle Ang, who calls her Emmy nomination for Fear the Walking Dead: Flight 462 "completely out of the blue." Ang also talks to Entertainment Tonight.
• Alejandro utters one of TVLine's quotes of the week: "Death is not to be feared. But it shouldn't be pursued. There's a difference."
• Interviewed by Latina, Danay Garcia characterizes Luciana as "an out of the box thinker; she has that kind of warrior mentality. She sees the enemy as an evolution of life."
• Alycia Debnam-Carey, speaking with IGN about the group splitting up, says Alicia "can think of herself and where she's going and what kind of person she's going to be as a leader."
• Talking to Blastr about Season 2, Dave Alpert believes "the quality of the storytelling is actually only improved. Even though I'm incredibly proud of Season 1, I see a lot of the bumps and sort of rhythm as we try to find our way."
• Bleeding Cool has a chat about what's coming up with Mercedes Mason, who says viewers will discover if Ofelia is "going to let all of this break her. Because ultimately, at the end, she has the capability of surviving. It's just, does she want to?"
• Mercedes Mason goes behind the scenes for Backstage, which comments, "Turns out there's a lot more going on behind the scenes than just walkers and terrified humans."
• For recaps and reviews of Season 2, Episode 9, "Los Muertos," check out ComicBook.com, ComingSoon.net, Entertainment Weekly, The Guardian, IGN, Los Angeles Times, Nerdist, The New York Times, Time, TV Guide, TVLine, Variety, The Wall Street Journal and Yahoo TV.
To stay up-to-date with the latest news, join the Fear the Walking Dead Insiders Club.
Read More