Q&A
Fear the Walking Dead Q&A – Frank Dillane (Nick Clark)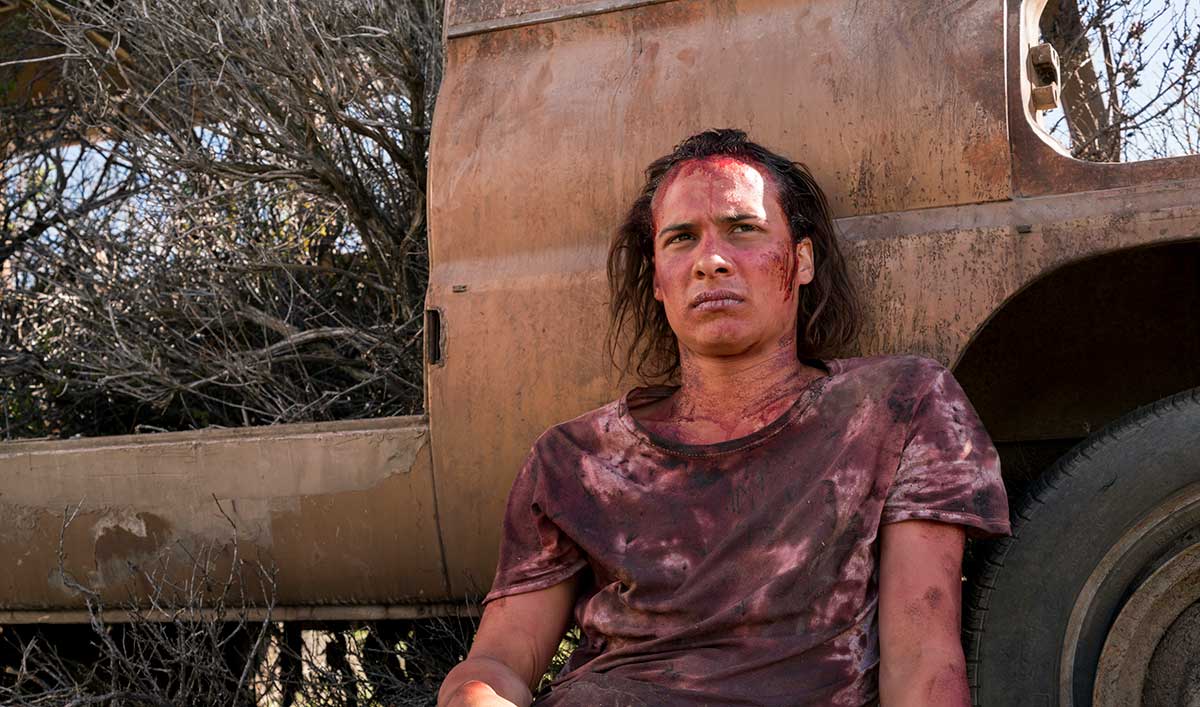 Frank Dillane, who plays Nick Clark on AMC's Fear the Walking Dead, talks about Nick's new home in Colonia, meeting Luciana, and how being covered in blood helps him stay in character.
Q: Episode 8 is all about Nick. Did you learn anything new about your character after filming an entire episode that focuses on him and his decisions?
A: I learned the details of how his father died. I wasn't aware of exactly how it happened. It's been hinted at, but I didn't realize Nick was in rehab at the time. The timing was not opportune in terms of Nick's recovery from his heroin addiction. I think that was a bit of a surprise – how fast it all happened – and to see [his girlfriend] Gloria and all that stuff was new and interesting to me.
Q: As Nick wanders through Mexico, do you think he regrets choosing to leave his family and stay behind? Any thoughts on why he did so?
A: I think there was nothing for him in that family triangle. Maybe he was ready to go. I don't know really, but I don't think he regrets it – certainly not. He's not the type of boy who would stick around his mother for that long. He's got his eyes on other stuff. I think any young man who's off on his own is probably learning to take care of himself. Any young man needs to learn how to take care of himself – or young woman. That's just the way life is.
Q: Do you believe he's found a sense of community in the village of Colonia along with Luciana?
A: Yes, I think he definitely has. Luciana's character is hardcore and she can obviously cope in an apocalypse. Nick has certainly found a safe place for the time being – but this is the zombie apocalypse, obviously! I think we all know what happens to safe places. [Laughs] Danay [Garcia] is a fantastic actress and she's incredible. I hope we can keep exploring.
Q: This new world definitely provides a strange comfort for Nick. Why do you suppose that is?
A: He sees a more honest world, probably. We're all animals at the end of the day. We're running on instincts and we've been brainwashed into thinking we do anything other than f—k, fight and sleep. I think Nick has always been honest with his demons and his hunger… We're all just surviving and Nick has been surviving for a long time.
Q: Nick is the one who discovers he can walk among the Infected when covered in their blood. What was it like to shoot your herd scenes? How does it feel to be covered in even more blood and grime on a set like this?
A: The blood is pretty sticky and horrible, so that makes my day quite miserable. [Laughs] I was always a bit surprised when reading another script and Nick was still covered in blood. That wasn't great, but it was a good acting choice… It's like smoking a cigarette during a scene. If you're smoking a cigarette during a scene, the scene is automatically good because you look cool anyway… or chewing on a toothpick. These things are good for actors… [Laughs]
Q: Nick mentions the Infected are "safer than men with guns" and that he wants to be where the dead aren't "monsters." How does he view the Infected?
A: I think it has to do with the fact that zombies can't lie, and they're pretty stupid and docile. You know where you stand with a zombie. With humans, it's very complicated.
Q: Nick and Alicia have talked about the underrated perks of the apocalypse before, with Nick mentioning no planes and no pollution. Can you think of any, personally?
A: A nice underrated perk? Well, it'd be easier to find a girlfriend or boyfriend, wouldn't it? Maybe that's it. More singles in the apocalypse! [Laughs]
Fear the Walking Dead airs Sundays at 9/8c on AMC. To stay up-to-date with the latest news, join the Fear the Walking Dead Insiders Club
Read More