Q&A
Fear the Walking Dead Q&A – Cliff Curtis (Travis Manawa)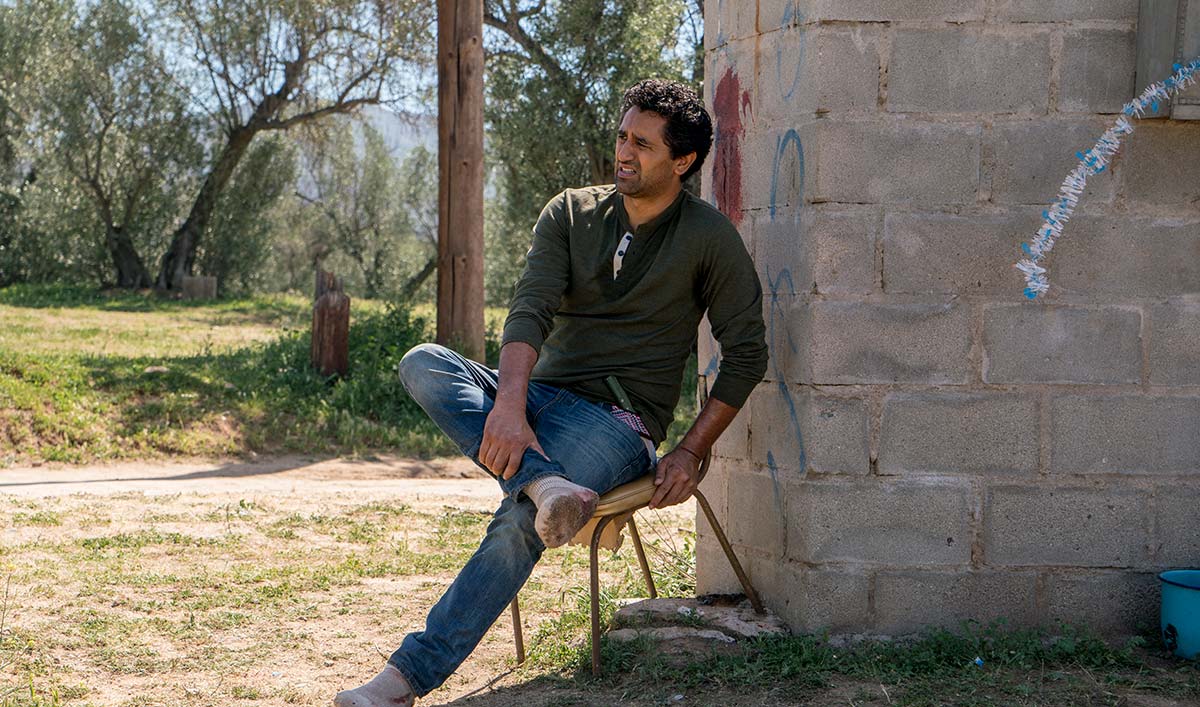 Cliff Curtis, who plays Travis Manawa on AMC's Fear the Walking Dead, talks about the unanswered questions from the Mid-Season Finale and Travis's choice to follow Chris.
Q: What was it like filming at the Abigail estate? Was it a nice change from the boat?
A: It was really beautiful. That was a part of Mexico I never knew about. A lot of the organic produce that you buy in California or in anywhere in the U.S. comes from Baja. It's absolutely gorgeous and it was nice to get off the sea. As much as I love the sea, it's really tough on the crew.
Q: What's going on with Chris? What are your thoughts on Travis staying behind to be with him?
A: I think Travis is a good dad and he really loves his son unconditionally. He's been in denial about his son and he's had to come to terms with those things. He's got a lot of empathy towards Chris, who's in an impossible situation with losing his mom and then suddenly seeing people kill other people. It's crazy. It's madness and Chris needs help. Travis made the right decision and I'm happy with his choice. As far as Travis knows, the group is safe and back at Strand's compound; they don't have any imminent threat because Travis doesn't know about what's going on and what Salazar discovered.
Q: The Mid-Season Finale leaves us with a lot of unanswered questions. What do you hope fans are thinking about as they await the Mid-Season Premiere?
A: I loved the Season 2 Mid-Season Finale episode. It's my favorite episode of the entire show, so far, because it's so complicated. Travis and Madison's relationship is fractured and there's a big rip over their children. It's not just Chris who's gone off the rails. Nick is completely on his own tangent now and there's no way Madison can reach him. Travis's hope is to figure out how to fix his son and to come back to repair his relationship with Madison. That's his sole focus right now. He is in survival mode. I hope somehow the family will get back together, but who knows? They don't tell us enough!
Q: Would you say your character has grown since Season 1? In what way?
A: There are two sides to him… He's an idealist and an optimist, but he also has a pragmatic streak to him. If there's a problem, he's going to fix it. He's rational and if something doesn't make sense to him, he's not going to do it. He can also handle himself and he doesn't back down from a fight. In Season 1, he was the pacifist who didn't like guns. He still doesn't like killing when it's not necessary, but he dealt with the Abigail attack. I mean, Strand jumped off the boat! [Laughs] He got in his raft and paddled out to sea. Travis has never wanted to be dependent on Strand. He's his own man, but Strand had an offer and Travis had to respect the chain of command. It takes discipline to follow Strand's lead even though it's morally complex for Travis. He doesn't agree with the guy, but he accepts what Strand offers his family.
He's a slow learner and he's not as fast as Madison and Nick. He's like the tortoise in The Tortoise and the Hare fable, but I don't mind that. I like how Travis is developing in this terrible situation.
Q: What was your favorite part about filming on the boat? Did your swimming skills improve?
A: Well, I love the water and I love being in the Pacific Ocean. It's like my home being that I'm Polynesian. I used to go out on a boat with my dad and I fished during my childhood. I also love swimming and I love being at sea, so I really enjoyed all of the scuba diving scenes.
Q: Travis is the one who's skilled enough to fix the Abigail's engine. Do you have any skills in particular that would lend well during an apocalypse?
A: I really loved being handy Travis because I grew up fixing stuff, buying old cars and fixing them up. It's just a part of Travis and it comes in handy during an apocalypse if you know how to fix stuff.
Q: Can you talk about the differences in moral compasses between Strand and Travis? For example, Strand refuses to help Alex and Jake from Flight 462 and Travis is the one who negotiates for them.
A: I think Travis is still struggling with the pragmatism of someone like Strand, who is just so clear-cut in terms of what needs to be done to survive. Travis isn't there yet, and in some ways that's a weakness in this world. That's why I like him, though. He's not that far gone yet and he's still struggling with his humanity. I love Strand, by the way! [Laughs] He's such a cool character.
Q: This season, so far, was all about the group trying to make it to Mexico. Where do you think would be a good place to go during an apocalypse?
A: That's easy. New Zealand! What makes New Zealand great? Well, there's really good food and great cafes. [Laughs] If you get bored during the apocalypse, you can go bungee jumping, you can go skiing, you can go sightseeing and you can visit the Lord of the Rings sets. Also, in New Zealand, you can literally get dressed up like one of the Infected and they'd never know. You could go to Peter Jackson's studio and they wouldn't be able to tell the difference. Plus, you can get Gandalf to help out. So, you'd be pretty safe.
Read an interview with Alycia Debnam-Carey, who plays Alicia Clark.
Fear the Walking Dead airs Sundays at 9/8c on AMC. Sign up for the Fear the Walking Dead Insiders Club to get the latest news delivered straight to your inbox.
Read More