Q&A
Fear the Walking Dead Q&A – Alycia Debnam-Carey (Alicia Clark)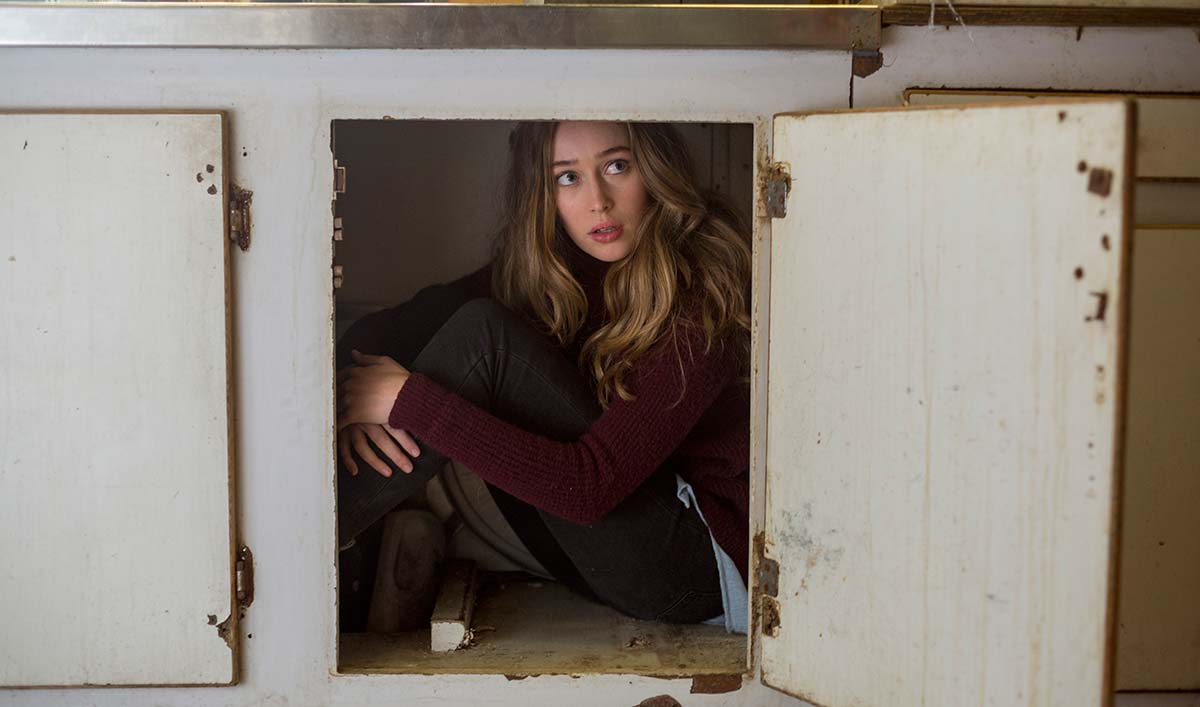 Alycia Debnam-Carey, who plays Alicia Clark on AMC's Fear the Walking Dead, talks about being abducted from the Abigail and the underrated perks of the apocalypse.
Q: When Alicia first hears Jack on the walkie-talkie, did you have a bad feeling from the jump?
A: This is something she's got to be cautious with – considering the situation and her not really knowing who she can trust – but she's longing for a connection and some normalcy in her life. Hearing someone reaching out – another young person in this crazy world that's trying to connect with someone – I think that gives her a sense of hope that everything isn't just falling apart.
Q: What did you think about the conditions in which Alicia first meets Jack? Worst blind date ever?
A: [Laughs] Yeah, right? I think it's totally unexpected for her. She thinks her little mistake didn't cost anything and that she's gotten away with it by the skin of her teeth, but he turns up. That's even worse… thinking she's gotten away with it and then realizing it's worse than she ever thought.
Q: In Episode 5, Jack tries to get Alicia to stay with him. Though she's loyal to her family, do you think it crosses her mind for a minute?
A: I do think it was hard for her to leave him because I think, in that moment, she truly realizes the fragility of people. Hope transcends itself in this world. Jack wants to start a new life and be together, and that's quickly broken because it's unrealistic. She feels sorry for him because he's by himself in these circumstances and she's quick to realize how she can manipulate the situation, but as she's trying to get to her family, there is collateral damage that comes with it.
Q: Was that really you in the scene where Alicia slides off the boat and into the water to get to Madison and Travis?
A: [Laughs] It was such a dramatic exit, but it wasn't me. My stunt double is amazing and she did that one. It was a 40-foot drop and she did it twice. She nailed it. I guess there was really no other way for Alicia to get off that boat!
Q: Alicia describes the apocalypse to Nick as "it was over before I knew it started." What do you think that means?
A: Alicia wasn't in the loop for a very, very long time. Madison, Travis and Nick all found out what was going on, but Alicia found out a little bit later. She was kept in the dark. She's still the person who hopes for a connection and she's a moral compass. That's a huge part of how she's just not ready for this. When something bad happens, it happens quickly and it's over before you have any time to catch up. She had ambitions and she lost everything. She didn't even have time to think that things were falling apart. She was just living a completely different life in the matter of a day. She doesn't even know how to process that.
Q: In Episode 2, Nick and Alicia talk about the underrated perks of the apocalypse, with Nick mentioning no planes and no pollution. Can you think of any?
A: Well, there's certainly no traffic, but then again, there's not really anywhere to drive to! An underrated perk of the apocalypse, I think, could be that you don't really have time for any sort of vanity. You don't have to impress anyone and I'd say there aren't that may mirrors lying around. I kind of like that. You just want to be healthy and alive.
Q: What do you think about Alicia taking on more of an active role this season?
A: Alicia was kept in the dark during Season 1, but she felt she should be involved as an adult for the betterment of the group. She's a teenager becoming a young woman and that's really hard for Madison, who's trying to keep a sheltered teenager in a world that is so far from being normal. Alicia knows that if she keeps being treated like a child, it's going to get them in trouble.
Read an interview with Colman Domingo, who plays Victor Strand.
Fear the Walking Dead airs Sundays at 9/8c on AMC. Sign up for the Fear the Walking Dead Insiders Club to get the latest news delivered straight to your inbox.
Read More