Press
Dave Erickson Previews Finale; Yahoo Interviews Elizabeth Rodriguez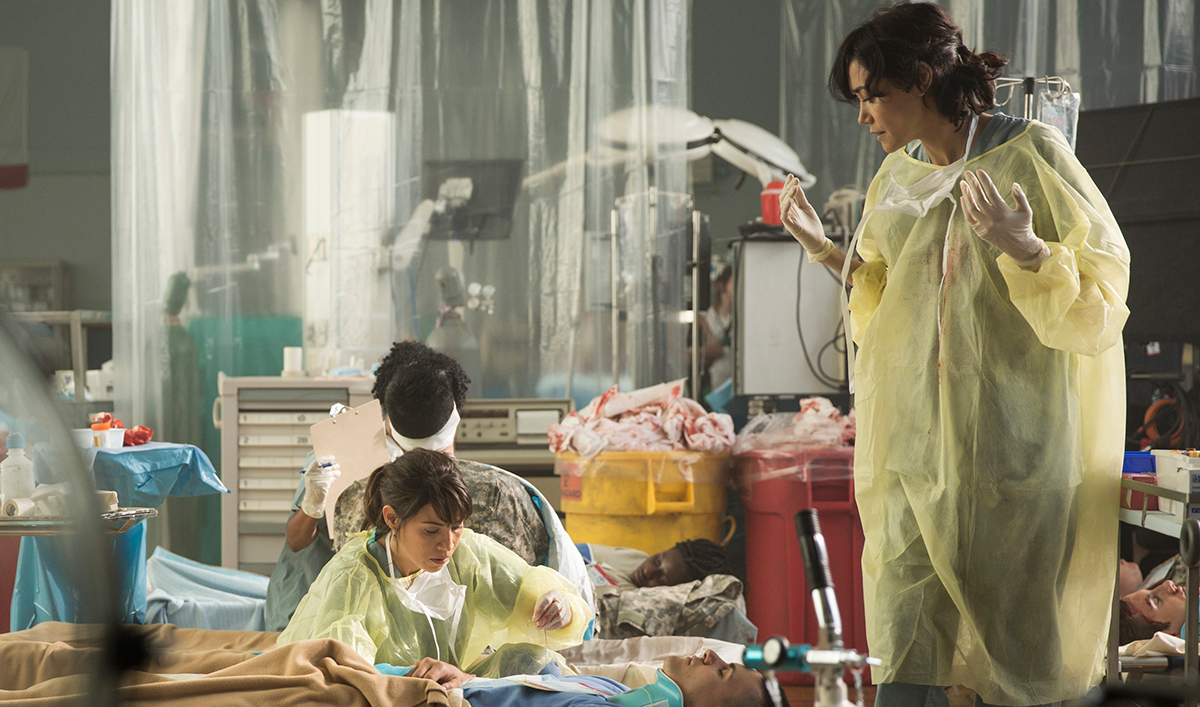 This week, Dave Erickson previews the season finale to The Hollywood Reporter, while Yahoo TV interviews Elizabeth Rodriguez. Plus, Cliff Curtis wins acclaim from Variety for his new movie. Read on for more:
• Dave Erickson tells The Hollywood Reporter the season finale, "The Good Man," "will be the deadliest episode of the season. There's a ticking clock. Travis, Madison, Daniel, Alicia and Chris are going to find out that their community isn't safe anymore."
• Yahoo TV talks to Dave Erickson, who reveals, "There's a bit of a fracture between our core couple going into the finale, which needs to be resolved. We will see an effort to bring the entire family back together."
• Elizabeth Rodriguez, talking to Yahoo TV about Liza, shares, "It's amazing what incredible instincts she has and how resourceful she actually is. More so than she believes."
• Variety speaks with Cliff Curtis, who talks about his turn in James Napier Robertson's The Dark Horse, and wants an Oscar nod for the Kiwi, describing him as "the character actor who takes the whole of a film on his shoulders and knocks it out of the park."
• Collider reports that Fear the Walking Dead won the night with a 3.6 rating in the key 18-49 demographic and grew in its overall numbers to 4.4 million viewers for the evening of Sept. 27.
• Hypable's top TV quotes of the week include one from Daniel Salazar, who said, "Men do these things not because of evil, they do evil because of fear. And at that moment I realized my father is a fool for believing there's a difference."
• A.V. Club names Kim Dickens one of today's best character actors, noting that both Gone Girl and Zero Effect "take particular advantage of her skeptical thoughtfulness; she can ground a scene just by appearing in it."
• Deadline reports that the Fear the Walking Dead: Flight 462 16-part web series will debut on AMC.com on Oct. 4, the same day as the Fear Season 1 finale.
• MTV takes a closer look at Strand, calling him "the most charismatic figure in the entire series thus far."
• The National Review examines how Fear the Walking Dead is "mapping out exactly how attrition and hopelessness would degrade the military."
• Melty spotlights Frank Dillane's conversation with AMC.
• For recaps and reviews of Season 1, Episode 5, "Cobalt," check out The Cheat Sheet, Den of Geek, Flickering Myth, The New York Times, Rolling Stone and USA Today.
To stay up-to-date with the latest news, join the Fear the Walking Dead Insiders Club.
Read More