Press
Dave Erickson, Gale Anne Hurd Talk Season 1 Finale, Preview Season 2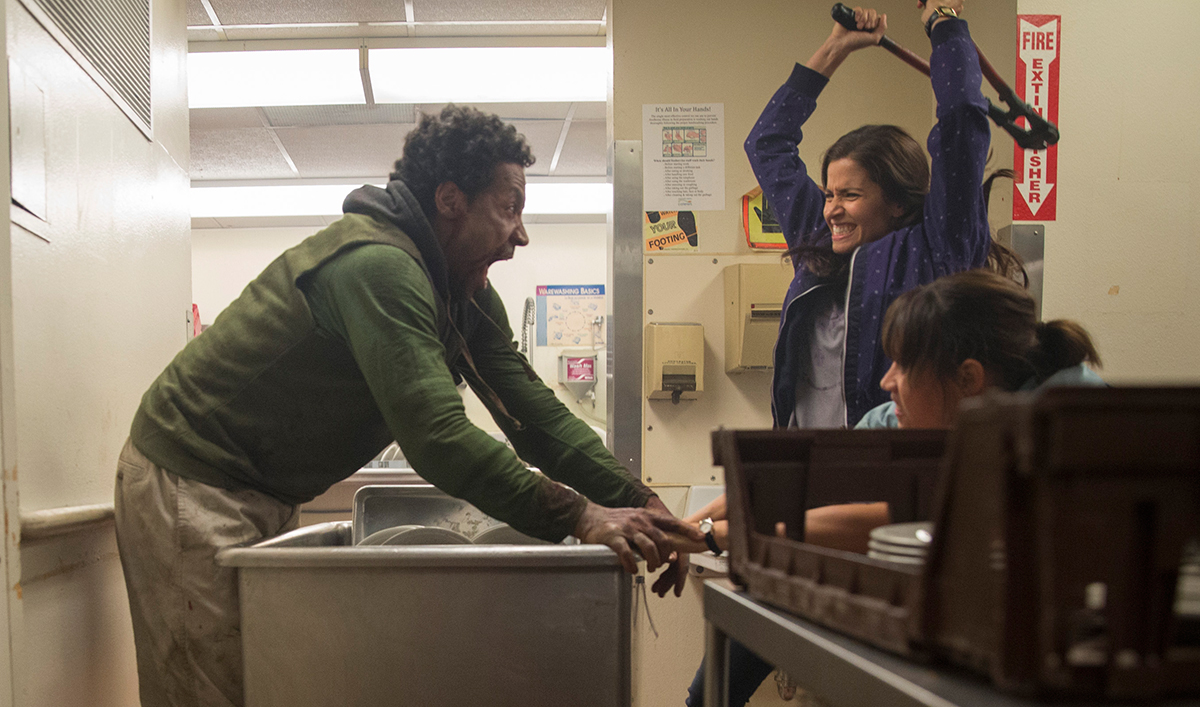 This week, Dave Erickson and Gale Anne Hurd discuss the Season 1 finale and preview what's to come in Season 2. Plus, Robert Kirkman talks to Entertainment Weekly about zombies on the high seas. Read on for more:
• Dave Erickson previews Season 2 to The Hollywood Reporter, saying, "We try to tell the story through the filter of a family drama and that element needs to become more visceral and violent as we push forward."
• Entertainment Tonight speaks with Gale Anne Hurd, who says the season finale underscored how the zombie apocalypse is "indeed upon us and that Los Angeles is no longer safe for them. Also, to see that there are prices to be paid in the loss of people who are dear to them and the loss of innocence."
• TheWrap interviews Dave Erickson, who says, "Liza was always a character we always thought would probably go. Largely because of what it would do to the rest of the characters and the family dynamic as a whole."
• Gale Anne Hurd talks to Deadline about Fear's Los Angeles setting, that a "lot of people said it was scarier because it felt more real to them. You know, most people do live in urban environments rather than rural settings. And it also showed the decline of the rule of law."
• Dave Erickson shares with MTV that "it definitely feels like Madison is our leader. But that'll be part of, when you're dealing with Madison and Strand and Salazar and Travis, that'll be part of the arc for the next season, defining who that person is."
• Entertainment Weekly gets Robert Kirkman's take on Season 2, which will have "a lot of intense action and a lot of awesome boat stuff. Despite the fact that zombies can't walk on water and can't swim, there will be plenty of zombies to be had."
• Additionally, Dave Erickson explains zombies in the water to Yahoo TV, noting that "zombies can float, but they can't swim."
• NPR focuses on Rubén Blades' Daniel Salazar, calling him "one of the most complex, intriguing Latin American characters on prime-time television."
• According to Tech Insider, Dave Erickson said on Talking Dead, "It was important we ended up on the Pacific. It opens some interesting options to us."
• MTV takes a look at the first episode of the Flight 462 web series, joking, "What's scarier than snakes on a plane? How about zombies on a plane?"
• After "a thrilling season finale," Cleveland.com wonders what's coming in Season 2.
• ComingSoon.net spotlights a new AMC video where "the cast and creators share their expectations for the second season."
• The Atlantic discusses Fear the Walking Dead: "Like any great dystopian drama, it's about how fear of death and the unknown make people behave in terrible ways."
• Ahead of the Season 1 finale, MTV tallied up "every single appearance by the walking dead on Fear the Walking Dead so far."
• Uproxx theorizes that Travis is "the ultimate villain of Fear the Walking Dead."
• Entertainment Weekly reports that Season 1 will be available on Blu-ray and DVD on Dec. 1.
• For recaps and reviews of the Season 6 finale, "The Good Man," check out A.V. Club, Cleveland.com, ComicBook.com, Entertainment Weekly, Forbes, The Hollywood Reporter, IGN, Los Angeles Times, Mashable, MTV, TVLine, Variety and The Week.
To stay up-to-date with the latest news, join the Fear the Walking Dead Insiders Club.
Read More