Press
Frank Dillane Talks to NY Times; Alycia Debnam-Carey Visits Jimmy Kimmel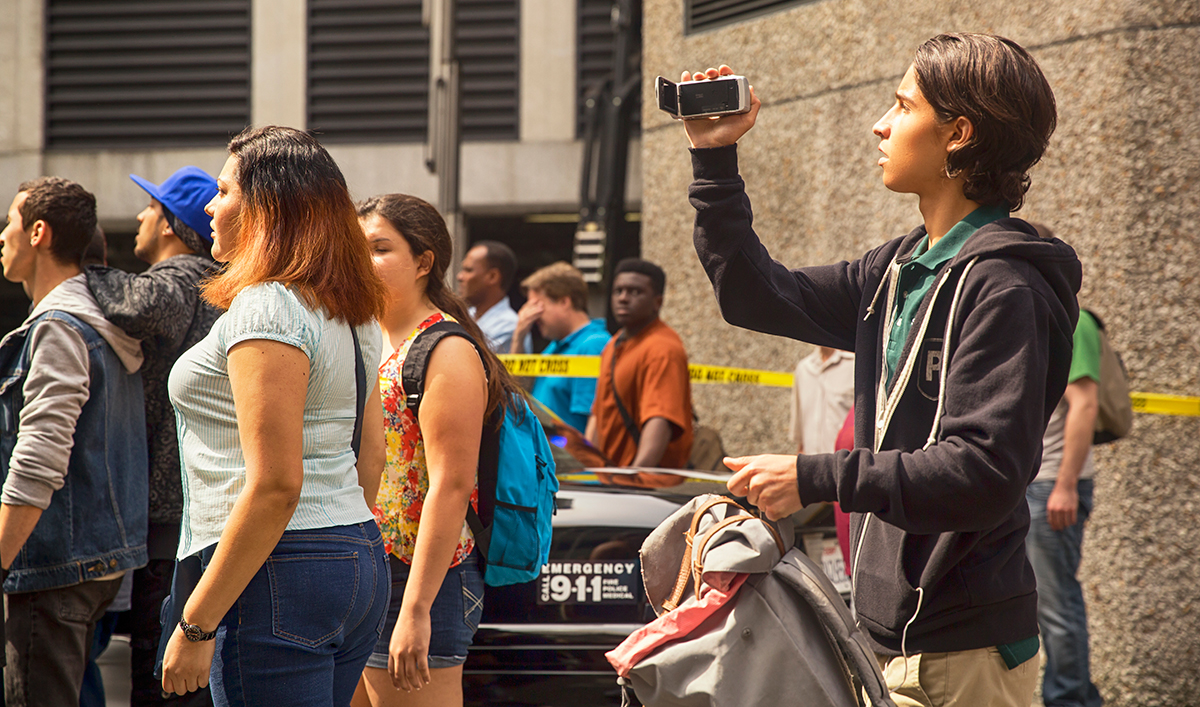 This week, Frank Dillane talks to The New York Times, while Alycia Debnam-Carey pays a visit to Jimmy Kimmel. Plus, Kim Dickens tells Entertainment Weekly about Madison's first zombie kill. Read on for more:
• The New York Times interviews Frank Dillane, who says of playing Nick, "Only yesterday it occurred to me that I have this want inside, that I'm very unsettled at the moment. And a friend said it's probably because I'd been playing an addict for so long."
• Just JaredJr.com has video of Alycia Debnam-Carey on Jimmy Kimmel's show, where she says, "Zombies, horror, gore is not really my thing. But I read the script and it was amazing, and it's such an incredible thing to be a part of."
• Kim Dickens tells Entertainment Weekly that "it's still really fun and really challenging to choreograph and execute these fight scenes and stunt scenes, and it was really fun."
• Vulture interviews Elizabeth Rodriguez, who says, of Liza, "The fact that she's a nursing student ends up playing an enormous role in the subsequent episodes."
• Entertainment Weekly learns from Dave Erickson that "Travis has gone to try to get his biological son and his ex-wife and keep them safe, and Madison has gone to great lengths to protect her son and her daughter, and episode 3 is going to be a coming together."
• Zap2it maintains that "Fear justifies its own existence by telling new stories and maintaining a quality that The Walking Dead loyalists have come to expect."
• Adam Davidson tells Yahoo TV why it was important for Madison to kill Scott Lawrence's Art: "It was a real shame to see Scott go. But that was the point. The fact that it's someone she knows and cares about gives it an emotional weight."
• MTV gets Kim Dickens' take on killing zombies: "I loved the way it happened. I loved going back into the school for the reasons that I did, for a zombie that I have to sort of fight off. I think it's a shocker who it ends up being."
• Dave Erickson talks to The Hollywood Reporter about the Salazar family, how Ofelia prides herself as her parents' guide, but, "as things turn, she will realize that her parents are far more reliant and stronger than she ever knew."
• The Hollywood Reporter quizzes the show's cast about "their respective characters' most valuable skills are and whether they have what it takes to survive."
• TVLine names Frank Dillane the performer of the week, applauding him for being "so in the moment, so vulnerable and palpably afraid, that we couldn't help but be drawn in. It was as if, like his character, we were seeing a zombie for the very first time."
• Cleveland.com calls Tobias "the most relatable and exciting part of the show."
• MTV calls Tobias "the show's greatest character" and wants him on The Walking Dead "where he could become Carl's new best friend, and he could help Rick and the Alexandrians optimize their city-management strategies for the new world order."
• ComicBook.com speaks with Lincoln A. Castellanos, who says of Tobias that "there's potential in a character like him who starts off kind of awkward and introverted, there's an opportunity for him to grow from this new world and to grow stronger."
• Interviewed by The Desert Sun, Lincoln A. Castellanos talks about the scene where the principal was killed: "I could feel my heart pumping. To have him so close to me, and see the look of death in his eyes, as an Infected, staring back at me…as an actor I was completely immersed in the moment, and I was truly terrified."
• Kim Dickens talks to ComicBook.com about her first zombie kill, saying, "These are not skilled characters and they're not prepared for the apocalypse. It's regular people. It's teachers. You use what's at hand and that's what's really fun about playing it."
• Interviewed by The Huffington Post, Alycia Debnam-Carey says, "I think you'll really care about the characters once they start having to make some difficult choices."
• The Telegraph also interviews Kim Dickens, who says, "It's nice to see a genre show focus on an older female character: a mother, wife and working woman who struggles with real problems, such as the challenges of a blended family and a demanding job – as well as her son's addiction."
• Kim Dickens speaks with Entertainment Weekly about Madison's family as "the audience's surrogate, and they get to watch as these characters experience this crumbling of civilization and how rapidly that happens."
• Entertainment Weekly reveals AMC's plan to introduce a new Season 2 Fear the Walking Dead character that will debut on a half-hour special focused on "a group of passengers facing a walker attack on an airline while in flight."
• During a Q&A with Billboard, Rubén Blades describes his character as "someone who'll surprise you as the show progresses. And no, he's not a singing barber. He's not a barber who talks too much either [laughs]."
• IGN chats with Alycia Debnam-Carey, who says, "I think it's amazing how fast a society crumbles too and how quickly people become defensive and people become suspicious of things. At the same time, by the end of this season, we're still not really at the place where Rick Grimes is, you know?"
• VH1 explains why "there are some parts of Fear the Walking Dead's version of L.A. that are actually preferable to the real thing."
• Entertainment Weekly explores Kim Dickens' casting as Madison as evidence that Robert Kirkman "must also be pretty keen on Gone Girl."
• Cliff Curtis, talking to Stuff.co.nz about Fear the Walking Dead, says, "I was expecting a mega-size version of the original show, but that's not what's happening here."
• Asked about her chances during a zombie apocalypse, Kim Dickens says to BT TV, "I like to think that I'm a quick-thinker and good in emergency, but in reality I would probably run straight over to [co-star] Cliff Curtis's house."
• TechRadar talks to Greg Nicotero about walkers and how effects are "not just done for the sake of a cool gag or gore. But it's done in service of the story."
• Undead Walking interviews Lincoln A. Castellanos, who says, "I have my ideas of where Tobias could go (from after the pilot). Certainly, there is great potential for for him to evolve, both psychologically and physically, and many other ways."
• Dave Erickson tells the Contra Costa Times that Alicia is bound for Berkeley because even though "she's looking to escape Los Angeles, she wants to be close to home for emergencies. She's ambitious as hell — a model student. So we wanted her to land at a strong West Coast school — 'Same state, same time zone,' as she says in the pilot."
• Assignment X gets the scoop from the cast and crew on five things to expect in Season 1.
• For recaps and reviews of Season 1, Episode 2, "So Close, Yet So Far," check out A.V. Club, Big Shiny Robot, Collider, Good Morning America, Los Angeles Times, The New York Times, TVLine, USA Today, Us Weekly and Variety.
To stay up-to-date with the latest news, join the Fear the Walking Dead Insiders Club.
Read More