Press
Dave Erickson Looks Ahead; Glamour on Frank Dillane, Alycia Debnam-Carey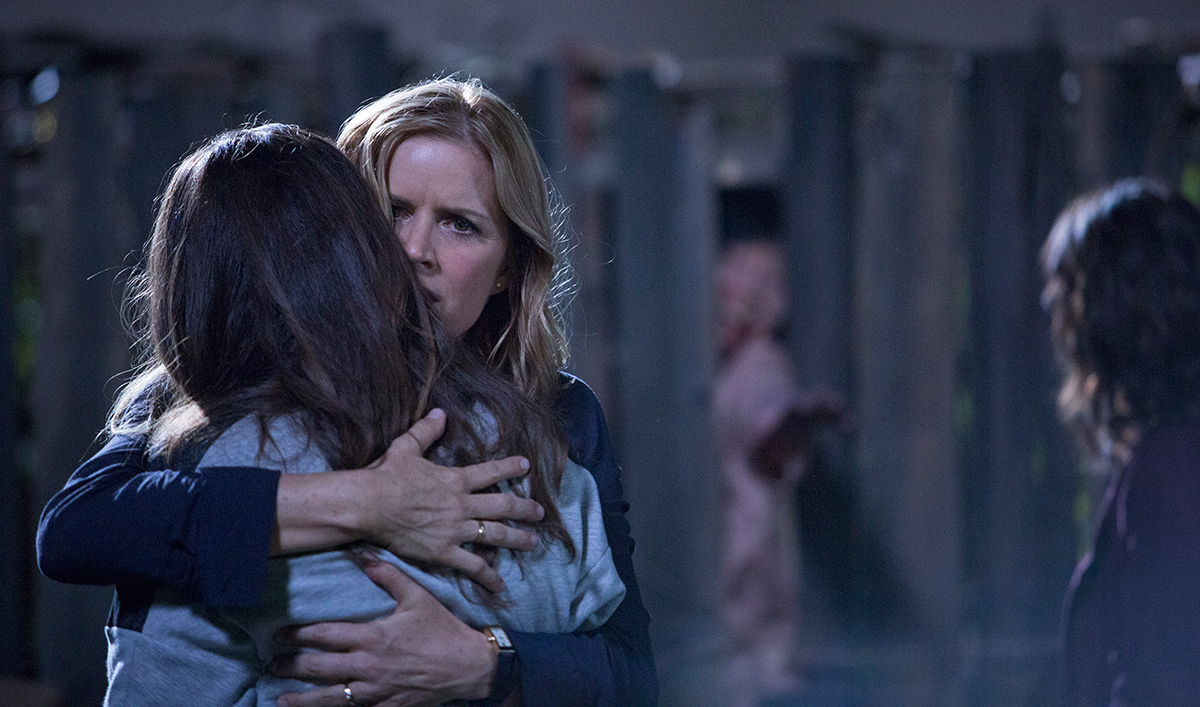 This week, Dave Erickson looks ahead with Yahoo TV and The Hollywood Reporter, while Glamour spotlights Frank Dillane and Alycia Debnam-Carey. Plus, EW relives Kim Dickens' pre-Fear career. Read on for more:
• Dave Erickson tells Yahoo TV, "A number of our characters — Madison, Travis, Daniel, Chris — will have very different perspectives on the military's arrival. And these conflicts will increase the tension, apprehension, and fear within our family."
• Speaking with The Hollywood Reporter, Dave Erickson warns, "The apocalypse will draw out Madison and Travis' differences more and more."
• Glamour's feature on the biggest stars of fall TV includes Frank Dillane and Alycia Debnam-Carey, who both say "the horror genre is new territory" for them.
• Speaking with Entertainment Weekly, Kim Dickens looks back at her memorable pre-Fear roles, when "she made a habit of popping up on some of the best TV shows of the past decade."
• The Denver Post labels Fear one of the 10 best new shows, declaring that "the storytelling structure is more Hitchcockian than strict zombie gore: We know what's coming, the characters don't."
• Zap2it interviews Elizabeth Rodriguez, who says she connects with Liza in terms of "being empathetic and sensitive and caring. She's really honest about who she is. Some of the qualities were things I wish I had more of, personally. I don't have children, but I am very nurturing by nature."
• Frank Dillane says to the Evening Standard, "There seems to be something in the zeitgeist, this idea of an apocalypse. This idea that the world is ending… that we're going to have to go back to basics at some point. That we have almost got as far as we can go with capitalism."
• The Huffington Post chats with Alycia Debnam-Carey, who explains that Fear is about "how the characters come to understand what is going on. You never just find yourself in an illogical situation. It takes time for that development."
• Alycia Debnam-Carey, speaking with News Corp Australia Network, says Fear's family dynamic is "really important to what we're trying to do, which is to establish a slow-burn of what happens when a civilisation falls apart. You get to see who you're rooting for first and then how they'll deal with the crazy circumstances to come."
• Assignment X talks to Lorenzo Henrie, who notes the journey of Season 1 is watching "Chris and his dynamic with his father, with Travis. He's obviously a kid who's very wounded and resentful towards his father."
• Tech Insider learns from Dave Erickson that Fear was inspired by "a pre-apocalyptic family drama" called Five Year that Erickson and Robert Kirkman worked on before 2010.
• Bustle checks out Kim Dickens' many movie and TV roles and calls Madison "one of my favorite things" about Fear the Walking Dead.
• Independent Online interviews Kim Dickens, who says, "I didn't have to do any sort of complex training for this role. The thing is, we approached it as a normal person would. These characters are normal people and not law enforcement officials, or the sort of people who are skilled in any weaponry."
• Design & Trend shares 10 facts about Frank Dillane, "the Fear the Walking Dead breakout star."
• By the same token, Fashion & Style has seven facts about Alycia Debnam-Carey, who "hasn't been acting in America for long, but she's already managed to make a name for herself in Hollywood."
• For recaps and reviews of Season 1, Episode 3, "The Dog," check out A.V. Club, GeekSnack, Mashable, PopMatters, Rolling Stone, ScreenCrush, TV Guide, TVLine, The Wall Street Journal, The Week and Zap2it.
To stay up-to-date with the latest news, join the Fear the Walking Dead Insiders Club.
Read More