Press
Gale Anne Hurd Explains Fear to Forbes; Dave Erickson Teases Episode 2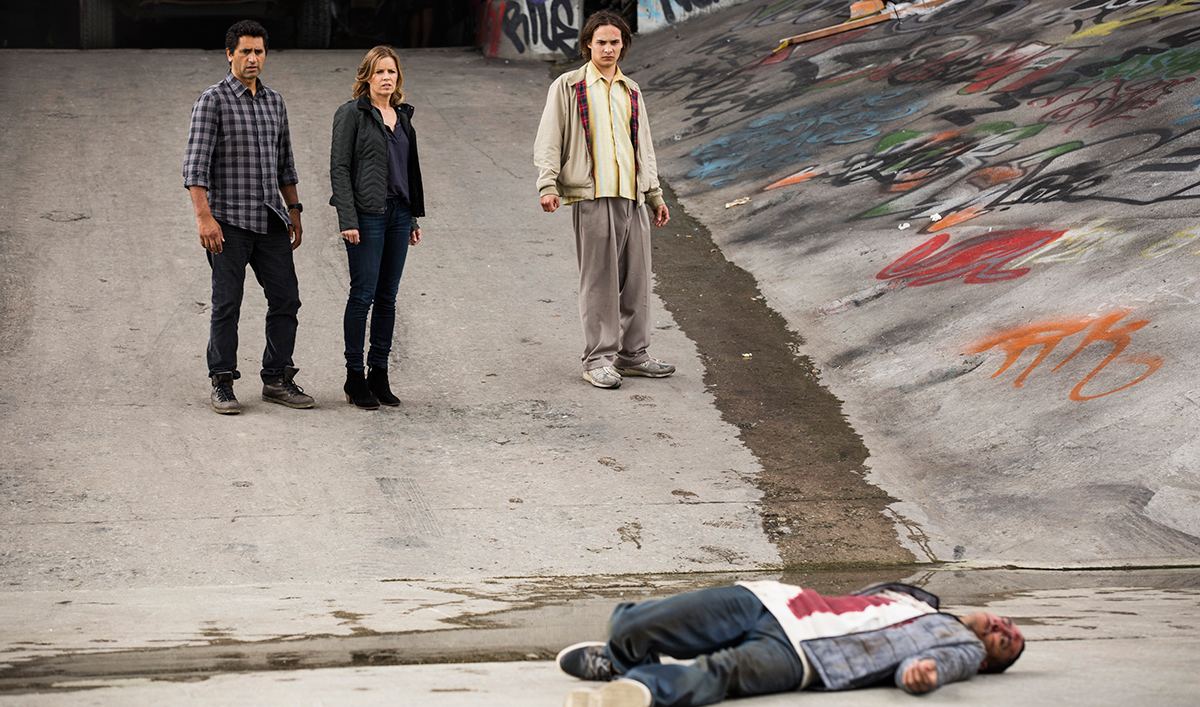 This week, Gale Anne Hurd explains to Forbes what Fear the Walking Dead is all about, while Dave Erickson gives some Episode 2 scoop to EW. Plus, Vulture reports on Fear's blockbuster ratings. Read on for more:
• Gale Anne Hurd dishes to Forbes that Fear the Walking Dead explores "what happens to a family that was already coping with significant drama before the apocalypse. They thought their emotional plate was full, and now the world is infected with a virus that turns people into zombies."
• Entertainment Weekly talks to Dave Erickson, who teases Episode 2, disclosing that Nick, Madison and Travis "will move forward into the second episode trying to wrap their brains around what they've seen and protect those who are near and dear to them."
• Vulture reports that Fear the Walking Dead's first episode was the most-watched series premiere ever for a cable show and adds, "Expect these already amazing numbers to soar even higher once DVR replays are tallied over the next few days."
• The Hollywood Reporter speaks with Dave Erickson, who says that Nick's story "introduces a conflict with this character and his relationship with his mother that's something that will evolve and be explored throughout this season and beyond."
• Kim Dickens discusses Madison's scenes with Travis with Entertainment Weekly, commenting, "I feel like it resonates in Madison a little bit that he has some sort of prophecy or he is a bit of a prophet in a way. She doesn't just dismiss him, but she tries to calm him."
• Frank Dillane, asked by Entertainment Weekly about Nick's childlike nature, explains, "In Nick's case, his father died. So I try to freeze-frame from there this 12-year-old boy whose father dies, and lift back the cover and see what there is."
• Yahoo TV shares 11 things to know about Frank Dillane, who "will continue to be a scene stealer as the Walking Dead companion series unfolds the rest of its six-episode first season."
• Vulture details how the two Dead shows are different, noting that "The Walking Dead is stylistically similar to Cormac McCarthy's The Road, whereas Fear the Walking Dead is more like The Grapes of Wrath, if tumbleweeds were replaced with the occasional zombie."
• The Wall Street Journal delves into the pilot's opening scene with Director Adam Davidson, who says the look of Nick's shelter is appropriate because a "junkie lives in almost an apocalyptic environment. We think we're in line with the time of the original series."
• Speaking with Co.CREATE, Dave Erickson says the pilot and Season 1 are about "playing that game where the audience knows more than the characters do and walking the line where, hopefully, you're leaning in, and you're anxious, and you're fearful for them but never going to a place where you just want to smack them for being stupid."
• Den of Geek talks to Dave Erickson, who points out that Nick has been "living on the fringe for a long time, he's been homeless, he's stolen, so in some respects he's had his training" for the zombie apocalypse. FOX411 also chats with Erickson.
• Greg Nicotero reveals to Tech Insider that he used The Walking Dead's Shane and Amy as a reference point for Fear the Walking Dead's zombies and that "eyes were a big focus of creating the newly undead."
• Variety reports that Fear the Walking Dead will premiere in the U.K. on Aug. 31 on AMC's U.K. channel.
• The Hollywood Reporter, pointing out that Fear the Walking Dead aired in 125 countries within 24 hours after premiering in the U.S., says it was "the largest day-and-date broadcast for a drama series and the biggest test yet of whether AMC can take its brand global."
• The New York Post points out that Fear the Walking Dead and The Walking Dead share "character types," comparing Travis to Rick and Madison to Lori and Andrea.
• Latin Times, talking Season 1, interviews Patricia Reyes Spíndola and Elizabeth Rodriguez, who says, "You can expect some family drama, suspense, some horror and some heartbreaking situations."
• Interviewed by The Hollywood Reporter, Dave Erickson discusses the things that Fear the Walking Dead won't be tackling anytime soon, including the outbreak's cause ("it's never been about what caused it; it's always been about the impact it has on people") and crossovers with any of The Walking Dead cast.
• On TODAY, Kim Dickens talks about her character's family on Fear the Walking Dead discovering the zombie apocalypse and how "the audience gets to walk through the beginnings of it with us and watches us find our way."
• The Los Angeles Times speaks with Co-Executive Producer Adam Davidson about shooting the series in Los Angeles: "I love the flaws of L.A. It's a fragile place, and that to me was interesting — to tell the story of a world that's already flawed, and all of the sudden zombies come in."
• Speaking with USA Today, Kim Dickens says her character's family is "a very recognizable family, coming together as (a) second union. The audience will get to see how they co-exist, and how it either brings us closer together or tears us apart as all this starts to happen."
• Dave Erickson explains to Channel Guide Magazine what the show's about: "We wanted to explore that four- or five-week time frame where Rick was asleep and allow the audience to see the events that would lead up to the disintegration of society — and specifically to use the backdrop of a major city as things begin to fall apart."
• Dave Erickson talks to the Los Angeles Daily News about setting the show in Los Angeles, calling the city "a beautiful place to shoot — the colors are different, the light is different. So the question for us was how do you corrupt that beauty and bring in the darkness."
• The Telegraph echoes that sentiment, saying, "Los Angeles, with its huge, dusty sky, looping network of roads and shimmering, ever-present heat has its very own potential as a backdrop for horror: the crowded intensity of the city creates a sense of fierce, dizzy urgency."
• E! Online has a sneak peek at Episode 2, imploring Madison "to survive all the way through so she can inevitably meet Norman Reedus' Daryl Dixon and they can have some sexual tension and then Carol can get a little jealous before ultimately teaming up with Dickens' Madison and being so badass together."
• For viewers "itching for more Kim Dickens," Decider shares five titles featuring Dickens that can be streamed.
• Rolling Stone studies the "four main eras of zombie pop-mythology."
• Uproxx details "where you may have previously seen the cast of AMC's Fear The Walking Dead."
• For recaps and reviews of the series pilot, check out Access Hollywood, Basket of Kisses, Big Shiny Robot, CarterMatt, CNN, Den of Geek, Good Morning America, Los Angeles Times, Monsters & Critics, The New York Times, TVLine, TVOvermind, USA Today, The Wall Street Journal and The Washington Post.
To stay up-to-date with the latest news, join the Fear the Walking Dead Insiders Club.
Read More