Q&A
Fear the Walking Dead Q&A – Kim Dickens (Madison Clark)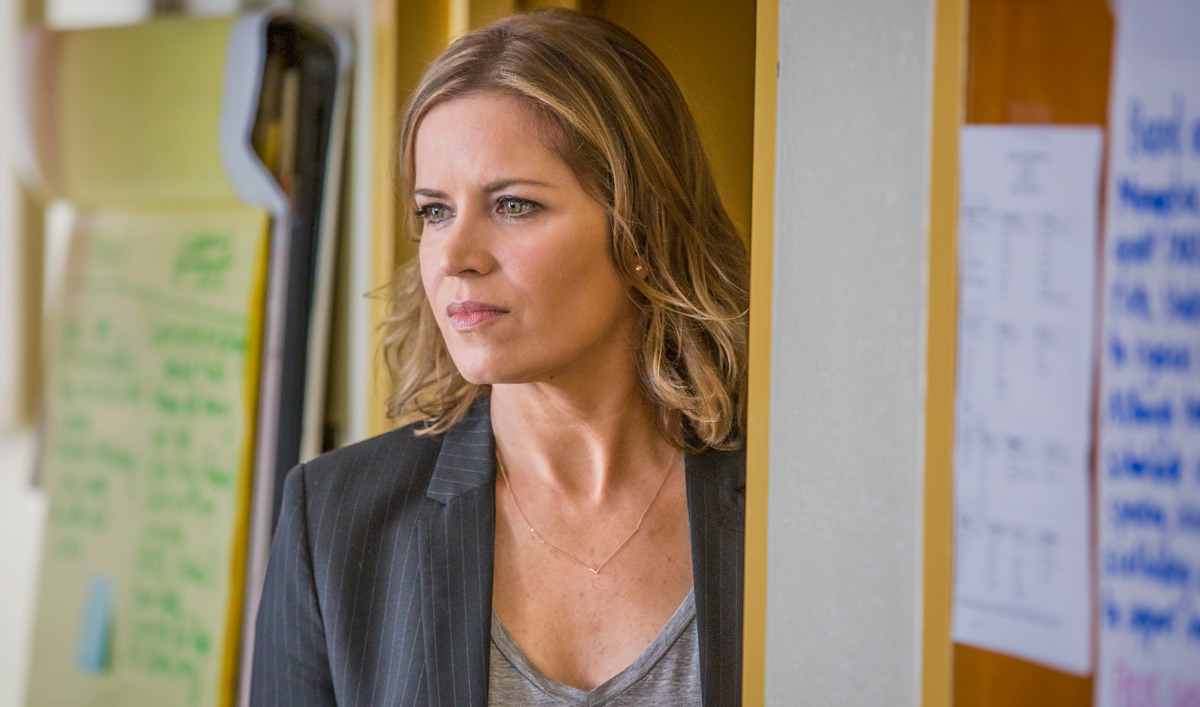 Kim Dickens, who plays Madison Clark on AMC's Fear the Walking Dead talks about easing into the apocalypse and meeting her first newly infected human in the Series Premiere.
Q: You've mentioned this show being a new genre for you and being unsure whether you'd fit in. What was your first day on set like?
A: Our first two days were shot in a high school, so we were in our normal lives in our job and relationship. We got to ease into it and ease into the apocalypse.
Q: What was your first impression of Madison?
A: When I first started reading about her, I found the character so real and relatable. It's such great writing. I found her so compelling because she's such a brave and courageous woman to start with. She's also feminine, and then all of a sudden this warrior comes out of her. I thought it was a great thing to play.
Q: How did you think she'd fair during the apocalypse?
A: She's so well-rounded. She's not just a mother or just a girlfriend. She's coming together in a new relationship and connecting her family [with Travis's]. She's dealing with a troubled son and a daughter who is more of a golden child, so it's not just instantly game on for these characters once they're faced with this apocalyptic situation. They all stumble their way into it. It's not like she has all this outer experience to help her in the situation and she's not skilled at defending a community or anything, but what it brings out from inside her normal persona is just fascinating.
Q: Madison seems to be in denial of what's going on at first with the virus in L.A. Do you think you would adopt that mentality as well if you were in the same situation?
A: I think so, yeah. She's not so much in denial as she is careful to jump to conclusions. She's a school counselor, so she's there to take care of teenagers in a high school. She's there to counsel and make sure they're okay and there's not chaotic paranoia happening before we have all the information. She has to take care of their well-being, their imaginations, their fears and worries. She does trust the authorities and that we will be informed and protected. It becomes more apparent that there's something happening that's out of control and the paranoia becomes real. She doesn't stay in denial for long. She's smart.
Q: What was the moment like when you encountered your first newly infected human (Calvin) during the Series Premiere?
A: The effects are so wonderful. Our production design and everything has been so fantastic in this world that we've wandered into. It was just riveting, I thought. It was magical, scary, haunting – and it was really fun. It was a pretty powerful moment.
Q: Have you been plagued by nightmares yet?
I did have a few nightmares! [Laughs] My subconscious had to work things out at night. I was just like, "What's happening?!"
Q: Are there any survival skills you've learned from doing this series?
A: Learning to think on my feet and make quick decisions. I might be a little bit better of a physical fighter. I've been doing a lot of my own stunts and I might be a little more confident.
Q: Have you read The Walking Dead comic? Is there anything you learned from watching The Walking Dead?
A: I haven't read the comic yet. I began watching the series – I was very late to the party – and then I got this audition. I asked the Casting Director what I should watch, power through and binge on. The word I got back was to actually not do anything because we wouldn't know what [the world] looks like. It was helpful going into filming because from our perspective, we don't know what it looks like. I didn't want that to be in my head, so that I could stay true to my character. Once I feel more confident and the world starts to turn, I think I can binge watch it all.
Q: What do you think your greatest asset/liability would be in an apocalypse?
A: I think I make quick decisions. I can be quick in emergencies. That would be an asset. My liability is I'm a scaredy-cat! [Laughs] With those two things hand-in-hand, I don't know how far that's going to get me. Maybe like six and a half hours into the apocalypse.
To stay up-to-date with the latest news, join the Fear the Walking Dead Insiders Club.
Read More