Eli Roth's Deep Cuts
These Sexy and Smart Vampire Movies Take the Creature of the Night in a New Direction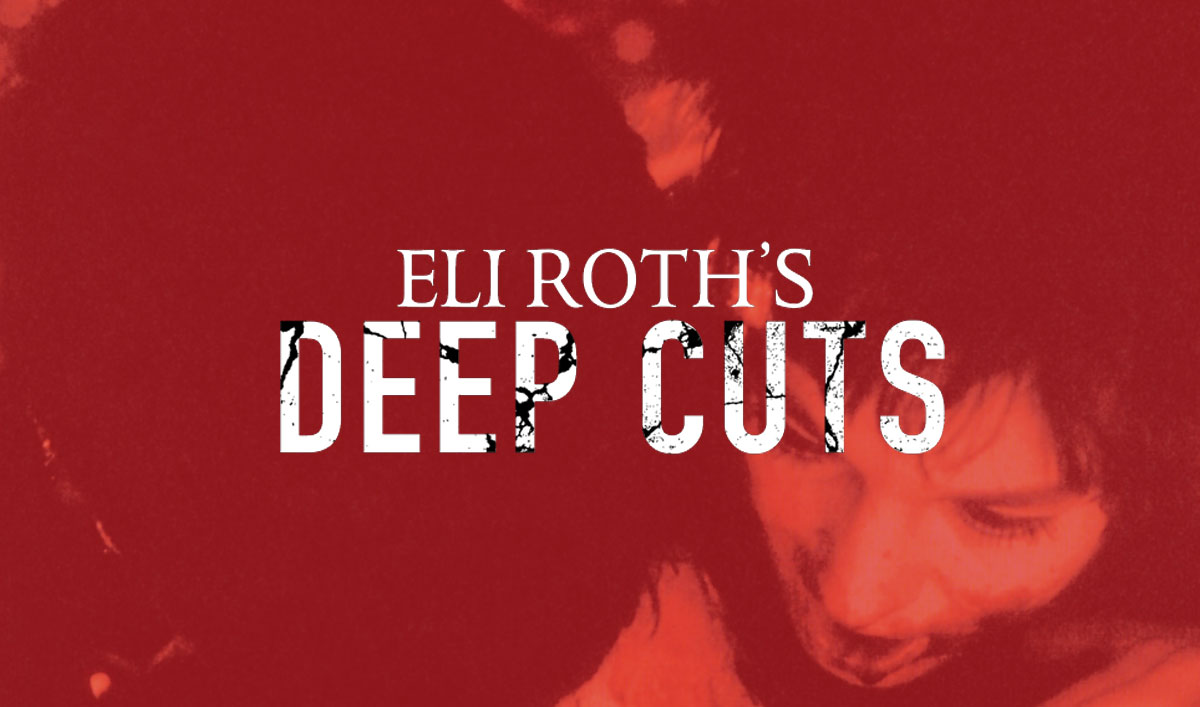 Ready for a deep dive into horror? Each week, acclaimed director, writer and producer Eli Roth compiles a curated list of films that best exemplify horror's various sub-genres. Whether you're a new horror fan or a die-hard expert, "Eli Roth's Deep Cuts" has a recommendation ready for you.
Vampires have stalked the nightmares of humanity for centuries, with the fear of an undead force sucking the life out of a defenseless victim present in almost every culture across the world. Movies and television have rocketed the universal monster to global appeal, playing off our fascination with sex and death. In this list, Eli Roth breaks down the films that have taken the vampire genre in a slightly new direction.
Go even further with this list of deeper cuts on hidden gems of vampire movies, then take a deep dive into the sleazier, sillier side of the vampire genre.
Then, watch the latest episode of Eli Roth's History of Horror to see Josh Hartnett, John Landis, Mick Garris and more explore our fascination with sex and death in vampire movies.
Nosferatu (1922, dir. F.W. Murnau)
Nosferatu is the first screen adaptation of Bram Stoker's 1897 novel Dracula. The plot is roughly the same, with several important differences. For starters, the vampire, Count Orlok, is a hideous monster, not the suave aristocrat played by Lugosi and his descendants. In another big change, the story hinges on the crucial choice made by the heroine, not the actions taken by the ineffectual men in the story. These differences were not enough for Stoker's widow, who successfully sued Nosferatu's producers for plagiarism and ordered all prints of the film destroyed. Fortunately a few survived, and today Nosferatu is considered a classic of the silent film era. (Look for the upcoming reimagining of the story starring Doug Jones as Orlok.)
Vampyr (1932, dir. Carl Theodor Dreyer)
While sleeping at a hotel, an old man enters Allan Gray's room and leave a suspicious package that says "to be opened upon my death." Gray follows the shadow out of the hotel and into an old castle, where he sees the old man shot to death. Shortly after, Grey realizes a vampire has bitten the old man's daughter. Gray realizes he must find the grave of the vampire who bit her and drive a stake through its heart. Vampyr's dreamlike style is at its best in a long, disturbing sequence where Gray has a vision of himself being buried alive. Like many early horror classics, Vampyr was initially attacked by audiences and critics; its failure led to Dreyer having a nervous breakdown. See a clip from the movie below:
Dracula's Daughter (1936, Lambert Hillyer)
Gloria Holden is creepy, sad, and brilliant as Dracula's daughter, Countess Marya Zaleska, who lives as a bohemian artist in an urban downtown. She hates her thirst for blood, which she satisfies with male and female lovers. She seeks out psychiatrist Jeffrey Garth to help cure her of her addiction. Possibly the most modern of the Universal monster movies, its emphasis on a sympathetic, bisexual vampire who longs to be cured foresees the Interview with the Vampire saga (Anne Rice has noted it as an influence). It's also visually exciting, filled with delicious, brooding atmosphere. See Quentin Tarantino's discussion of Dracula's Daughter on Eli Roth's History of Horror!
Abbott and Costello Meet Frankenstein (1948, dir. Charles T. Barton)
Wilbur and Chick, a couple of baggage clerks at a train station in Florida, find themselves in hot water when House of Horrors owner Mr. McDougal gets crates containing the corpses of Dracula (Bela Lugosi) and the Frankenstein monster (Lon Chaney). They quickly come to life and pursue Wilbur and Chick. At the same time, Wilbur is bewildered when two gorgeous women show interest in him. It turns out that one of them is an undercover insurance investigator trying to track down the crates, and the other is a fugitive who wants to work with Dracula to implant Wilbur's brain into the Frankenstein monster! In his Eli Roth's History of Horror interview, Quentin Tarantino cited this film as a childhood influence, and you can see why. It fearlessly blends hilarious comedy and real horror (the monsters in this movie aren't played for laughs), acted by an ensemble cast of strong performers, including Bela Lugosi in his second-ever appearance as Dracula. It would be his last hit. One of the best horror comedies ever made.
Blacula (1972, dir. William Crain)
African Prince Mamuwalde and his wife Luva meet with racist Count Dracula in an effort to end the slave trade. Instead, Dracula turns Mamuwalde into a vampire, nails him into a coffin and walls Luva up with him. Cut to 1972, when an interracial gay couple (antique dealers, of course) purchase materials from Dracula's estate and unwittingly resurrect Mamuwalde, who craves blood and is desperate to find his love. Shakespearean actor William Marshall brings a tremendous amount of class and gravitas to his role (he added his character's backstory and a stirring monologue) and the film does a decent job balancing laughs and scares. Yes, it's an exploitation film, but it has a powerful metaphor at its core.
Shadow of the Vampire (2000, dir. E. Elias Merhige)
A film about the making of F.W. Murnau's Nosferatu (1922). Shadow imagines that star Max Schreck actually was a vampire, and that Murnau promised him that he could actually dine on his leading lady in the final scene. John Malkovich plays Murnau as a narcissist who doesn't care about anybody or anything except for himself and his work. Willem Dafoe is uncanny as Max Schreck, who causes some problems by eating crew members, even though Murnau still needs them to make the film.
The Last Man on Earth (1964, dirs. Ubaldo B. Ragona and Sidney Salkow)
Dr. Robert Morgan (Vincent Price) survives a plague that destroys mankind and turns the dead into roving vampires. He battles with loneliness and misses his wife and child, but his routine is set: Kill vampires by day, hide out at home by night. When Morgan meets fellow survivor Ruth, he hopes that together they can re-populate and rebuild the world. But Morgan has failed to see that the change in demographics has also changed the definition of a "monster." Based on Richard Matheson's classic novel I Am Legend, which was adapted as The Omega Man (1971) and I Am Legend (2007), and inspired George Romero's Night of the Living Dead (1968).
Daughters of Darkness (1971, dir. Harry Kümel)
Valerie and Stefan, who have just gotten married, stop in a seaside resort town during off-season on their way to meet his mother. They find themselves staying in a luxurious yet deserted hotel with a glamorous older woman and her beautiful young lover. It turns out that she is Elisabeth Bathory, who bathed in the blood of virgins to maintain her youth centuries ago and, naturally, hasn't aged a bit. She preys on the couple's dysfunction, with sexy and deadly results. A haunting masterpiece with a mischievous script, a tour de force performance by Delphine Seyrig, and gorgeous settings, costumes, cinematography, and music.
Fright Night (1985, dir. Tom Holland)
Horny teenager Charley Brewster (William Ragsdale) spies on his handsome new neighbor Jerry Dandrige (Chris Sarandon) making love to a young woman – who Jerry then drains of blood. Looking for help, he turns to late night horror movie host Peter Vincent (Roddy McDowell). An attempt to confront the vampire goes badly, setting in a motion a life-or-death struggle that puts everyone Charley cares about at risk. This self-aware horror/comedy helped revitalize the moribund vampire genre.
Near Dark (1987, dir. Kathryn Bigelow)
A farmer's son falls for an angelic blonde drifter, and ends up part of her family of roving vampires. Kathryn Bigelow combines the vampire film, the Western, and the crime film to dynamic and poetic effect. Bill Paxton is memorable as one of the film's complicated villains; Lance Henriksen is perfectly believable as the one-time Confederate soldier who leads the vampire pack.
Innocent Blood (1992, dir. John Landis)
A beautiful, sensitive French vampire (Anne Parillaud) with a moral code only preys on Pittsburgh's criminals. Unfortunately, her attempt to drain a vicious Mafia boss (Robert Loggia) is thwarted by his love for garlic. He comes back as a vampire and begins turning his crew into a super-powered army of thugs. Featuring a cast that would later populate The Sopranos, this smartly-directed comedy/horror is filled with Landis touches, including plenty of gore, kinky sex, and a very funny performance from Don Rickles as the mobster's ill-fated lawyer.
Underworld (2003, dir. Len Wiseman)
Catsuit-clad vampire warrior Selene (Kate Beckinsale) gets caught in between a battle of werewolves and vampires when she falls in love with Michael, a human who gets bitten by a werewolf. Directed by Len Wiseman, art director of Independence Day and Stargate, Underworld is high on giant action sequences and flashy visuals and low on character development and dialogue. In this sense, it's highly emblematic of its time period.
Fright Night (2011, dir. Craig Gillespie)
An effective update of the 1985 horror/comedy classic, featuring a terrific cast led by Toni Collette, the late Anton Yelchin, Colin Farrell as the sexy/deadly vampire next door, and a scene-stealing turn by David Tennant as Peter Vincent, who in this version is a Criss Angel-style "illusionist." Befitting darker times, the horror is more graphic and the sex is…sexier.
A Girl Walks Home Alone at Night (2014, dir. Ana Lily Amirpour)
Billed as the "first Iranian vampire western" (though it was shot in Bakersfield, California and plays like a French New Wave film), Amirpour's tale follows a skateboard-riding vampire with a heart of gold as she stalks the creeps and pimps of Bad City. When she meets a boy, sparks fly and things get complicated. Violent, sexy, and surreal, there is nothing quite like it.
What We Do in the Shadows (2014, dirs. Jemaine Clement and Taika Waititi)
A hilarious and clever mockumentary about a trio of vampire roommates struggling to deal with the mundane modern world. The film juxtaposes the characters' grandiose ancient vampire personas and powers with the everyday annoyances of dividing up chores, roommate squabbles, trying to get into clubs to meet victims, and battles with a rival werewolf gang. The leads embody different vampire types, from Count Orlok to an Anne Rice-style "dark prince."
Click here to see all of Eli Roth's Deep cuts.
Watch the latest episode of Eli Roth's History of Horror on amc.com and the AMC app for mobile and devices. The Full Season is available to binge for AMC Premiere subscribers.
The Eli Roth's History of Horror Season Finale airs Sunday Late Night. Want even more exclusives delivered directly to you? Sign up for the Eli Roth's History of Horror Insiders Club.
Read More