Eli Roth's Deep Cuts
The Dark Specters of the Past Return to Haunt in These Deep-Cut Ghost Stories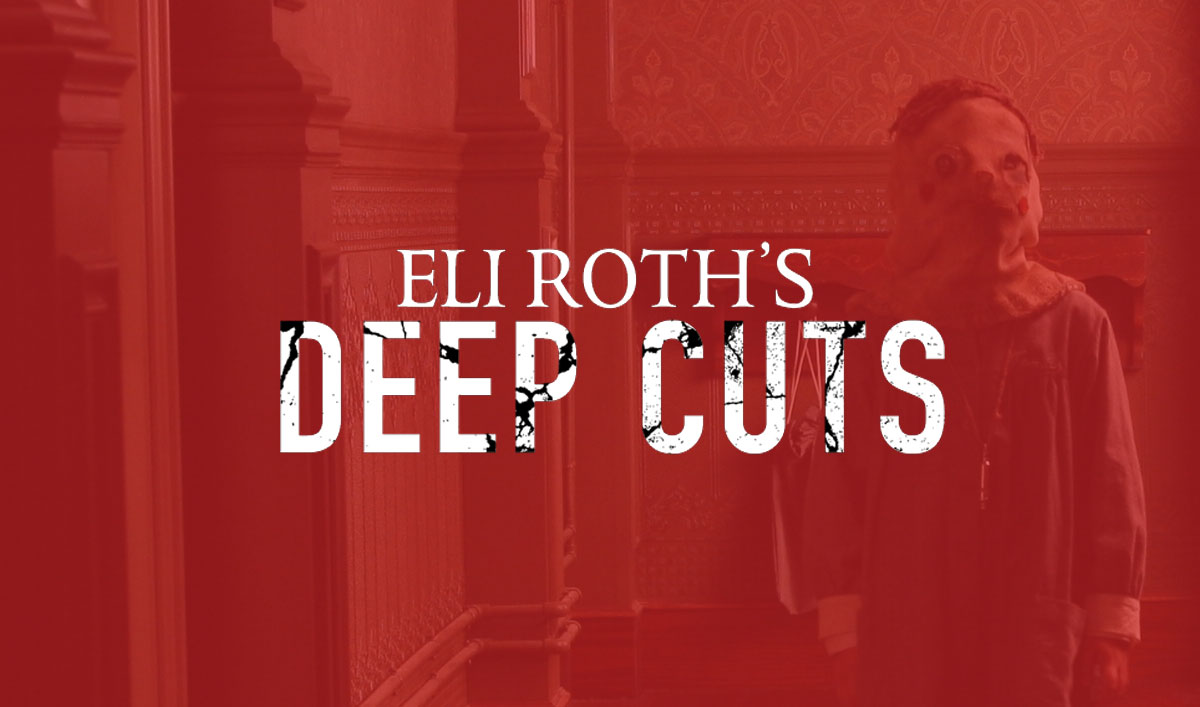 Ready for a deep dive into horror? Each week, acclaimed director, writer and producer Eli Roth compiles a curated list of films that best exemplify horror's various sub-genres. Whether you're a new horror fan or a die-hard expert, "Eli Roth's Deep Cuts" has a recommendation ready for you.
Ghost stories are the perfect way to work out our fears, not only about death, but also about the personal tragedies that can befall good people in life. In these deep-cut ghost films, the specter of a dark past is often the biggest villain of all.
Go even further with this list of deeper cuts on both the frightening and funny classic ghost stories, then take a deep dive into some of the daring and downright strange spooks in horror.
Then, watch the Season Finale of Eli Roth's History of Horror to see Stephen King, Haley Joel Osment and more join Eli Roth to explore the harrowing haunts of horror movies.
Kwaidan (1965, dir. Masaki Kobayashi)
A beautiful, colorful anthology movie that brings traditional Japanese ghost stories to life. For non-Japanese audiences, it provides an interesting study in how different iconography scares people of different cultures.
Let's Scare Jessica to Death (1971, dir. John Hancock)
Jessica is discharged from a mental health facility where she's been treated for a nervous breakdown. Almost immediately after, she, her husband, and their friend move into a creepy old farmhouse (never a good idea). They find a pretty hippy squatting at the house, and allow her to live with them (bad idea #2). Jessica hears voices and sees what she believes are ghosts. Is the farmhouse haunted? Is Jessica having another nervous breakdown? Or are Jessica's husband and their friends trying to drive her over the edge? Zohra Lampert is great as Jessica. The film is packed to the brim with low key, very spooky scenes, sounds, and images.
Hausu (House) (1977, dir. Nobuhiko Obayashi)
Hausu is a movie that rewires your brain. A schoolgirl and her friends go to visit her aunt in the countryside. When they arrive, they discover that the aunt is dead and the house is haunted. One by one the girls are tormented and killed by everything from demons to an evil cat to a man-eating piano. The hallucinatory imagery and insane plot make a bit more sense when one learns the film is an allegory for Japan's experience of the nuclear bomb. Available in a nice transfer from the Criterion Collection.
The Watcher in the Woods (1980, dir. John Hough)
In the 1980s, Disney tried to appeal to older audiences by going dark, resulting in creepy sci-fi/horror movies like Escape to Witch Mountain (1975), The Black Hole (1979), Return to Oz (1985), and Something Wicked This Way Comes (1983). Of these, the cult classic The Watcher in the Woods fit into the horror genre most overtly. An American family moves into Bette Davis's wooded English mansion. Daughter Jan begins seeing a blindfolded blonde girl in mirrors, pleading for her help. A mysterious green light shines in the wood at night. Jan's younger sister Ellie begins having visions and shows signs of possession. Jan must play Nancy Drew and figure out what's going on. She's not a fool, so she consults Bette. Watcher had a troubled production and went through various re-edits (particularly the film's ending), but it's still spooky and nostalgic for anybody who grew up in the '80s.
The House by the Cemetery (1981, dir. Lucio Fulci)
A man moves his family into an old New England house to finish his colleague's research on the evil Dr. Freudstein, left incomplete when the researcher killed his wife and himself. A ghostly little girl in Victorian garb warns the man's son to stay away but, of course, parents never listen. There is something very nasty in the basement, and the family may end up repeating history in more ways than one.  The House by the Cemetery is one of Fulci's most linear, understated films.  Don't worry, though, it's still filled with stomach-churning gore and plot holes. Then again, with Fulci, you never know whether you're witnessing a plot hole or poetry.
Poltergeist II (1986, dir. Brian Gibson)
They're back – to cash in! The Freelings are living with their grandmother and without a television set. But when Grandma dies, the ghosts on the other side catch up with Carol Anne via her toy phone. Poltergeist II definitely feels like a manufactured sequel, rather than an organic continuation of the original film. However, it has achieved near-classic status because of the terrifying ghost of Reverend Kane (Julian Beck). Every scene he's in is 100 proof nightmare material. The film also has amazing monster effects by H.R. Giger. Craig T. Nelson's "Vomit Monster" is one for the books.
The Lady in White (1987, dir. Frank LaLoggia)
Bullies lock a little boy in the cloakroom at his school overnight, and the ghost of a little girl visits him. She has important information to impart about her death. Writer-director LaLoggia managed to make his labor of love incredibly beautiful and lush on a small budget. It overwhelms the viewer with its evocation of Halloween in a small town. Katharine Helmond, usually known for comedic roles, is nightmare inducing and sad as the lady of the film's title.
The Woman in Black (1989, dir. Herbert Wise)
A spooky made-for-TV movie about a lawyer who goes to a cold country mansion to settle the estate of the reclusive woman who died there. The townspeople won't go near the house, and he is haunted by visions of a mysterious woman in black. When he stays in the house overnight, its dark legacy terrorizes him. The 2012 remake with Daniel Radcliffe is also worth checking out.
Ghostwatch (1992, dir. Lesley Manning)
In 1992, the BBC played a War of the Worlds-style trick on their audience. Ghostwatch was a faux-reality TV program in which actual, well-known BBC newscasters did a live investigation of a haunted house while others in studio watched and discussed their findings. Audiences tuning in after the show's pre-credit "this is fiction" disclaimer thought that the program was real, and lost their minds when the show got really scary. The BBC compounded the madness by saying that they were getting phone calls that the hauntings inside the house were somehow getting out of the TV and assaulting viewers at home and, eventually, the people in the studio itself. Allegedly, police were flooded with calls from petrified people and kids were later diagnosed with post-traumatic stress disorder from watching the show. The BBC was shaken enough to ban further airings of Ghostwatch for 10 years.
Stir of Echoes (1999, dir. David Koepp)
Kevin Bacon plays a telephone line man who is bored with his life, until his sister-in-law hypnotizes him at a party and awakens his ability to see ghosts and other terrifying visions. As is so often the case, a ghostly little girl needs him to solve a mystery. The basic storyline is enhanced by the film's well developed blue collar setting, Koepp's keen visual sense, and Kevin Bacon's deeply felt but restrained performance.
Pulse (2001, dir. Kiyoshi Kurosawa)
One of the first and best movies to explore the internet as a haven of terror. A group of college students install a program that will allow them to interact with the dead. They succeed, and get much more than they expected. Director Kurosawa wisely makes people's isolation from one another as scary as anything supernatural.
Bones (2001, dir. Ernest Dickerson)
An awesome Blaxploitation horror throwback. Snoop Dogg plays Jimmy Bones, a neighborhood protector who was murdered by corrupt cops and buried in his brownstone. Decades later some young people turn the gothic resting place into a nightclub and accidentally resurrect Jimmy, who is now out for vengeance. The great Pam Grier plays his ex-girlfriend, who was forced at gunpoint to participate in his death. Dark commentary about the traumatic foundations of certain slum neighborhoods underlines the horrific imagery and ghostly mayhem.
The Orphanage (2007, dir. J.A. Bayona)
A woman and her family buy the orphanage where she lived as a child and plan to reopen it as a home for sick and disabled children. She and her son feel the presence of children there, and she wonders if something bad happened to her childhood playmates after she was adopted. The chills mount slowly but intentionally as Bayona explores how the places of people's childhood often feel uniquely ominous to them. The film was produced by Guillermo del Toro, and has many affinities with his work.
1408 (2007, dir. Mikael Hafstrom)
Stephen King returns to the "haunted hotel" genre, this time with the story of a writer who specializes in debunking false paranormal activity and his overnight stay in a "badly haunted" hotel room. Hotel Manager Samuel L. Jackson warns him against it, telling him that 50 people have died there (note: always listen to Samuel L. Jackson). The author ignores his advice, so the haunted room pulls out all the stops to reveal to him its evil —including, of course, preying on his grief surrounding his young daughter's recent death. It's a bit effects heavy but, overall, 1408 is a really scary and claustrophobic experience. It's hard to watch alone.
Lake Mungo (2008, dir. Joel Anderson)
You could be forgiven for assuming that this tense, frightening faux-documentary was real. A family cannot believe that their teenager daughter's recent death by drowning was an accident, especially when supernatural happenings torment them. They hire a parapsychologist who learns their daughter was leading a secret life. The family ends up at Lake Mungo, where they discover the awful truth.
Under the Shadow (2016, dir. Babak Anvari)
Set in Tehran during the Iran-Iraq war, Under the Shadow is a truly original and thought provoking horror film. Shideh and Dorsa, a mother and daughter, hunker down in their apartment, terrified by frequent missile attacks. Tensions rise when their apartment becomes haunted by what their neighbor calls a Djinn, a spirit that that gains strength from people's fear and anxiety. Their neighbors flee to escape the missiles, but Shideh insists on staying. The apartment transforms, Repulsion-style, and supernatural events start piling up.
Click here to see all of Eli Roth's Deep cuts.
Watch the Season Finale of Eli Roth's History of Horror on amc.com and the AMC app for mobile and devices.
Want even more exclusives delivered directly to you? Sign up for the Eli Roth's History of Horror Insiders Club.
Read More