Eli Roth's Deep Cuts
Jim Carrey, David Bowie and Tilda Swinton as Vampires?! Eli Roth Picks More Hidden Gems of the Genre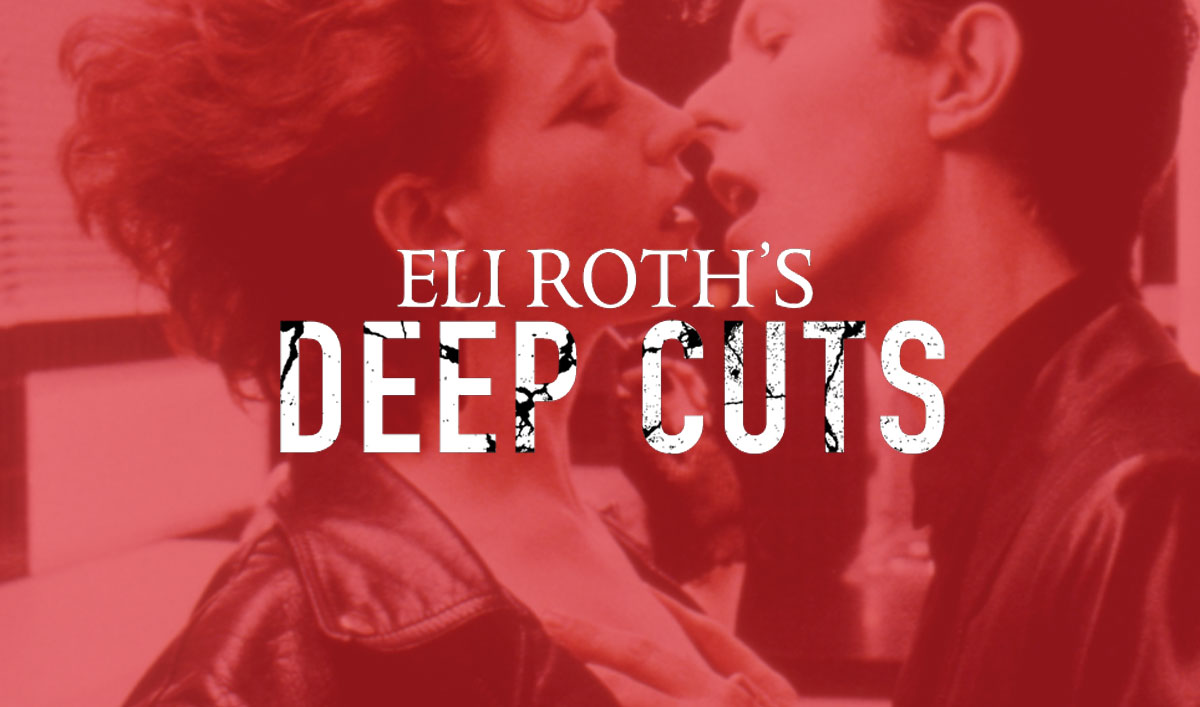 Ready for a deep dive into horror? Each week, acclaimed director, writer and producer Eli Roth compiles a curated list of films that best exemplify horror's various sub-genres. Whether you're a new horror fan or a die-hard expert, "Eli Roth's Deep Cuts" has a recommendation ready for you.
Vampires are the the one horror movie monster that can be both sinister and sexy. No wonder, then, that vampire movies are staples of some of the most recognized names in Hollywood. Featuring David Bowie as a glamorous creature of the night, Tilda Swinton and Tom Hiddleston as vampire lovers, Susan Sarandon as a vampire mistress, Jim Carrey's first leading role, these deep cuts in vampire movies will give horror aficionados and casual movie fans something new to add to their watchlist.
Go even further with this list of deep cuts on recommended viewing from the vampire genre, then take a deep dive into the sleazier, sillier side of the creatures of the night.
Then, watch the latest episode of Eli Roth's History of Horror to see Josh Hartnett, John Landis, Mick Garris and more explore our fascination with sex and death in vampire movies.
Black Sabbath (1963, dir. Mario Bava)
Mario Bava's anthology film (which was the namesake for the band) features a famously creepy segment titled "The Wurdalak." Based on a story by Tolstoy, it features Boris Karloff playing a vampire (the only time in his career!). Karloff leaves home to track down a criminal; when he comes back, he's a "Wurdalak," a vampire who can only survive on the blood of those he loves most. Karloff is brilliant in the film. The scene where he snuggles with his grandson, obviously wanting to kill him, is chilling. Black Sabbath (released in Italy as I tre volti della paura, or Three Faces of Fear) was Mario Bava's first color film, and he makes the most of it.  He uses his signature floods of brightly colored lights to beautifully reproduce the chiaroscuro style that he pioneered in the black-and-white Black Sunday (1960). Karloff narrates the entire film.
The Kiss of the Vampire (1962, dir. Don Sharp)
A couple honeymooning in Bavaria find themselves trapped in a castle with a bunch of gorgeous, evil vampires.  Even though this was one of the vampire films that Hammer made without Christopher Lee, it's still great! It is packed to the brim with all of the gorgeous cinematography, atmosphere, violence and eroticism for which the studio was known.
The Fearless Vampire Killers (1967, dir. Roman Polanski)
Inept Professor Abronsius and his naive assistant (Roman Polanski) come to Transylvania hoping to find a vampire. They get their wish when a vampire assaults and kidnaps the beautiful daughter of their innkeeper (Sharon Tate). They go to the vampire's castle to find her and battle him, and everything culminates in a lush vampire ball. Fearless Vampire Killers – originally titled Dance of the Vampires – had a troubled production, and its US release version was marred by an executive producer who cut the film, re-dubbed it, and added an animated pre-credits sequence. Today, the director's cut – now the version most easily available – is considered something of a classic.
The Vampire Lovers (1970, dir. Roy Ward Baker)
Hammer's take on Sheridan LeFanu's iconic Sapphic vampire tale Carmilla. A Countess, new in town, asks General Speilsdorf (Peter Cushing) if her daughter Marcilla (Ingrid Pitt) can stay with him and his beautiful niece Laura while she goes out of town. Soon people in the neighborhood start dying and Laura becomes suspiciously pale and withdrawn. After Laura dies and bite marks are found on her breast, Marcilla disappears. Later, Carmilla, who looks just like Marcilla (also played by Pitt), asks to stay with another family, and the cycle starts again. Chock full of beautiful bisexual vampires strolling around in diaphanous gowns, The Vampire Lovers scandalized and titillated a generation.
The Velvet Vampire (1971, dir. Stephanie Rothman)
A young couple meets the beautiful, chic Diane LeFanu (named after the author of Carmilla) at an art gallery in Los Angeles. She invites them to visit her house in the Mojave Desert, where she drives around in a dune buggy, eats raw liver, and snuggles the coffin of her deceased lover. Upon arrival, she seduces them both, which makes things a bit tense. Director Stephanie Rothmanone, one of the most prolific woman filmmakers working in the mainstream in the 1970s, has said that her work was strongly influenced by the films of European directors like Ingmar Bergman and Antonioni. In The Velvet Vampire, she marries her sensibility with '70s Southern California style and the conventions of the exploitation genre, with fascinating results. As LeFanu, Celeste Yarnall creates a character that is alternately cool, alluring, scary, and sad.
Vampyros Lesbos (1971, dir. Jesus "Jess" Franco)
A beautiful descendent of Count Dracula (who happens to be a nightclub dancer) falls in love with the lawyer who has come to supervise her inheritance. Vampyros is one of the best and most famous films by Spanish filmmaker "Jess" Franco. Like many of his films, it has little narrative and dialogue and an abundance of eroticism, elaborate sets, and dreamlike imagery and atmosphere. These days, it is perhaps most famous for its jazzy psychedelic score, which Quentin Tarantino sampled in Jackie Brown (1997).
Ganja and Hess (1972, dir. Bill Gunn)
Night of the Living Dead's Duane Jones plays Dr. Hess Green, an archaeologist who becomes a vampire when his crazed assistant pierces him with an ancient African dagger. His life, already complicated by his newfound addiction to blood, becomes even more intense when Ganja, the wife of his former assistant, comes looking for her husband. They become lovers, and she soon becomes a vampire, too. The movie is a lot less linear than its plot description. Gunn uses vampire conventions to build a highly experimental meditation on big themes ranging from addiction to black history. The movie can be confusing and leisurely paced, but horror fans attracted to the genre's weirder and headier edges will likely find it entrancing and thought provoking. Jones and Marlene Clark give rich, sometimes operatic, generally stunning performances as the title characters. Spike Lee unofficially remade the film as Da Sweet Blood of Jesus in 2014.
Vampire Circus (1973, dir. Robert Young)
A village's residents, quarantined during a plague, have their spirits lifted when the circus comes to town. Except the circus performers are actually a gaggle of evil vampires who want to murder the villagers to get revenge on them for killing their master (which will resurrect him). And you thought the townspeople in Something Wicked This Way Comes had bad luck. Vampire Circus is known as one of the gorier Hammer efforts.
Lemora: A Child's Tale of the Supernatural (1973, dir. Richard Blackburn)
Lila Lee is a young church singer in the 1930s who finds herself wrapped up in a haunting fairy tale. She leaves home when she gets a letter from a mysterious woman telling her that her father, a murderous gangster, is very ill. On her journey to find him, she confronts many creepy, lecherous men, and finally finds herself in the thrall of Lemora, a vampire goddess, and her tribe. This is one of those extremely low-budget, atmospheric movies that could only have been released in the 1970s. It's a hidden gem.
Bram Stoker's Dracula (1974, dir. Dan Curtis)
Jack Palance plays an unusually large, brutish Dracula in this TV movie adaptation penned by horror legend Richard Matheson and directed by Dan Curtis (producer of Dark Shadows and The Night Stalker). At the time, this rendition of Dracula was the most faithful adaptation of Stoker's novel put on film. Matheson added a plotline – Dracula travels to England in search of the reincarnation of his lost love – that Francis Ford Coppola later used in 1992's Bram Stoker's Dracula. Unfortunately, the movie is a bit bland overall.
The Hunger (1983, dir. Tony Scott)
Catherine Deneuve and David Bowie play Miriam and John, an impossibly glamorous vampire couple who troll for victims in early-'80s Manhattan. When, after centuries, John starts aging at a rapid rate, they seek the help of gerontologist Sarah (Susan Sarandon) to help try and reverse the process. She can't – but Miriam falls in love with her and wants to take her as her new companion. The film's two high points are its opening sequence, in which Miriam and John pick up a couple of downtown proto-goth scenesters as Bauhaus performs "Bela Lugosi is Dead," and a seduction scene between Deneuve and Sarandon that went where few American films had ventured before. Otherwise, there is not much plot and quite a few shots of curtains blowing in the wind.
Once Bitten (1985, dir. Howard Storm)
In his first leading role, Jim Carrey stars as Mark, a meek high school student who is trying to score with his girlfriend without success. Meanwhile, a centuries-old vampire known as The Countess (Lauren Hutton) must bite a virgin three times every year before Halloween in order to maintain her immortality. She manages to bite Mark once, but has to kidnap his girlfriend to lure him back again. In order to save Mark from being bitten by The Countess again, his girlfriend agrees to have sex with him. Score! Once Bitten is a lot of fun, and an incredible '80s time capsule.
The Monster Squad (1987, dir. Fred Dekker)
Dracula wants to take over the world, with help from the other Famous Monsters. A group of monster-loving kids get wind of the conspiracy, and are determined to stop it. A fun gateway horror movie for kids!
The Addiction (1995, dir. Abel Ferrara)
Lili Taylor plays a graduate student who gets bitten by an evening gown-clad vampire. She is distraught by her new addiction to blood, which the film overtly compares to drug addiction (in one scene, she extracts blood from a homeless person with a syringe and shoots it like heroin). She seeks advice from a more experienced vampire played by Christopher Walken. Directed by Abel Ferrara, who imbues the vampire subgenre with the urban grit and philosophical inquiry that characterize all of his films.
Only Lovers Left Alive (2013, dir. Jim Jarmusch)
Jim Jarmusch's take on the vampire subgenre is, unsurprisingly, like no other vampire movie. Adam (Tom Hiddleston) and Eve (Tilda Swinton) are vampires who have had a long distance relationship for 1000 years (in this way, the movie could be viewed as a take on The Hunger and Interview with the Vampire). Adam is dealing with an existential crisis brought on by society's self-destruction (one can imagine how much worse such a crisis would be if one has been alive for ten centuries). Jarmusch is less concerned with fangs and bloodsucking than with the psychological and emotional processes of immortality. Part of the movement of "high art" horror movies that emerged around 2013, which also includes It Follows (2014), Under the Skin (2013), A Girl Walks Home Alone at Night (2014), and The Witch (2015).
Click here to see all of Eli Roth's Deep cuts.
Watch the latest episode of Eli Roth's History of Horror on amc.com and the AMC app for mobile and devices. The Full Season is available to binge for AMC Premiere subscribers.
The Eli Roth's History of Horror Season Finale airs Sunday Late Night. Want even more exclusives delivered directly to you? Sign up for the Eli Roth's History of Horror Insiders Club.
Read More