Eli Roth's Deep Cuts
Eli Roth's Favorite Ghost Movies Range From Frightening to Funny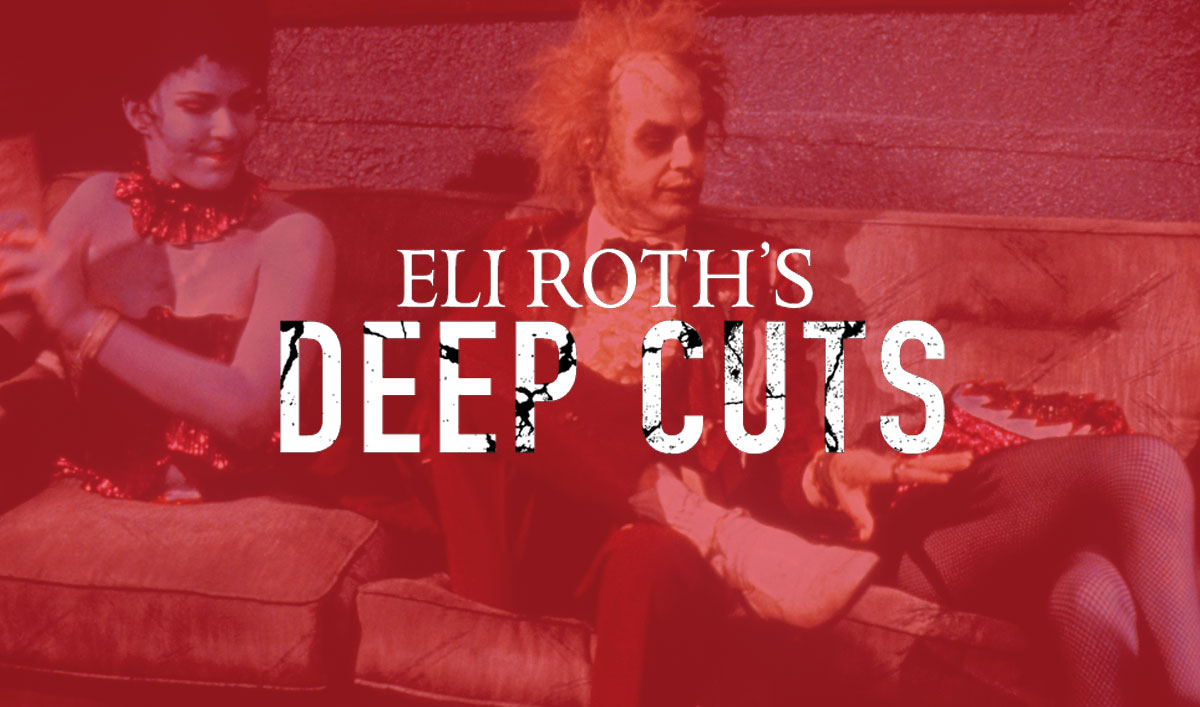 Ready for a deep dive into horror? Each week, acclaimed director, writer and producer Eli Roth compiles a curated list of films that best exemplify horror's various sub-genres. Whether you're a new horror fan or a die-hard expert, "Eli Roth's Deep Cuts" has a recommendation ready for you.
With the fear of death hardwired into the brains of every living thing, it's no wonder that ghost stories are among the most enduring and terrifying of all horror genres. Ghosts give a face to the unknown of the afterlife, a constant reminder that no one can escape the dark clutches of oblivion — and in some of these horror movies, spectral evil is the hand trying to drag victims to the "other side." But ghost stories don't have to be just about scares. In this list, Eli Roth recommends ghost stories that range from the frightening to the funny.
Go even further with this list of deeper cuts on the ghost stories genre, then take a deep dive into some of the daring and downright strange spooks in horror.
Then, watch the Season Finale of Eli Roth's History of Horror to see Stephen King, Haley Joel Osment and more join Eli Roth to explore the harrowing haunts of horror movies.
The Uninvited (1944, dir. Lewis Allen)
One of the few eerie, elegant horror films of the 1940s not produced by Val Lewton. A composer and his sister move into a beautiful seaside house. After they encounter strange noises and other mysterious happenings, they discover that the house is haunted by its scandalous past. Director Lewis Allen did not want to show an actual ghost in the film, but Paramount insisted. One of the key elements of the haunting is the lesbian relationship that took place between the house's former owner and Miss Holloway, an ominous rest home director who seems inspired by Rebecca's Mrs. Danvers. Martin Scorsese and Guillermo del Toro have both cited it as one of their favorite horror films.
Ugetsu (1953, dir. Kenji Mizoguchi)
One of the greatest Japanese ghost stories of all time. During wartime, an ambitious salesman leaves his wife to sell goods to the wealthy noblewoman Lady Wakasa. She seduces him away from his wife into a surreal, haunted world. He ultimately pays for his betrayal. A gorgeous and haunting masterpiece.
House on Haunted Hill (1959, dir. William Castle)
Eccentric millionaire Frederick Loren (Vincent Price) invites a group of five strangers to spend the night with him and his wife in a haunted house. Ghosts, a witchy maid, a flesh-eating vat of acid, scheming murderers and more await the guests. This film was theatrically released in "Emerg-O," a classic William Castle gimmick that unleashed a flying, plastic glow in the dark skeleton over the audience at just the right moment. Even on home video, though, House on Haunted Hill is as fun as they come.
The Innocents (1961, dir. Jack Clayton)
Deborah Kerr plays Miss Giddens, a sexually repressed governess who comes to a huge estate to mind two children. The children are sweet, precocious, and slightly creepy. Miss Giddens is haunted by spectral visions and becomes convinced that the house's former caretaker and the kids' former governess, who may have done unspeakable things to the children, haunt the property. A beautifully photographed, psychologically oriented ghost story that pushed the boundaries of what Hollywood censors of the period would allow.
Carnival of Souls (1962, dir. Herk Harvey)
After Mary Henry survives a drag racing accident that kills all of her friends, she gets in her car and drives far away. Nothing seems the same: she feels disconnected from everybody around her, she keeps seeing a ghoulish, white-faced man beckoning to her, she becomes hypnotized while playing the organ, and she feels obsessively drawn to an abandoned carnival. When she goes to the carnival, things go from eerie to scary. Shot on location in Kansas, where writer-producer-director Herk Harvey was inspired to make the film when he saw the abandoned carnival. It's a master class in how to make a low budget supernatural horror film.
Don't Look Now (1973, dir. Nicolas Roeg)
A married couple grieving the drowning death of their young daughter try to escape their sorrow in Venice, Italy. When a psychic tells them she sees their daughter and the child is happy, they plunge into a nightmare. Could the small figure they keep seeing running around in their daughter's red raincoat be her ghost? Don't Look Now has great parts that make a flawless whole: Nicolas Roeg's direction is virtuosic; Alan Scott and Chris Bryant's script is a tight but emotionally rich puzzle, Anthony B. Richmond's cinematography and Pino Donaggio's score are dazzlingly beautiful and create a deeply ominous atmosphere, and the entire cast are at the top of their game. Come for Julie Christie and Donald Sutherland's famously realistic sex scene, stay for a twist ending that traumatizes everyone who sees it.
The Legend of Hell House (1973, dir. John Hough)
It's like The Haunting, but with 1970s technology and more overt sexual decadence. A millionaire gathers a physicist, a medium, and a physical parapsychologist to discern whether there is life after death in the Belasco mansion (aka Hell House). The late owner of the house was known for holding orgies, one of which ended in a massacre, before he disappeared. The paranormal investigators are aided by computers and other then-exotic gadgets, but their tech can't help them avoid the horror. A British-made film with a script by the great Richard Matheson and starring Roddy McDowell, this is a fine example of early-'70s weirdness.
Burnt Offerings (1975, dir. Dan Curtis)
A family with incredible star power (mom Karen Black, dad Oliver Reed, aunt Bette Davis, and son Lee Montgomery) get a disturbingly good deal on a giant old summer rental. The only catch: Karen needs to bring meals to the ancient lady of the house, who never speaks and never leaves her attic room. The house, filled with creepy pictures of people who have passed through it before, has disturbing effects on the family. Burnt Offerings is a slow burn haunted-house-destroys-a-family movie that really gets under your skin. Certain images from the film terrified a generation. In many ways it serves as a prototype for the better-remembered The Amityville Horror and The Shining.
The Fog (1980, dir. John Carpenter)
For his follow up to Halloween, John Carpenter wanted to tell an old fashioned ghost story. An immense fog harboring vengeful, murderous ghosts takes over the town of Antonio Bay. The motley crew of people who must fight them are played by horror icons Jamie Lee Curtis, Tom Atkins, Janet Leigh, John Houseman, Hal Holbrook, Nancy Loomis, and, looming figuratively and literally above them all, Adrienne Barbeau as Stevie Wayne, a local radio DJ perched in a lighthouse who must guide everyone to safety with her voice. The film was considered John Carpenter's "sophomore slump" at the time, but it has a large, adoring fan base.
Beetlejuice (1988, dir. Tim Burton)
A young couple die and return as ghosts, only to find their house has been taken over by the insufferable Deetzes and their melancholy goth daughter (Winona Ryder in her breakout role). They reach out to Beetlejuice, a people-exorciser, to help. It's a disaster. Tim Burton gathered a terrific cast, endless hilarious gags, and terrific art direction and monster makeup. It remains one of the best horror-comedies ever made.
The Frighteners (1996, dir. Peter Jackson)
When a small town ghostbuster is blamed for a series of local murders, he must go up against the real culprit, a Grim Reaper-like poltergeist. Dee Wallace shines as a spinster-gone-evil who is in love with a serial killer. When it was released in theaters, the film was mostly known for its special effects, which were state of the art at the time. Some critics felt that they overpowered the story to an extent that ruined the movie.
The Others (2001, dir. Alejandro Amenabar)
At the end of WWII, uptight, religious Grace waits with her children in their gloomy mansion for her husband to return. The kids have a rare disease and cannot be exposed to sunlight, so they dwell in darkness at all times. When three kind but mysterious servants come knocking at the door, the family becomes plagued by terrifying, supernatural events. A magnificently atmospheric, terrifying haunted house movie in the vein of The Haunting, The Innocents, and The Changeling, the film was overshadowed by The Sixth Sense at the time of its release, but it's a classic.
Ju-On: The Grudge (2002, dir. Takashi Shimizu)
Anybody who lives in, visits, or even walks past a house where a terrible crime took place is terrorized by the demons who live there. Ju-On, Ringu (1998), Dark Water (2002), and The Eye (2002) (all of which were remade in America) were the central movies in the early 2000s wave of Japanese horror that profoundly influenced the genre and its iconography. For a period, it seemed like every supernatural horror movie in the US had a strong Japanese influence.
Dark Water (2002, dir. Hideo Nakata)
A woman and her daughter, dealing with an ugly custody battle, move into a high-rise apartment building. Their new space comes fully equipped with ominous water dripping through the walls and the ghost of a young girl. Nakata and writer Koji Suzuki (the team behind Ringu) do an excellent job interplaying character dynamics and the supernatural.
It Follows (2014, dir. David Robert Mitchell)
After a woman has sex with her new boyfriend, she's targeted by a supernatural force. Turns out her boyfriend had sex with her in order to pass along a curse; to save herself, the woman needs to have sex with somebody else. It Follows is part of a series of semi-experimental, moody indie horror films from the 2010s, including The Witch (2015), The Babadook (2014), and Hereditary (2018).
Click here to see all of Eli Roth's Deep cuts.
Watch the Season Finale of Eli Roth's History of Horror on amc.com and the AMC app for mobile and devices.
Want even more exclusives delivered directly to you? Sign up for the Eli Roth's History of Horror Insiders Club.
Read More