Eli Roth's Deep Cuts
Tom Hanks in a Slasher Movie? Dive Deeper Into the Genre for More Thrills and Stomach-Churning Chills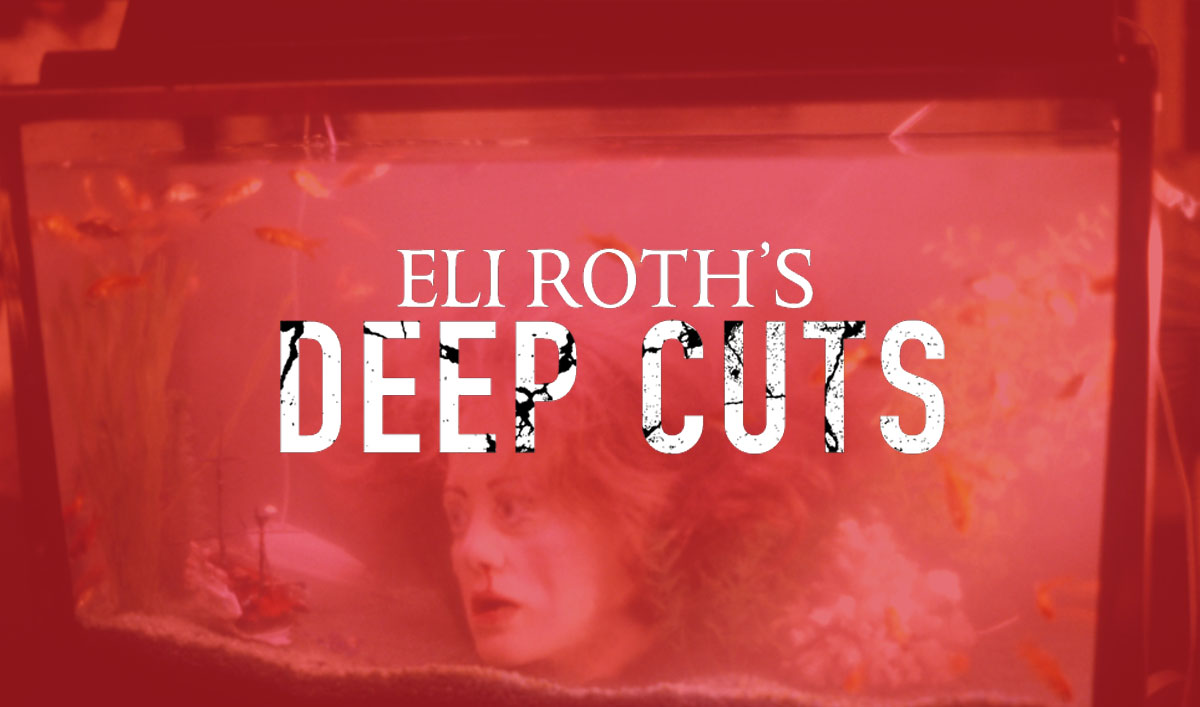 Ready for a deep dive into horror? Each week, acclaimed director, writer and producer Eli Roth compiles a curated list of films that best exemplify horror's various sub-genres. Whether you're a new horror fan or a die-hard expert, "Eli Roth's Deep Cuts" has a recommendation ready for you.
After providing a list of gems of the Slasher genre, Eli Roth takes you deeper into the genre with these even more obscure films from all over the world, many of them from the Italian "giallo" subgenre of hack-and-slash movies that formed the basis of the iconic American slasher film. Featuring movies with unexpected stars (including Tom Hanks' film debut), creatively heinous kill scenes and more, horror fans are sure to find something new to add to their watch list.
Then, be sure to check out some of Eli Roth's "deepest cuts" featuring some of most grisly and bizarre contributions to the Slasher genre.
Berserk! (1968, dir. Jim O' Connolly)
Joan Crawford plays a scheming circus owner dealing with a gold-digging lover, a rebellious daughter, and a murderer! For a film made before the slasher movie heyday, Berserk! has a lot of creative kills: a high wire walker is hung by, you guessed it, a high wire; a man gets a spike through his face; the female subject of a "sawed in half" trick gives her audience more authenticity than she intended. Crawford, clad in a tight red bun, a black leotard, and a circus master coat, is a hoot, as she always was in her Scream Queen days.
Blood and Lace (1971, dir. Philip S. Gilbert)
For decades people couldn't believe that this sick movie was rated PG. When it came out on Blu-ray a few years ago (its first U.S. home video release), the MPAA re-rated it R! After Ellie's prostitute mother and her boyfriend are killed with a hammer, she is placed in an orphanage run by Mrs. Deere (the legendary Gloria Grahame). Mrs. Deere and her handyman are sadists who torture and starve their residents, treat them like slaves, and murder them when they try to leave! Making matters worse, Ellie's mother's killer seems to be after her, too. The film's opening murder-by-hammer, shot from the perspective of the killer, precedes both Black Christmas and Halloween, both of which have been credited with originating the trope.
Silent Night, Bloody Night (1972, dir. Theodore Gershuny)
Jeremy Butler returns home to sell his family estate, which has a long and dire history as both an abusive mental institution and a murder site. Various townspeople, in a tizzy about his return, are lured to the spooky mansion and killed by a black-gloved killer. A very young Mary Woronov teams up with Jeremy Butler to solve the murder and try to survive. Silent Night, Bloody Night is one of the first American film to use Italian giallo tropes, and it pioneers many new tropes that later became typical in slasher films: the holiday setting, the terrible place, the murderer getting revenge for past wrongs, spooky phone calls. Adam Giffard's bleak cinematography is extraordinary, capturing the very essence of an East Coast winter. You won't forget the film's lengthy flashback sequence detailing the house's sordid history, which includes cameos by Andy Warhol superstars Ondine, Candy Darling, and Jack Smith. A must.
Torso (1973, dir. Umberto Lenzi)
A sexually violent madman murders a bunch of women at the University of Perugia. When a group of students try to stay safe by vacationing at a villa in the country, he follows them, with expected results. Like Bay of Blood, this giallo unusually resembles what came to be known as American slasher movies. It offers up a lot of teens having fun, having sex, and getting killed. However, like many Italian slashers, it distinguishes itself with a refreshing helping of style.
Rituals (1977, dir. Peter Carter)
A taut Canadian Deliverance "rip-off" which is as effective as the original film. A group of ethically questionable doctors go rafting deep in the Canadian wilderness, and find themselves tormented and/or eventually killed by an unseen assailant. The actors really hike and raft through the wilderness, and seem to be going through hell, which forces the viewer to experience their isolation and terror. Stephen King praised the film in his book about the horror genre Danse Macabre. His agent was obsessed with it!
Eyes of a Stranger (1980, dir. Ken Wiederhorn)
A brutal killer is on the loose. A feminist TV anchorwoman (The Love Boat's Lauren Tewes) suspects that the man living across the way from her high-rise is up to no good. Her deaf, mute sister (Jennifer Jason Leigh) is still grappling with the childhood kidnapping that disabled her. Could everything be related? In the book Hollywood from Vietnam to Reagan, scholar Robin Wood called this the most feminist slasher film of the 1980s. He praised it for encouraging the audience to exclusively identify with its female characters, and for its enactment of a consistently female gaze.
He Knows You're Alone (1980, dir. Armand Mastroianni)
This film is sort of famous for being Tom Hanks's film debut (he plays a psychology major who has a lot to say about why people like scary things). As a horror movie, it's an overlooked gem. A murderer on Staten Island is going after brides-to-be. Protagonist Caitlin has enough to worry about without a killer on her hands: She's torn between her fiancé and her childhood best friend, and she's not sure if she wants to get married at all. She ponders these difficult life questions with her likable best friends, until the murderer strikes. Eli Roth's History of Horror contributing expert Amanda Reyes has argued that He Knows You're Alone is emblematic of how slasher films can be great avenues for the exploration of female friendships and women's anxieties about adhering to social conventions.
Happy Birthday to Me (1981, dir. J. Lee Thompson)
The film's poster famously featured a guy about to have his head impaled on a shish kebob. Little House on the Prairie star Melissa Sue Anderson shook off her good girl image as Virginia, a member of The Top 10, the most popular clique in school. When she returns to school following a horrific accident requiring brain surgery, her friends are gruesomely murdered. She wonders if she might be up to no good during her post-traumatic black outs. This film has one of the crazier endings in slasher history.
Silent Night, Deadly Night (1984, dir. Charles E. Seiler)
A little boy watches his parents get raped and murdered by a man dressed as Santa Claus, and then spends his childhood getting beaten by sadistic nuns in an orphanage. When they force him to play Santa Claus at a local department store, bobsled beheadings and antler impalements ensue. One of the most notorious slasher films ever made. Parent and political groups were so riled up by the image of a killer Santa Claus on the film's poster and in TV commercials, that production company Tri-Star Pictures actually pulled the film shortly after its release, even though it out-grossed A Nightmare on Elm Street on their shared opening weekend! It's depressing and nasty, but seminal.
Opera (1987, dir. Dario Argento)
Thought by many to be Dario Argento's last great film. After the diva star of an avant-garde production of Macbeth has a terrible accident, her young understudy takes over. A killer is not pleased, and he forces her eyes open with needles while he tortures and murders her friends and loved ones (is she a stand-in for the horror movie audience?). In the film's most wacky Argento (literal) flight of fancy, the camera takes on the perspective of an out-of-control raven causing pandemonium in the opera house during a performance.
Office Killer (1997, dir. Cindy Sherman)
Visual artist Cindy Sherman ("Untitled Film Stills") made her film debut with this sly slasher parody. Carol Kane plays the office doormat at a magazine, beaten down by years of subservience to her boss and overbearing mother. When she accidentally kills an obnoxious freelancer, she unleashes her inner vengeful murderess. Sherman's famous photographs commented on how women were portrayed in movies, and she brings that critical eye to horror film conventions. The film works as a horror-comedy and a modern art piece.
Urban Legend (1998, dir. Jamie Blanks)
One of the best of the post-Scream '90s slasher movies. A group of friends taking a folklore class (taught by Robert Englund!) succumb to a killer who works in the style of urban legends. Natalie thinks the killings are connected, but nobody believes her until it's too late.
Cherry Falls (2000, dir. Geoffrey Wright)
A town discovers that the serial killer in their midst is only killing virgins, so they organize an orgy to eliminate possible victims. The MPAA refused to give this film an R rating even after multiple cuts, and it ended up airing in an even more edited version on the USA Network. Still, it developed a cult following because of its witty twist on slasher conventions and Brittany Murphy's outside-the-lines final girl performance.
May (2002, dir. Lucky McKee)
May is a lonely outcast, traumatized by her late mother's obsessive perfectionism. She decides to "make a friend" by cutting off the perfect parts of every imperfect person she meets and putting them together. Character driven, psychologically insightful, disturbing body horror with a haunting performance by Angela Bettis.
Wrong Turn (2003, dir. Rob Schmidt)
In 2003, a return to the "horror in the woods" subgenre was refreshing. A group of friends go on a camping trip and find themselves targeted by cannibals who have been deformed by years of inbreeding. The characters are distinctly unlikable (a sad slasher movie trend that really took off in the 2000s), but the movie is surprisingly scary and suspenseful. A chase scene that takes place at the tops of trees is something of a tour de force.
All the Boys Love Mandy Lane (2006, dir. Jonathan Levine)
This movie isn't quite a standard slasher, since many of the movie's teens are killed with a gun (as a result, the movie was shelved for years in the wake of the school shooting epidemic). Mandy's male classmates are obsessed with her body, although they don't really want to get to know her. Nine months after a member of the popular clique kills himself jumping off a building to prove his love for her, she goes with them on vacation to a ranch house in the country. A murder mystery ensues. Blending '70s style with some unexpected twists, Mandy Lane was received as a fresh take on a genre that by this point had practically seen and done it all.
Severance (2006, dir. Christopher Smith)
The sales division of an international weapons company goes for an office retreat in the mountains, and find themselves targeted by a group of crazed killers. An ideal, darkly comic slasher movie for the 2000s, when corporate greed, white collar criminality, and gun violence are considered inescapable facts of life.
Click here to see all of Eli Roth's Deep cuts.
Watch the latest episode of Eli Roth's History of Horror on amc.com and the AMC app for mobile and devices. The Full Season is available to binge for AMC Premiere subscribers.
Eli Roth's History of Horror airs Sundays Late Night. Want even more exclusives delivered directly to you? Sign up for the Eli Roth's History of Horror Insiders Club.
Read More