Blog
Why Dispatches From Elsewhere Is the Escape We All Need Right Now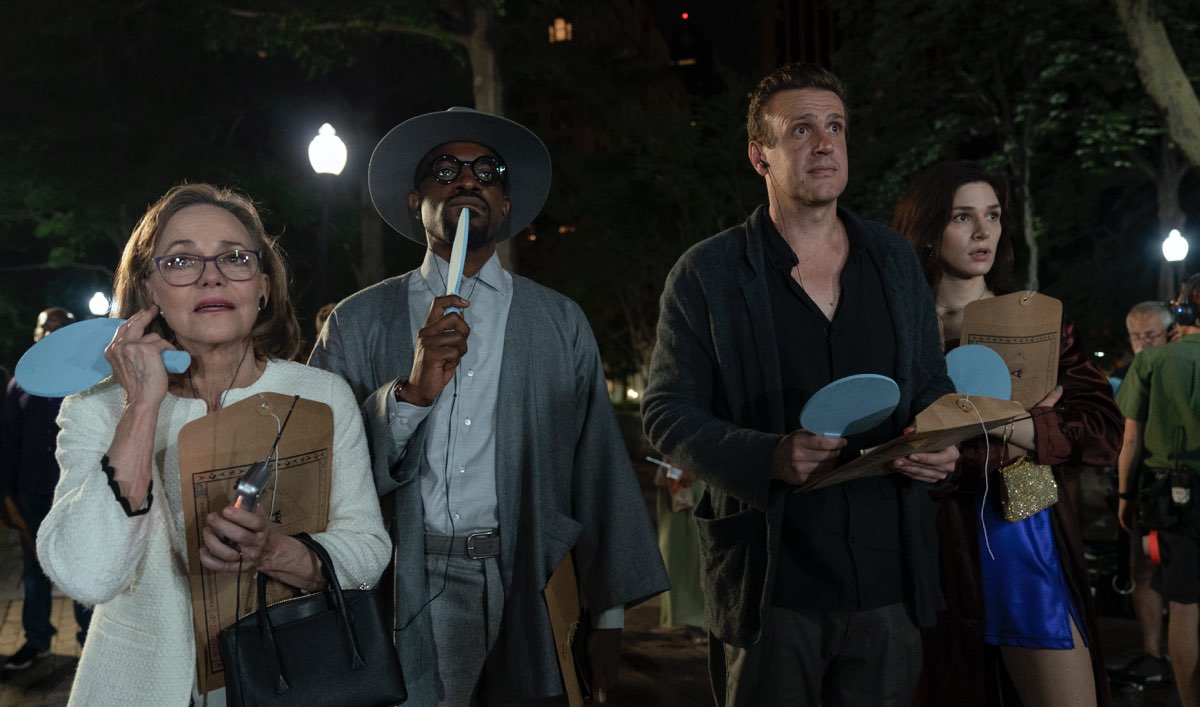 If there's one thing that television and film can bring us, it's an escape from the things that cause us stress. While the current events surrounding the COVID-19 pandemic couldn't be more real and staying up-to-date on the facts is important for our physical health and the health of those around us, allowing ourselves time to break away from it all is arguably just as important for our mental health.
So maybe save those thrillers for when the dust settles and sit down with a show that is centered on four people who manage to stumble upon the ultimate escape from their lives. Here are a few reasons we think Dispatches From Elsewhere might be exactly what you need right now.
1. Escape
Did we mention it's the perfect escape? It all starts with people pulling tabs from fliers on the street. For those that choose to call the number on the tab, life begins to look and feel a lot different. Take Peter, for instance. He's one of the people that pulled the tab and called the number. Before he knows it, he's called to the address of what will become notoriously known as The Jejune Institute. Then, things get weird, as you can see in this sneak peek of the series premiere. And this is just the beginning. You'll find yourself journeying through the game with the characters themselves, wondering which parts are real and which are a part of the game. But at least for a little while, you have something besides the news to think about.
2. Connection
While escapism is an inherent component of the story, so is the necessity to connect with others — another theme that we are all starting to appreciate in these unprecedented times. While our four main characters could not be more different, Peter, Simone, Janice, and Fredwynn discover that not only do they need each other to get through the game, but they might actually be enjoying it more than if they were doing it alone.
Know that feeling you get when you call a close friend who knows how to lighten the mood? Or what's it like to listen to that person in your life explain everything while you just turn your brain off? Well that's the beauty we find watching these four opposites taking on this game together. The cast and creators discuss why different perspectives are so vital to the story in this behind-the-scenes video. (But you may want to watch the series first and come back to this!)
3. Great Cast 
If you're looking for more than resonant themes, it certainly doesn't hurt that the Dispatches cast is top-notch. Led by Jason Segel, also the show's creator, and the person that experienced this real-life game himself and used it as inspiration to write the show, the cast also includes  Academy Award Winner Sally Field, Grammy Award Winner André 3000 Benjamin, SAG Award Winner Richard E. Grant, and rising star (who we expect to win many awards in her long career), Eve Lindley.
4. Random Moments of Joy
Segel's return to television comes with all of the authenticity and quirkiness we love from his past hits like Forgetting Sarah Marshall and The Muppets. The entire show was filmed in Philadelphia, for a number of reasons that the creators discuss in this behind-the-scenes video, one of which being that it has more murals than any other city in the country. Throughout the show you'll find beautiful, larger-than-life art weaved throughout the story. Of course, there's also a guest appearance from Big Foot, as one would expect.
Ready to give it a try? The first four episodes of Dispatches From Elsewhere are available for free. So whenever you're ready for your escape, the game is waiting for you.
New episodes air weekly on Mondays at 10/9c. Want exclusive content, sneak peeks, interviews and more directly to your inbox? Sign up for the Dispatches From Elsewhere newsletter.
Read More