Q&A
Dispatches From Elsewhere Q&A — Eve Lindley (Simone)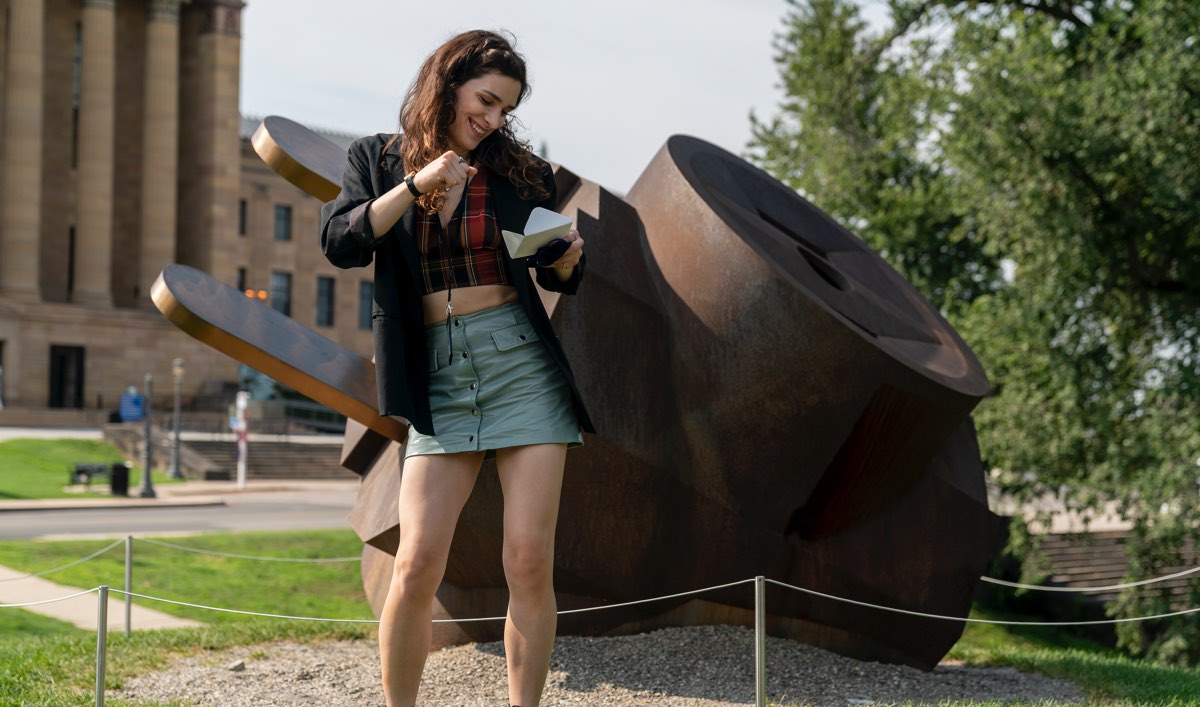 Eve Lindley, who also plays Simone on AMC's Dispatches From Elsewhere, talks about what the game represents to her character and the personal anthem she created with her co-stars on set.
Q: How would you describe Simone?
A: Simone is an art school dropout who's working around Philly and I think she's bored with life. She doesn't know where it's going or what she has to offer. The game opens her up and allows her to discover herself and see herself in a new light. It's really great for her.
Q: There's a clear connection between her and Peter. What do you think they represent to each other? 
A: It's a little complicated. They both really like each other and I think Peter has found someone to like, which is great for him, but Simone is eager to squash that. I don't think she thinks of herself as worthy of love and good things. Their connection is prevalent, but I think they both decide to put it on the backburner for a bit so that they can focus on the game. And I think she recognizes the anxiety in Peter and maybe she's a little bit better at hiding it in herself. The things that scare them are different things. She understands where he's coming from. I do think she recognizes Peter's fear in other parts of her own life, so she's able to deal with his.
Q: In Episode 2, Simone and Peter find the Elsewhere headquarters. What was it like filming those scenes, in particular, with so much to play with and explore? 
A: It was really fun! The episode was directed by Wendey Stanzler and she was a blast to work with. She really allowed us to have fun and explore. We spent a full day in the Elsewhere Society headquarters and it was one of my favorite days. Just watching Jason pedal on the bike. [Laughs] That was a really great day.
Q: How important is that moment when Simone opens up to Peter – on a bullhorn at that? 
A: I think it's a moment of really intense honesty. To be able to say to someone that you like that you're not ready to act on it, so to speak. In the moment, the background fades away and it's just her and Peter and she's in that blue space, which represents Elsewhere. It's like she's found her elsewhere by being honest. It's a really sweet moment because even though she's not saying, "Hey I really love you," she's saying, "I'm a mess and I don't know what to do with that" and sometimes that's way more honest than saying I love you.
Q: Simone often warns people not to mess up the game for her. Where does that protectiveness come from? What does the game really represent to her?
A: The game represents a sense of freedom for her. We meet her in the context of the game and we think she's this loving, quirky and outgoing girl and as we learn more about her real life, we realize that is not the case. In the game, she doesn't have to be afraid to walk right up to someone and grab them by the collar and tell them that she'll kill them. The game is freedom for her. It allows her to step up and be the most "her" that she can be.
Q: What did you learn about yourself throughout the show? 
A: I learned to trust my gut and to trust myself and to find the freedom that Simone finds in the game. … To be able to find that in a scene or at work or backstage or whatever it is. For me, it was about finding my freedom to trust my instinct and my work and my craft.
Q: What's one of your favorite parts or moments working with this iconic cast?
A: I particularly enjoyed whenever we would work overnight. One night, we were in this house that you'll see later on and it's totally bonkers. We were upstairs, waiting to do our stuff, and it was the four of us. We were singing songs and we started singing the Aladdin song, but instead of "A Whole New World," we sang "A Whole New Squirrel." That became our anthem and at the end of the shoot, Sally [Field] got us all vests that had "A Whole New Squirrel" embroidered on them. [Laughs] It was so sweet. There were a lot of singing and dancing between the four of us.
Read an interview with Jason Segel, who plays Peter.
Dispatches From Elsewhere airs Mondays at 10/9c.
Want to receive exclusive content, sneak peeks, interviews and more directly to your inbox? Sign up for the Dispatches From Elsewhere newsletter.
Read More