Q&A
(SPOILERS) Dietland Q&A — Tramell Tillman (Steven)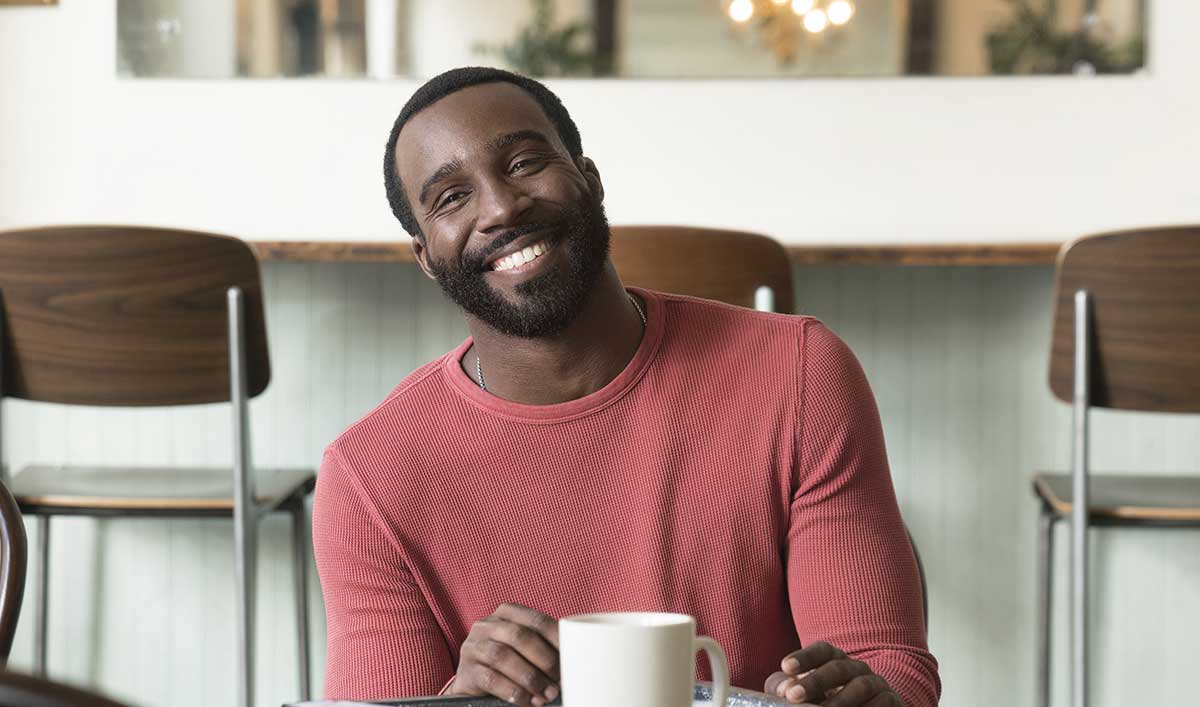 Tramell Tillman, who plays Steven on AMC's Dietland, talks about getting to the bottom of what Jennifer is and the part we all play in making the world a safer place. 
Q: What interested you most about the show? 
A: This show is really dynamic. It paints this world that is very dark with a comedic tone and subverts this idea of the status quo.  What's really interesting, to me, is that anything can happen in this world – like men falling from the sky and landing on tables on the Upper East Side.  It's also led by really strong and powerful female characters. They're characters that we, as actors, can really sink our teeth into. It's really exciting and it's a reward to be part of a project that embodies full, three-dimensional characters and that has a story that we can all relate to and that's relevant to what's happening now.
Q: How does Steven being African-American and gay play into the way he sees what's happening in this world?
A: He's always finding his way through society. Steven is structured as such a believer in conspiracy theories, so he's always searching to connect the dots and find out why this is happening. He understands that women are not the only targets. As a gay black man, he's a target. So, it begs the question: why are these women specifically pinpointing these men? What is this movement about? What is this action about? I think it really sparks his curiosity to get to the bottom of what Jennifer is. I don't think it's exactly clear as to who the vigilante is, but as Steven watching this, it's almost like the world is coming to an end.
Q: Steven and Plum's friendship feels very deep right off the bat. What was it like building that camaraderie with Joy Nash?
A: Joy is an absolute pleasure. She's such a delight. She is her name – she's a joy! [Laughs] When we first met, we bonded immediately. Later on, Joy told [Executive Producer] Marti [Noxon], "I really feel like I would be best friends with him on film and in real life." In the times we've gotten together, we've been able to go see a show together and hang out in New York. It's just such a great time. She's very open and giving on film. She has a laugh that's infectious and a presence that fills the room. She's just a wonderful human being and I'm excited about this project for her.
Q: What worries Steven the most when it comes to Plum's involvement with Verena?
A: It's Verena's intentions. He has no idea who this woman is. She wrote this creed against dieting. He can get behind that, but then she's telling Plum to go off her medication and she's giving her money. What is this woman after? I think Steven is really concerned about her well-being. Steven has been a rock for Plum. He's been a big support system and I feel like they have that kind of relationship where they talk each other off the ledge. Now, she's clinging to this woman for answers and Steven is concerned whether she has Plum's best interest at heart. There are major red flags going up.
Q: Plum shares a vulnerable side when she insists Steven has no idea what it's like to be in her body and admits she would rather be dead. What's it like for him to take that in?
A: It's really heartbreaking. No one wants to hear that somebody they love would rather be dead than be in their body. You want that person you love to be happy and to feel the love that you are providing for them. Steven does not know what it's like to be a plus-sized woman in today's society, but he does know what it's like to live in a body that's not celebrated and that is often taken advantage of. Being a black gay man, he understands that hardship a little more than Plum probably realizes at that moment.
Q: Are there any perks to playing a character who owns a bakery?
A: [Laughs] I'm not a coffee person, but I do have a sweet tooth. I love cookies and scones and croissants and cakes. Being so close to all that good food and smelling all that sugar… there was one time we had carrot cake and I'm not a big fan of carrot cake, but I was one that day!
Q: What do you hope the audience takes away from this show?
A: For me, it's about an awakening. It's an awakening of the human condition and of our society. I hope that when viewers see this show, they will see a new story being told and that it sparks a conversation which may lead to a debate, which may lead to understanding, which eventually leads to action. I believe we all have a part in how women are treated in our country and, ultimately, in the world. We're all responsible. It's up to us to make the necessary changes and have the necessary conversations with each other, with other women and with other men to make sure we're providing a safe place for everyone.
Read an interview with Julianna Margulies, who plays Kitty.
Dietland airs Mondays at 9/8c. Click here to add a reminder to your calendar.
To get more exclusive interviews with the cast, sign up for the Dietland Insiders Club.
Read More