Q&A
(SPOILERS) Dietland Q&A — Rowena King (Cheryl Crane-Murphy)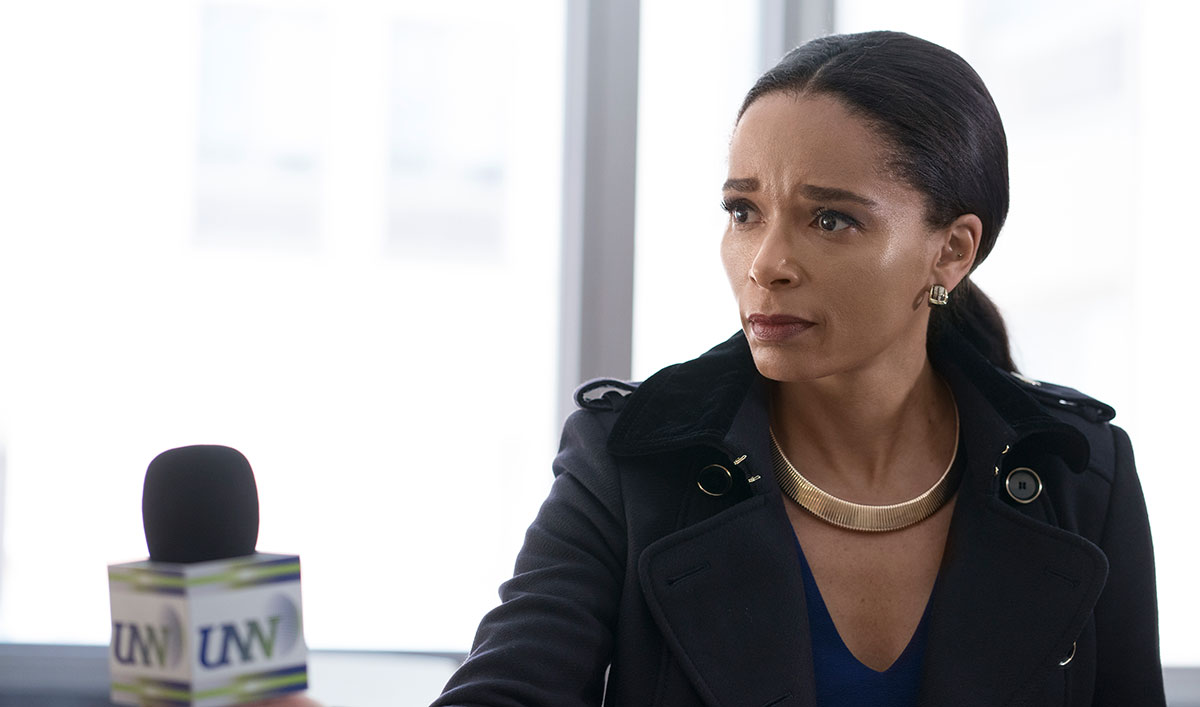 Rowena King, who plays Cheryl Crane-Murphy on AMC's Dietland, talks about her character's role in shedding light on Jennifer and the true nature of Cheryl and Kitty's friendship. 
Q: What immediately stood out to you about Dietland and about your character?
A: It's original. The primary hook for me was that this was, without a doubt, an original show with original subject matter and a very original way of executing and communicating that. The other thing that struck me was its courage. It was taking the lid off some of that anger and doing it unapologetically… Cheryl is all business, which is the complete opposite to who I am… I look at her and think, "Oh my god. What did I create?!"
Q: We're starting to learn more and more about this mysterious group, Jennifer. What's it like for Cheryl as a woman to report on these stories?
A: Cheryl is a journalist first and she's a female journalist, second. Cheryl is very intrigued, like everybody else, and also desperate to find out and to understand the identity of the vigilante group because they appear to be attempting to eradicate misogyny with violence, which is unprecedented… Women have never used violence and that's a question Sarai Walker and [Executive Producer] Marti [Noxon] are posing: what would happen if women used violence to express their anger?
Q: In Episode 5, Cheryl and Kitty are at odds over how Kitty is dealing with the Jennifer revelations. What's causing the tension?
A: What causes the tension is Kitty's duplicitous behavior. She's constantly moving the goal post on Cheryl and she does it during a live interview. She demands to come on to the show to try to explain why she published the Jennifer manifesto because, initially, the publication of the manifesto wasn't being received well. There's a short time cut between the publication of the manifesto and the publication of her subscription figures for Daisy Chain… Kitty is clearly motivated by the business gain as a direct result of publishing the manifesto. Her and Kitty aren't actually friends. They're professional friends. She really understands in Episode 5 that Kitty is completely motivated by business and her narcissism.
Q: Can they learn anything from each other?
A: I think the only thing they can learn from each other is to trust no one. Cheryl's a smart cookie. She can see that Kitty has no moral compass and she feels betrayed. Cheryl did believe they had a shared common ground as professional females working in a male-dominated industry. It is now clear that Kitty is someone that cannot be trusted and Cheryl will have to decide which side of the argument she's going to sit on.
Q: What was your biggest takeaway, personally, after working on this project? 
A: Personally, mine was that fearlessness is the only way to tackle injustice. I hope it raises questions and brings more tolerance and understanding to end the dehumanization of people who don't fit into society's mold of what is normal, whether they're male or female.
Read an interview with Robin Weigert, who plays Verena Baptist.
Dietland airs Mondays at 9/8c. Click here to add a reminder to your calendar.
To get more exclusive interviews with the cast, sign up for the Dietland Insiders Club.
Read More