Q&A
(SPOILERS) Dietland Q&A — Julianna Margulies (Kitty)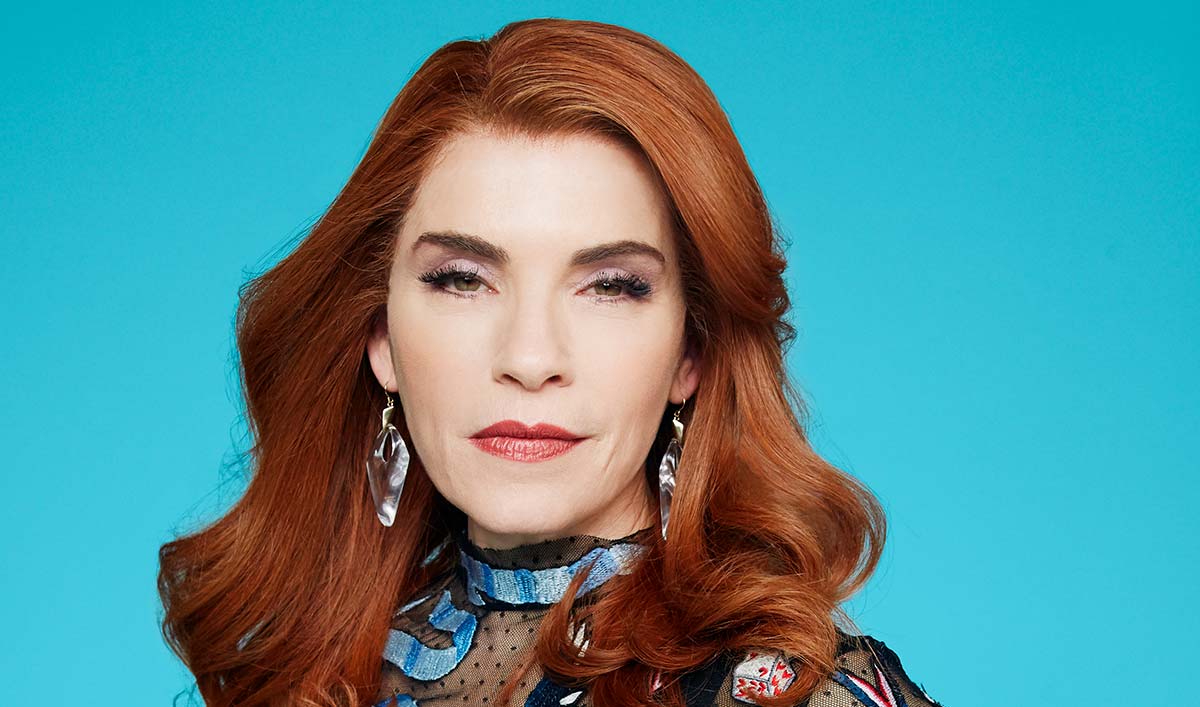 Julianna Margulies, who plays Kitty Montgomery on AMC's Dietland, talks about Kitty's world and what Plum Kettle represents to women everywhere. 
Q: Kitty is such a unique personality. How did you create such a big persona right out of the box?
A: Kitty's not as prominent in the book as she is on the TV show. When I met Sarai Walker, I asked her about Kitty. It seemed like [Writer/Executive Producer] Marti [Noxon] was very specific in how she wanted to cast Kitty, and she was very specific in how she was writing Kitty, but it didn't seem to be as big an issue in the book. I asked Sarai what her idea was when she was writing Kitty. She told me she's actually based on a real-life person and that the first character she wrote in the book was Kitty because it had the most profound effect on her in her life. What I wanted to do, most of all, was not make her an Anna Wintour or Glenda Bailey or Grace Coddington. Even though I read everything I could on them, I wanted to fit her into this world that Plum is living in and weigh the balance of what Plum is going through with the balance of what Kitty is going through. Her world is so completely superficial. She's always posing. She has to be picture perfect as if she were in a photoshoot. You'll see over the course of the ten episodes that when she forgets herself and gets emotionally involved, it goes away. It's very uncomfortable, let me tell you. [Laughs]
Q: Had you read the book before signing on for the project?
A: The first time I heard about it was from Marti herself. I read the book right after I read the first five scripts. I was really impressed with how true to the book it was. I think the real weight falls on Marti and on Joy [Nash] because the writing of the book and the main character are so rich. If we didn't replicate the rich life that the book has for Plum Kettle and the world you enter in the book, it really wouldn't do the book justice. Sometimes the stars just align with the right casting. Marti and Joy really nailed it. I cannot imagine another person in Plum Kettle's shoes than Joy Nash, honestly.
Q: Although she's so self-involved, she does keep referring to "her girls." What do they represent to her? 
A: She's very proud of her girls. She calls them her girls because she feels that she's created them and given them a platform. It's quite hypocritical, really, because what she's done – in her Kitty way – is create this false narrative within the magazine industry. Everyone in her magazine looks perfect, but she's opened up a venue for these girls to write letters and ask advice to become these perfect people. In Kitty's world, Kitty is perfect – except for the fact that she's aging, which kills her. She had the smarts to hire someone like Plum Kettle, who can answer these letters much better than she can. She actually found an overweight girl who can see the world the same way her girls see the world.
Q: Kitty has risen to the top with Daisy Chain at Austin Media. How would you describe what she's up against and how that might shape her character?
A: Smiling and being polite and saying "yes sir" or "no sir," knowing that she was ten times better than any of the men at her job – I think that's what a lot of women face at any job. I equate it to Ginger Rogers in that she had to do exactly what Fred Astaire was doing but backward and in high heels. That's what women do in the workplace. We're constantly tap dancing backward in high heels to prove ourselves.
Q: In Episode 2, Kitty denies Plum the chance to attend the plus-size fashion show. What's the underlying dynamic at play between these two?
A: I think Kitty is truly aghast at what Plum looks like. They're selling makeup and diets and how to be a perfect woman, which means you're a size two, and you have flawless skin. When you first meet Kitty, and she sees Plum and says, "I always forget how beautiful your eyes are," what she wants to say is, "I always forget how fat you are." Kitty realizes she can cash in on the plus-size revolution, but god forbid Plum represents the magazine. That would never happen. Plum Kettle is the antithesis of Daisy Chain.
Q: What was it like filming in that huge beauty closet? Any behind-the-scenes details of how it all came together? 
A: That beauty closet is like me in a candy store. [Laughs] I was testing everything I could. My hands were so soft while we were filming! I'd actually never seen one,  and I didn't realize they actually exist. I was stunned. You feel like if you stayed there, you would always come out dewy and soft. It's remarkable, but it also makes you realize what a crock of sh-t it all is.
Q: What do you hope people connect to the most? What do you hope the show changes about any current narratives?
A: I think the character of Plum Kettle is going to change women's lives. You start with a character who is waiting for her life to start once she becomes a certain size and what Plum develops into is a person who realizes life can start right now. To give that kind of confidence to young women in a world that is so judgmental and so critical of every single thing on a woman's body, of the way they talk, of the way they think, of the way they're supposed to act – I think that this show is actually really enlightening for so many women across the board. And I don't just think it's overweight women. I think it's all of us. We all have our hang-ups. Everyone thinks someone else's life is better. Your life started the day you were born. Isn't that good enough?
I feel like this show is going to fire some people up. Even though this book came out in 2015, it could not be more timely. It's bizarre for me, having come from a show wherein we kept wondering if year after year it was going to stay relevant and year after year, yet another politician was caught with his pants down. It's the same thing now. Every month, it's another high-profile person who has abused their use of power. I feel incredibly fortunate that I keep getting led to these on-topic moments that sustain themselves through time because until we talk about it, it's just not going to change.
Read an interview with Joy Nash, who plays Plum.
Dietland airs Mondays at 9/8c. Click here to add a reminder to your calendar.
To get more exclusive interviews with the cast, sign up for the Dietland Insiders Club.
Read More