Q&A
Comic Book Men Q&A – Shawn Peterson (PEZ Visitor Center)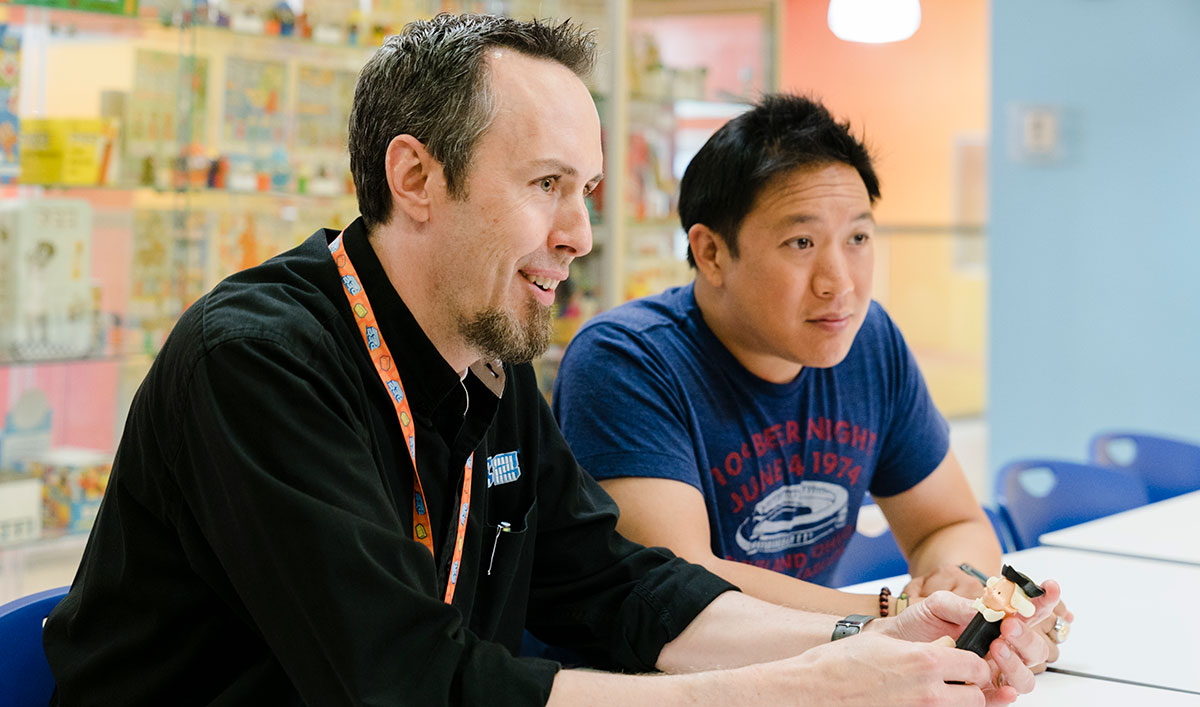 In the latest episode, Walt and the gang stop by the PEZ Visitor Center to visit Shawn Peterson, leading PEZ historian and the manager and curator of the Center. Shawn reveals how he pitched the idea of the Visitor Center to PEZ, the process of making a new dispenser model, and some new dispensers to come from PEZ.
Q: Let's go back to the beginning. Where did your interest in Pez come from?
A: Looking for something to do! I would go to flea markets with no real purpose or thought of what I was looking for and, one day, I started noticing PEZ dispensers. They were cheap, I liked them, I thought they were cool and they had characters. It was just a simple little thing and it felt nostalgic. I bought a few and that turned into what has become a lifetime collection and now a job and book and everything else.
Q: You were the one to pitch the idea of a Visitor Center to PEZ. What was that process like?
A: It was something I had come up with years ago. I was lucky enough to get an appointment with the company back in 2006 and they were kind enough to let me come in and share this idea. I did my best to research other companies where I was from that had the same business model, and I gave a basic presentation of what I thought would be a neat direction for the company that would hopefully be a different source of revenue and give a "face" to the company where people could come in and visit and share this brand. The CEO at the time listened and liked the idea and invited me to stay in touch with the company. It took a few years. It wasn't until 2009 before I got the call to talk about moving – I'm a transplant from Kansas City – and getting started. I'm so lucky! Not too many people get to go to work and actually enjoy what they do, much less have it be something they've dedicated a large part of their life to.
Q: How many of the dispensers on display in the PEZ Visitor Center from your own personal collection?
A: Most items on display with a few exceptions are from my personal collection. That was part of my presentation to propose this idea. I had learned enough about the company to know they didn't have a historical archive that was complete enough to do something like this. That was kind of the hook for me. My collection comes with me. When you talk about PEZ, it's supposed to be bright and fun colors. It's a candy factory, so how do you translate that to a space that people can visit? We did our best to figure out what PEZ should look like, visually.
Q: How many PEZ dispensers do you personally own?
A: I don't know! Many thousands. I lost track. Certainly, that includes lots of duplicates. I think one day I counted and came to somewhere around in the high 4,000s, but that doesn't include how many I have stored away and stuff in drawers and packed away.
Q: Do you have a favorite?
A: That changes all the time. I really like the full-body Santa. It's a unique dispenser and it's got the whole body and the boots. That was one of my favorites for a long time. I just think they look cool en masse. In the 1970s, they did a line of rubber head dispensers. There were superheroes and monsters that never made it to market, but the monsters have been a real interest to me. I keep buying them because they were hand-painted, so there's so many variations. I think I've got close to 60 of them and every one of them is just a little bit different.
Q: You were able to tell if Walt had a genuine Admiral dispenser. How have you developed the ability to spot all the nuances?
A: You just get to that point through experience and a number of years of being fortunate enough to see these things in person and touch them. The thing about this hobby is there's a significant amount of money involved and there are people always willing to take advantage of somebody else. You have to have a sense of what you're buying.
Q: Have you ever seen a fake dispenser that you couldn't believe people were trying to sell?
A: For the most part, people will have a sign up for the ones that are just so crazy that says it's fantasy or fake. Every once in a while, you might find something that isn't marked as such and you start a conversation to see what they know about it. It's hard to know something about everything. A lot of the dealers have multiple items, so they're not an expert on PEZ. They think it's rare and price it accordingly. Most people aren't in it to take advantage of anybody. They just truly don't know and have heard they can be worth a lot of money.
Q: What's been your most exciting PEZ find?
A: You never know where the next one is going to come from or where you're going to find it. That's what keeps you going out. It's always the thrill of the hunt. You're never satisfied. What makes it great is when things come to you. You can spend years chasing these things, but what makes it really fun is when someone calls you. A couple of my better pieces have come to me like that. One guy found me through my books. He came to a show and brought in a bag full of dispensers and I couldn't believe some of the stuff he had. One dispenser he had was a pineapple. You're lucky if you see one of two a year come up for sale and, generally, it's the same dispenser just changing hands. There aren't that many out there and nobody can explain why. There was also an orange and a pear in that series, which you can find more easily.
Q: You were a long-time collector before writing your most recent book, PEZ: From Austrian Invention to American Icon, and before working for PEZ. Did anything in your research surprise you?
A: I was pretty well-versed in the history, but the thing that was nice about this one was I had the contacts at the company so I could fill in the details I didn't have and paint a deeper picture than what I'd known before. It was nice to get into it a little bit further.
Q: You've collaborated on designing new dispensers. What's the process like?
A: It's fun! You bring your best thoughts of what would be fun and what makes sense for the brand and hits the perimeters for what we need. I've been lucky enough to have my hand in creating a couple different dispensers. The little PEZ pal boy you see in the Visitor Center was my first dispenser project I got to work on. Being able to contribute in some way is pretty neat.
Q: Anything you want to tease about upcoming PEZ news?
A: We've got some new stuff we just did with Crayola that I think is really fun. We're doing what looks like a giant Crayola crayon in dispenser form and the color will match the flavor. It's a really neat collaboration and something to look forward to.
Watch full episodes of Comic Book Men on amc.com and AMC apps for mobile, Fire TV, Xbox One, Apple TV, Roku and Chromecast.
Comic Book Men airs Sundays at Midnight/11c.
Read More