Q&A
Comic Book Men Q&A – Burt Ward (Robin From Batman)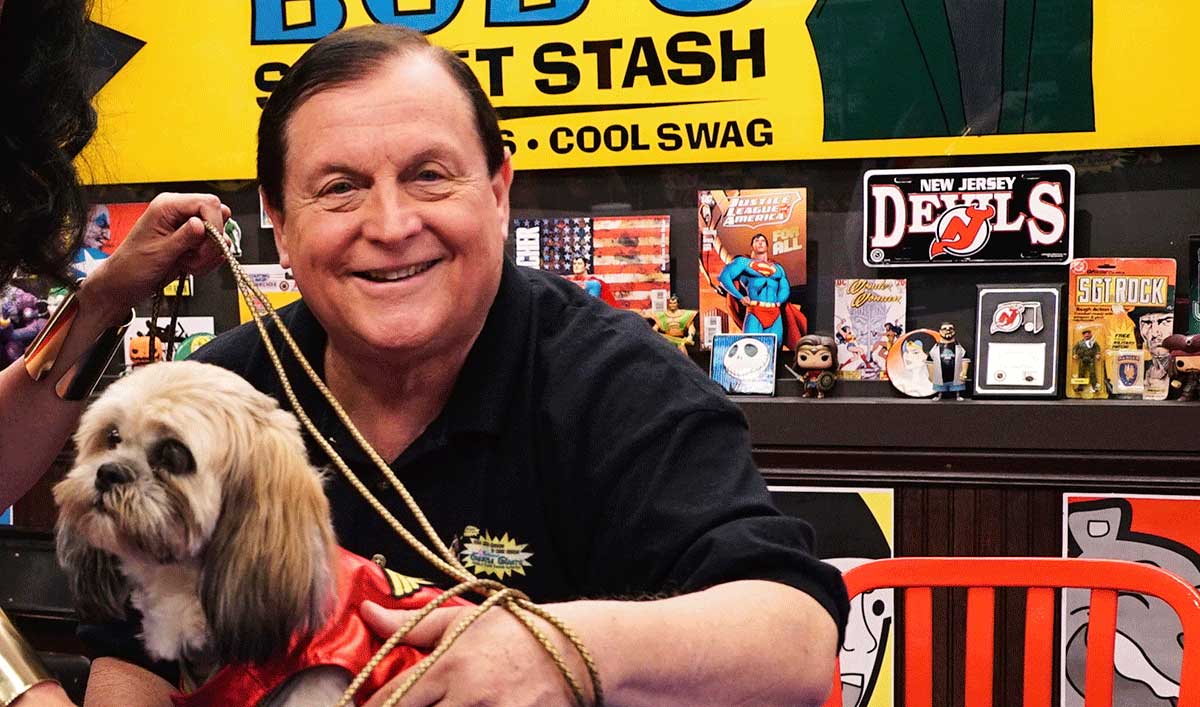 The original Boy Wonder from 1966, Burt Ward, stops by the Stash in the latest episode, and talks here about his time on the iconic Batman show and his latest superhero work rescuing thousands of dogs.
Q: You mention on the show that you beat out some incredibly stiff competition for the role, and were basically cast as Robin to be yourself — what did you mean by that?
A: When I was cast, it was pretty stiff competition. 1,100 young men. 1,100! I don't think I've ever heard of numbers like that. How do you even go about seeing 1,100 appointments?! It took a year. I screen-tested as myself in martial arts and also characteristically as Robin. After the screen test, they said, "Burt, we want you to be play the part. Would you like to know why? The reason why we selected you is because in our minds, if there really was a Robin, we think you personally would be it. We don't want you to 'act.' We want you to be yourself and be enthusiastic." So, that's what I did for 120 episodes.
Q: Since you had so much creative control, what sort of acting choices did you make that made Robin such a distinct character?
A: The mannerisms that you saw. For example, jumping over the door to get in and out of the Batmobile or standing up on the Batmobile and walking along the things on the back — which, I didn't know at the time, but George Barris, who created the car, and his crew were having a heart attack behind the camera. [Laughs] Hitting my fist into my palm — all of the things and characteristics that I did, there was nobody that directed me. It was all mine. Part of the reason it was that way was because this show had a very big crew and a huge issue with special effects and explosions and all the rigging to do and heinous things that villains were trying to do to Batman and Robin, so basically, they left Adam West and me alone. Other than saying, "Well you're supposed to be in the Batmobile now" or "you're supposed to be in front of the Batcomputer," we did what we wanted.
Q: What was it like working with Adam West?
A: One of the things that I believe made this show such a hit was Adam and I had a very special chemistry. It just clicked. His slow was my fast. Everything we did came out naturally. People ask me, "He's so stoic on Batman. He's so stiff. What is he like in person?" I say, "He's exactly the same!" [Laughs] He really took this seriously. He thought of himself in very grand terms, like Winston Churchill. He said to me one time, "I think I figured out what makes Batman work for me. I watched Charlton Heston played Moses in The Ten Commandments and I realized that was my role." [Laughs] Dead serious. So, I was the kid that never grew up and he was always calming me down. What a contrast, right? The greatest comedy teams in history have had contrast.
Q: Why do you think love for Batman has endured for so many decades, with new generations of fans?
A: It was the comedy that reached people. Kids loved the hero worship and adults loved the nostalgia, but there was an audience that was almost unreachable at that point in history and that was the teenagers and college kids. At that time, television was looked upon like, "Well, who would want to sit home and watch television? I want to go out on dates and drive my car." There weren't a lot of teenagers and college kids interested until Batman came. Then, those double meanings and those insinuations and suggestive ways of saying our lines – oh my God! The college kids and teenagers went nuts! In the very first episode, they put a line at the very beginning that set the tone of the entire series. One line of dialogue and it was so powerful. We were at this discotheque. I stayed in the car and Batman went inside. He's met by the maître d' who says, "Batman, can I get you a ringside seat?" and he says, "I think I'll just stand at the bar. I shouldn't wish to attract attention." [Laughs] That one line became the pivot point. People understood, "They're coming at me through the screens. They're teasing me. They're taunting me." That's what made Batman the mega hit. Plus, the color. Color television had only been around a short time and color broadcasts were in its infancy, but the bright colors on Batman and the signs like "Villains' Hideout." And whenever you saw the villains, they were always shot at an angle. I didn't find this out until the show was over, but I said, "Why can't your cameraman get that camera straight?" and they said, "Burt, you misunderstood the whole point. The villains were crooked! So, the camera angle was crooked!" That was a play upon play upon play. Now, it's in reruns. It was sold in blocks of 25-year reruns. No show had ever been sold like that.
Q: Now you run a dog rescue charity. What drew you to this cause in particular?
A: My wife and I both liked large breed dogs. I had Great Danes when I was young and my wife had an Irish Wolfhound. We got a Great Dane that needed to be rescued. Then, we heard about another one and we got that one. Then, we heard about others in people's homes. Just like people found us, we figured they'd find somebody to take their dogs, but they ended up giving it to a shelter and they were all put to death. These are big, gentle giants. The bigger they are, the sweeter they are. It was the first week in August of 1994 and I said to my wife, "We can't let these dogs die. How about we rescue these Great Danes just for a couple of weeks?" Maybe it was the Robin in me. My wife started rescuing pets when she was three years old, so we make a great team. In the first month, we had over 100 Great Danes here! I thought it was going to be three or four, but it was 162 puppies. My smart idea of a few weeks and it's been 24 years. At all times, we have a minimum of 45 to 50 — 24/7 inside our home. In our living room, our bedroom, our bathroom, our kitchen. We take them in, rehabilitate them, get them healthy, train them, find them a safe and loving home – and then we take more in. Over the 24 years, it's been 15,500 dogs.
Q: You recently played Robin again, providing his voice in new animated features. What is it like returning to the same character in the same universe?
A: I have a surprise for you: I never left! On the weekends, for 52 years, Adam and I would go out and sign autographs. The people that would come out to see us is just mindboggling. It's almost impossible to believe something could last so long and just be so successful. It is amazing and wonderful. I'm a little stunned when people say to me, "You're an icon" or "you're a legend." [Laughs] I'm not sure I want to be a legend. That sounds very prehistoric. When somebody meets me or Adam, a smirk comes across their mouth because they remember how we put them on when they were just eight or nine years old. There's such a warm love towards our show and us.
Watch full episodes of Comic Book Men on amc.com and AMC apps for mobile, Fire TV, Xbox One, Apple TV, Roku and Chromecast.
Comic Book Men airs Sundays at Midnight/11c.
Read More