Q&A
Comic Book Men Q&A – Jason Mewes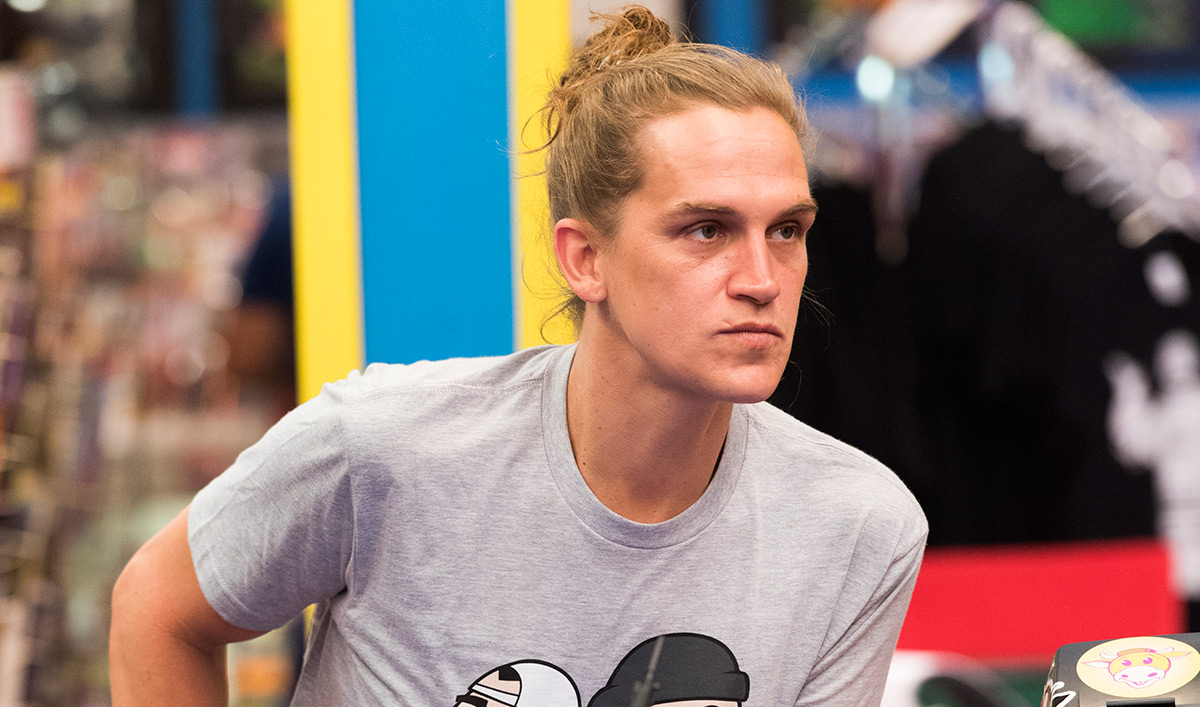 Guest star and honorary Stash staffer Jason Mewes teases the return of Jay and Silent Bob and talks about directing Kevin Smith for once in his upcoming feature film.
Q: In the episode, you show off your immense love of Deadshot. What is it about the DC Comics assassin that you like so much?
A: First and foremost, I just dig his costume with the wrist guns and everything. Then, when you get into the story, even though he's a mercenary, he won't go after women or kids. And in the first few issues, it's all about him protecting his home and family. I just really dug the whole idea of the miniseries when it first came out in that first Batman issue.
Q: What made you decide to get a tattoo of him on your leg?
A: I did that when I was in Dallas, and it was at a comic book/tattoo convention. One of the gentlemen there said, "Hey, I really want to give you a tattoo." And I said, "Oh, I already have a bunch," and he said, "I'll do it for nothing." I figured I was at a comic book show and one of my favorite characters is Deadshot, so I decided to do it. And the convention was just really cool because you get to see all kinds of awesome artwork — when the tattoo convention is at a comic book convention, a lot of the artists will show off all the Star Wars, Batman, Superman art they've done over the years, and it's cool to look at comic books in a new way through the art of tattoos.
Q: Kevin very recently announced a new Jay and Silent Bob movie on Facebook. Are you able to say anything about that?
A: Hopefully, it happens. I do know Kevin finished a script — it's awesome. I've read it, and it's very clever and very funny. He went to Miramax to talk to them about the rights and they seemed interested. So that's where we're at right now. Kevin has the script, he has someone putting a budget together, and it's really just now up in the air with Miramax, so hopefully Kevin will get a call from them to hear what they have to say.
Q: Have your fans said anything to you about the news?
A: Yeah, I just did a convention in Portland, and a lot of people came up and said, "Oh, we saw Kevin's Facebook post about [the movie] and we hope it happens!" You do get feedback before the movie even happens, so that's nice.
Q: You've also recently had a cameo in an episode of The Flash that Kevin directed. What was that experience like?
A: Oh, my gosh, it was amazing. Even more so than being on the show, which of course was fantastic, getting to walk around the set and see everything up close and personal and meet the cast was so much fun. I was like a kid at Christmas. I got to go to the Arrow set, which is on the same studio lot, and see where the Lazarus Pit was, and go into the home base with all the computers and where Felicity does all her magic. Then I got to go on the set of The Flash and see the Metahuman jail cells at S.T.A.R. Labs, where the team puts all the villains. It was awesome. Everyone was super nice — the crew, the cast, everyone was so friendly. It was an amazing time. And then to be on the show as a guest, it was great.
Q: Now you're working on directing your first feature film, The Madness in the Method. Where are you in that process?
A: We're editing now, and we might have to do another day in LA, but right now it's all wrapped up. We were out in London for a month, and we shot five days in LA. It was a blast. Everyone who was on board was really awesome and very friendly, and I got to work with people that I honestly didn't expect to want to be part of it, because we didn't have any money to pay anybody. We got Judd Nelson, Teri Hatcher, Dean Cain, Danny Trejo, Kevin Smith, Stan Lee, Binny Jones, Gina Carano and more amazing actors. It's a really awesome cast.
Q: You also play the main character in the movie. What were some of the challenges in balancing directing and performing?
A: I talked to Kevin about it, and it's definitely different if you don't have to memorize dialogue and you don't have to worry about all that. But there's still wardrobe and setting up the shot, so I would be talking about how "we're gonna do a two-shot here and set the scene up like this." Then I had to say, "Oh, I'll be back, I have to go to wardrobe and makeup," and then I have a three page scene coming up with lots of dialogue. Then, "Oh, we should use a steadycam here and a jib there." It was a lot of work and it was awesome, but it was a little more challenging than I expected to do both.
Q: What was it like directing all those celebrities as a first-time director?
A: It was nerve-racking for me. [Laughs] It was definitely a different beast. I'm used to working with someone as an actor, so it was odd to be the one to say, "Hey, can you do it this way?" You never want to give a line reading, of course, but it was weird talking to people in that way because I'm used to being spoken to in that way. And still, for me, even living in Los Angeles and getting to work with all the amazing people I've gotten to work with over the years — to have these amazing actors in my movie — still gets to me. Even Stan [Lee]. We've known him for 20 years, and we've done a bunch of shows and movies and conventions, and we see him a lot and we talk to him a lot. But, every time I talk to him, I get choked up a little bit because I still hear his voice saying, "Hello, Amazing Spider-Friends. On today's episode…" from the show Spider-Man and His Amazing Friends from when I was a kid. Knowing he created Spider-Man… for him to be part of the movie brought me to tears. I had a to walk away for a moment while we were shooting with him because I started to tear up. My buddy came over and said, "Is everything all right?" And I wiped away tears and said, "Yeah, bro, this is amazing." And it really was.
Q: What was it like directing Kevin for once?
A: It was fun. I had to mess with him a little bit because whenever he directs me, he's always like, "Okay, one more time, do this one more time, then do it this way." So even though the first two takes he did for his scene were awesome, I had to mess with him and have him do it three and four times. He eventually caught on to what I was doing, but we had a blast.
Watch the latest episode on Xbox One, Apple TV, Roku, AMC mobile apps and amc.com.
Comic Book Men airs Sundays at Midnight/11c.
Read More