Q&A
Comic Book Men Q&A – Jeff Nichols (501st Legion)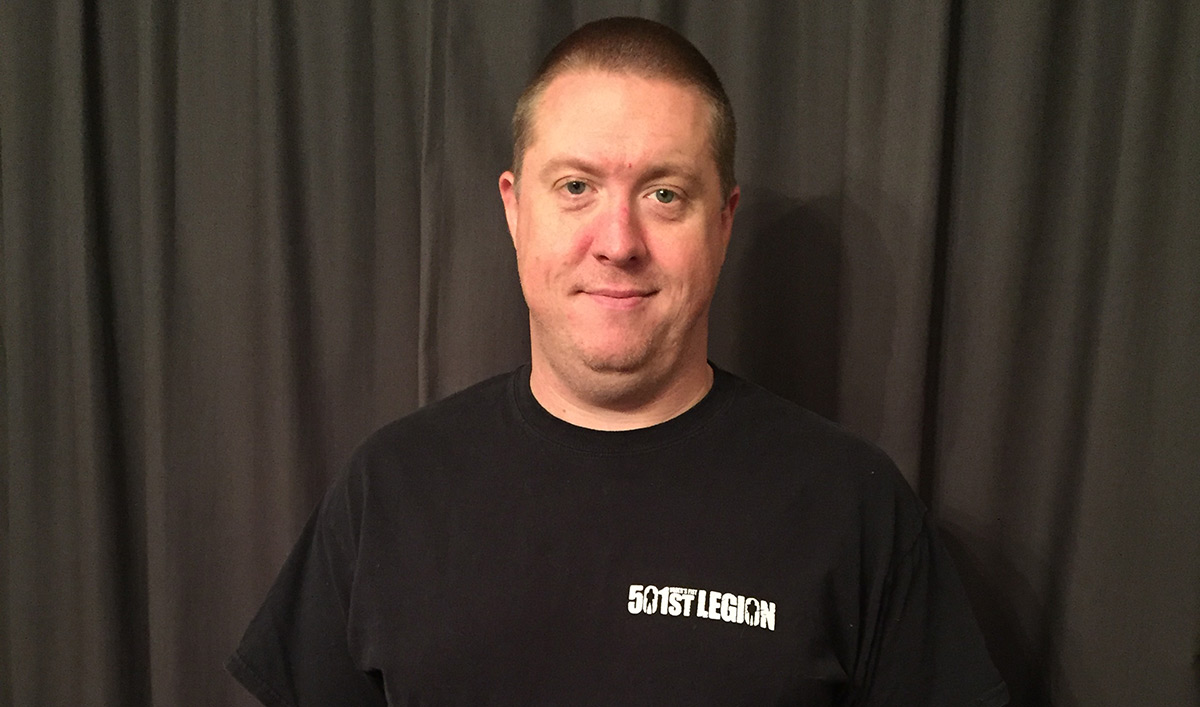 In the latest episode, the 501st Legion comes into the Stash to recruit more members to their charitable Star Wars fan organization. Here, Commanding Officer of the Northeast Region, Jeff Nichols, talks about how the group gives back and why they only portray characters from the Dark Side.
Q: You touch on this a little in the episode where you try to recruit the guys at the Stash, but can you describe the 501st Legion and what it does?
A: The 501st Legion is a worldwide organization that started back in 1997 by a guy in South Carolina named Albin Johnson. He and his friends wanted to do something cool for the special release of the new Star Wars movies that were coming out at the time, so they made some homemade Stormtrooper costumes. Just around that time is when there was a real rise in the internet, and as he was doing his research, he posted some of his pictures online and other people said, "Oh that's cool! I want to do something like that." It kind of started a cult following… we now have 10,000 active members worldwide. We have members in almost every country. It started really small and grew from there. Over the years, we started showing up at comic book conventions where there was going to be a Star Wars celebrity appearance. Over the last few years, we've been getting more involved in doing charity work: If someone was sick and needed to raise money, we'd try to show up; if there was a charity walk to raise money, we'd try to make appearances. It's become much more of a way to give back to the community.
Q: Why the focus on the characters and costumes from the Dark Side?
A: Well, first off, being bad is kind of cool. [Laughs] But back when Albin first started the group, he thought the Stormtroopers were really cool so he wanted to do that, and then another person thought Darth Vader was cool and wanted to do that, and from there it just really followed this focus on the Dark Side. We do have a sister legion called the Rebel Legion, which does good-guy costumes. At conventions, we kind of hang out together, but we are two separate organizations.
Q: When you do charity work with kids, are they ever put off by seeing the "bad guys," or are they just excited to see Star Wars characters?
A: It's a combination. You have a lot of people who just run over and hug us — even two- or three-year-olds, their eyes will pop out of their heads and they'll run over and hug us. Some kids do get scared and they're a little shy, but we get down on our knees or give them a high-five to show them we're good guys.
Q: How did you first get started in the 501st Legion?
A: Back in 2002, I went to an Attack of the Clones movie release and there were a couple members there dressed up. I thought it was really cool, and I thought, maybe one day I'll get to do that. Maybe over the next few months to a year, I saw a few magazine articles in the Star Wars magazine Star Wars Insider about the 501st, and I started reading up and learning that it was a real organization and it's not just about buying and wearing a costume. I figured, there's a charity aspect and I could help out some good people and good organizations, so I bought my costume in 2004 and joined in 2005.
Q: You're now Commanding Officer of the Northeast Region. What kind of work does your New Jersey garrison do to give back?
A: We do a lot of charity walks, raising money for autism awareness and other causes, and the Miracle Walk, which raises money for little kids born premature. We also do library events, where if the library has a focus on Star Wars, we can go to their events and either read to the kids or put on a little show. In addition to that, we occasionally do hospital visits when we can. Those are probably the three main ones that we do. This year, we had about 150 events, and we turned down about 100 or so, because oftentimes we get double-booked. Pretty much every weekend we've got about one event going on, if not two or three.
Q: What was it like for you and the Legion when it was announced that there would be a new wave of Star Wars movies?
A: It was pretty awesome. For years, all you kept hearing was that Lucas wasn't going to make any more movies. Star Wars has such a presence in pop culture that we figured we'd be OK, but that maybe we'd have some numbers dwindling and kind of fade away a little bit. And then Disney bought the franchise and said they were going to do more more movies, and we thought, "Wow, that's awesome!" So now we get to make new costumes and get new members.
Q: How important is the costume design aspect to the 501st Legion?
A: It's very important. We try to be as screen-accurate as possible. We had people do freeze frames on DVDs and Blu-Rays to focus in on minute details in the costuming — there's just some crazy attention to detail: getting the right screws on the right side of the helmet, the right color of the light. It becomes a part of what you do. The only requirement [to join the 501st] is that you have to be 18 years or older and you have to have a screen-accurate costume. And oftentimes, once people make their first costume, they get so into it that they want to make it more professional, and upgrade certain parts of it, or look into other costumes. A lot of people come to us for the first time and they say, "I want to be involved, but I've never made my own costume, I've never held a dremel to cut stuff with, or never used glue or magnets to put stuff together." So we show them everything that we know, and then they pass that to new members that come on.
Q: The 501st Legion has a surprisingly lengthy Trooper Survival Guide. What is "trooping" really like?
A: Trooping is pretty awesome. We have that guide because a lot of people come on and they don't know what to do or how to act, so we go into the minute details of things like, "Don't take your helmet off in public," because we want to be as movie-accurate as possible and make it look like we just came off the Star Destroyer. We don't want to look like Joe Schmo who just put a helmet on. We also really want to highlight staying hydrated because the costumes — especially the Stormtrooper and Darth Vader ones — have a lot of parts that make it easy to get dehydrated. We also have notes about how to act with fans and really portray that person.
One thing we like to do is stand at attention and not move, so we're standing guard or making a gauntlet. We've done a lot of conventions where we will walk with someone like Stan Lee and flank him into his panel. It looks really impressive when you have like 20 Stormtroopers walking into a place. So we try to provide a sense of security.
Watch full episodes online now, then sign up for the AMC Weekly to stay up to date on the latest news from the Stash.
Read More