Q&A
Comic Book Men Q&A – Walt Flanagan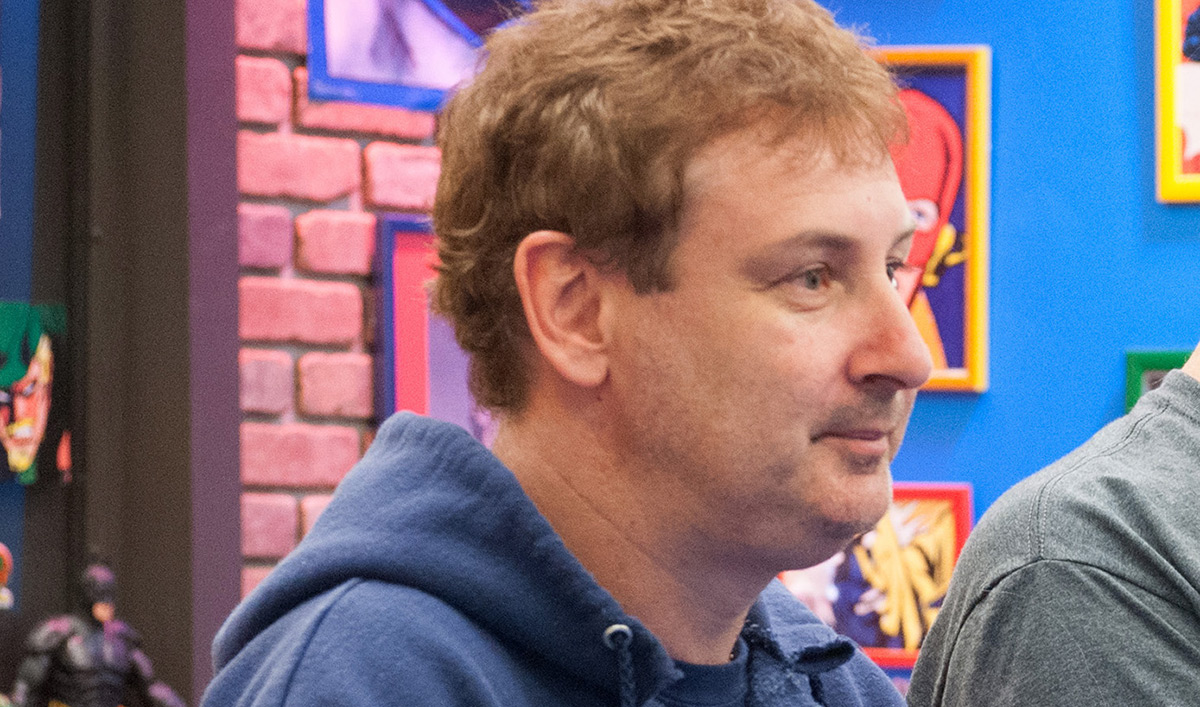 Walt Flanagan, star of AMC's Comic Book Men, talks about how the guys celebrated Mike's 15th anniversary at the shop and what it was like performing the Wookiee cry for Peter Mayhew.

Q: What can viewers get excited for this season?
A: I think they'll be excited to see an original cast member from the original Star Wars visit the Stash. We're also going to have a real life superhero who puts on a costume and goes out on the streets of Seattle. Also, transactions – lots of transactions.
Q: In Episode 1 of the new season, what was it like doing the Wookiee cry for Chewbacca himself?
A: Doing the Wookiee cry for Peter Mayhew was intimidating. That's the real deal there, and you don't want to show off your pipes and have him laugh at you! You have to really find a guttural scream and let it out to try to impress him.
Q: How did you make your Wookiee costume?
A: We didn't know he was coming until the last minute, so my costume was bits and ends of other things, and I had come up with something on the fly. I thought we all looked pretty good though.
Q: For Episode 2, how did you come up with the idea to take Mike out in the Batcopter for his 15th anniversary?
A: We were sitting down wondering what we could do that would be special and unique. Oddly enough, it was Bryan who happened to see the Batcopter was on tour at a fair in New Jersey. We decided to see if Bryan could get a private lesson, something one-on-one and special.
Q: If it's Mike's 15th anniversary, how long have you been at the Stash? Do you treat yourself at all?
A: I've been here since '97. I don't even want to do the math on that! Every day is a treat at the Stash. Every day, I'm treating myself to a job that I look forward to coming to and that I really appreciate.
Q: What have been some of your favorite items to go through the Stash after all these years?
A: A recent item that came in that I really dug was like a custom-made Andre the Giant/Big Foot mask with real, rooted hair. It was like a latex mask, and I just fell in love with it when the guy brought it in. From previous years, we've also had the Amsco Marvel World play set and a Mego Wolfman figure come in that I had never seen before. The really weird and obscure stuff that comes in gets my pulse going.
Q: Every episode, you and the guys ask each other "Which would you choose?" and "Would you rather…?" questions. Do you have a favorite to debate?
A: Oh boy. [Laughs] I think everybody who's into comics has pondered which superpower they would have if they could choose. That's the be-all and end-all.
Q: Last year, you said you're always changing your answer to the question: What's the rarest item to go through the Stash? Do you have any updates from the past year?
A: I'm actually still going to go with the baseball signed by the cast of Batman 66. It's really one of the coolest and rarest items to come through the doors.
Q: What comics are you reading now? What comics do you recommend to other people?
A: The Tooth from Oni press, I just adore. I also picked up Paper Girls from Image, and I'm really digging that. I'm also reading Captain America White by Jeff Loeb and Tim Sale, as well as the new Justice League by Bryan Hitch.
Q: What was your favorite comics-based movie or TV show from the past year?
A: I would have to say Ant-Man is the one I would pick.
Q: What comics-based movies or TV shows are you looking forward to this coming year?
A: The new Star Wars in 2015 and Batman v. Superman in 2016.
Comic Book Men airs Sundays at Midnight/11c.
To stay up-to-date on the latest Comic Book Men news, sign up for the AMC Weekly.
Read More