Comic Book Men
Comic Book Men – Q&A With Butch Patrick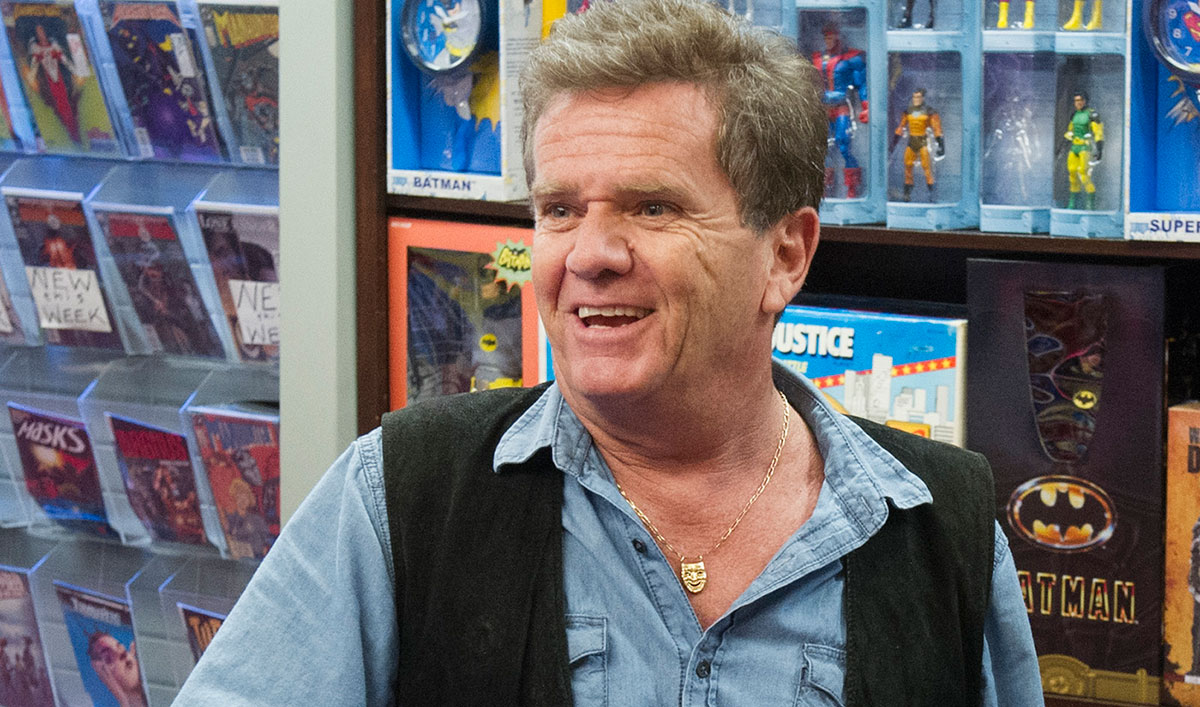 Comic Book Men guest star Butch Patrick talks about his favorite memories from playing Eddie Munster on The Munsters and interesting interactions with fans for over 50 years.
Q: In the episode, you mention that you had wanted to see the Stash for awhile. Did it live up to your expectations?
A: It was awesome, that was a real treat. I have a lot of friends in the area and I had heard about the store, so it was fun to finally see the legendary Secret Stash.
Q: In the episode, Walt confesses that he always wanted Eddie Munster to be his best friend. What is it like to hear that from strangers?
A: You know, I have run across that so many times. One of the most recurring things people say is "I used to run home from school because you were my imaginary family," and "I wanted to be your best friend," so Walt making that statement was cool. But I've actually heard it a bunch of times and it always makes me feel good.
Q: Do you have a TV character that you would like to be friends with?
A: I guess if I wanted to have a friend it would be fun to pal around with Uncle Martian on My Favorite Martian or have a palomino that talks like Mr. Ed.
Q: The Munsters has quite a devoted fanbase. Have you ever had a really strange interaction with a fan?
A: Well, there's a couple that built a Munster Mansion of their own to live in. They're an interesting couple and they built this huge Munster Mansion and that was really interesting. Also, I'm a car guy, so I've run across a lot of fans in the hot rod circles who have built their own Munster cars, like the Dragula, or were inspired to build hot rods because of their love affair with The Munsters which started them on that path. I get a lot of people who come up to me with my likeness tattooed on them. Those are always really interesting stories — seeing people with your face on their forearm.
Q: In the episode, you mention that wearing the suit was the worst part about playing Eddie, but what was the best?
A: Riding around in the car. Whenever we did an episode with the car in it, two things happened. One, I love hot rods, and I always had the best seat — I would sit way in the back and up high, so I could see everything. And two, we got to shoot outside. About 95% of the show was filmed indoors on a dark and dingy soundstage, but whenever we used the car we would go outside, so that was a double whammy for me.
Q: What are some other favorite memories from your time on The Munsters?
A: I would just explore the entire studio which was at my disposal. That's what kids do, they love to explore at that age. I would go to the backlot and visit the guys in The Virginian and the Wagon Train sets. Being able to wander around without any supervision — since everybody knew I was supposed to be there in my Eddie Munster make-up — that was really fun. And a lot of major stars came in, over the two-year period. All the biggies would be working on the lot and you'd see them at lunch and you'd see them working and that was really cool. That, and going to the special effects and makeup labs and seeing what they were up to. It was a cool two-years, no doubt about it.
Q: Which sets did you enjoy the most?
A: Probably the biggest special effects that I enjoyed were in Grandpa's Dungeon. There was a lot of bubbling and dry ice stuff, a motorized bat flying around, and a lot of explosions down there. It was the first place I would take people when they'd visit the set. They always wanted to see Spot, so I'd lift up the staircase and show them what was there. I'd take them to the coffin phone booth, and then I would take them to Grandpa's Dungeon.
Q: You tell Walt and the guys that you were given Wolfie a few years after the show ended. Have you acquired any other items from the show?
A: I actually just acquired a bunch of items from a collector friend. He is an older gentleman now and he wanted to sell of some of his stuff, and he said, "Do you know anyone who might want to buy my collection?" which included the Woof Woof doll and the Stingray bike and it was a reasonable price so I bought it.
Q: What does it feel like to have people gush about this show 50 years later?
A: It's really, really good. I was just at a meeting with a guy at Daytona Dodge — because I have replicas of the Dragula and the other Munster cars as well — and we were discussing it. He said that before I came in, he got his staff together and asked them all if they'd heard of The Munsters, and every one of them, no matter if they were 20 or 60, all said yes. I told him, it's kind of like Beatles music: when you grow up and your parents were listening to it and you liked it, then you pass it on to your kids. The neat part about The Munsters is it's good quality viewing for, what I like to say, "kids of all ages."
Comic Book Men airs Sundays at Midnight/11c.
Read More