Comic Book Men
Haley Joel Osment Talks Up Kevin Smith's Tusk; Nerd Reactor Checks Out Season 3 Finale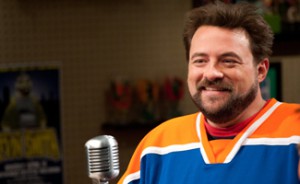 This week, Tusk's Haley Joel Osment talks about the movie and what Kevin Smith is like as a director, while Nerd Reactor takes a look at the Season 3 finale. Plus, Clerks is considered one of the best movies made for $1 million or less. Read on for more:
• Haley Joel Osment, who stars in Kevin Smith's Tusk, tells A.V. Club that the movie has the potential to be one of the director's "most broadly appealing films" with "the perfect midnight monster movie kind of vibe."
• Nerd Reactor previewed the Season 3 finale with a clip of Kevin Smith, et al., talking about Stretch Armstrong.
• Female First calls Kevin Smith's Clerks (which "kicked off Smith's career in fine style") one of the great movies that was made for less than a million dollars.
• Unleash the Fanboy deems Kevin Smith's Tusk one of four horror movies "that will gut you alive in 2014."
• For a recap of Season 3, Episode 16, "Knights of the Stash," check out Graphic Policy.
To keep up-to-date with the latest Comic Book Men news, sign up for the Comic Book Men newsletter.
Read More