Comic Book Men
Star Trek's Nichelle Nichols and Superman Dean Cain to Appear in Upcoming Episodes of Comic Book Men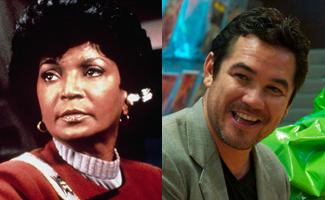 Kevin, Walt, Bryan, Michael and Ming are back behind the counter and in front of the microphone as Comic Book Men returns for the second half of Season 3 on Sunday, February 9 at Midnight/11c on AMC. The show follows the antics in and around master fanboy Kevin Smith's Red Bank, New Jersey comic shop, Jay and Silent Bob's Secret Stash, as customers geek-out over mind-blowing pop culture artifacts and iconic celebrities and personalities, including Dean Cains star of Lois & Clark: The New Adventures of Superman and Nichelle Nichols, Uhura from the original Star Trek series. Whether it's about buying and selling memorabilia or embarking on wild adventures away from the store, the men of The Stash share all the juicy details with Kevin through their hilarious podcast, which is woven throughout the series.
On the premiere episode, "Superman's 75th," The Man of Steel is turning 75 and the boys from The Stash plan to celebrate in style! The guys transform The Stash into the ultimate Superman party — complete with a giant Superman "S" ice sculpture as the center piece. Walt and the boys get dressed as characters from Superman lore. Meanwhile, Walt teases that he's invited a special mystery guest — the party flips when Dean Cain shows up!
Comic Book Men returns Sun., Feb. 9 at Midnight/11c on AMC.
Read More