Comic Book Men
Ming Chen Hails Stan Lee; Cryptozoic Man eBay Bids Rise After Mid-Season Finale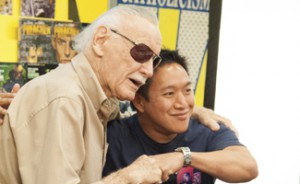 This week, Ming Chen, talking to 411mania, calls Stan Lee the planet's "coolest human being," while issues of Cryptozoic Man enjoy rising bids on eBay after last week's Comic Book Men. Plus, Den of Geek and Hypable previewed the mid-season finale. Read on for more:
• Ming Chen talks to 411mania about Comic Book Men and meeting Stan Lee, "bar none, the coolest human being on the planet."
• Bleeding Cool reports that eBay bids for issues of Walt Flanagan and Bryan Johnson's Cryptozoic Man comic are going "insane" after being plugged on Comic Book Men's mid-season finale.
• Den of Geek and Hypable offered preview photos from the mid-season finale, which takes place at Baltimore Comic Con.
• Chris Parkinson, who placed the ad that inspired Tusk, tells The Independent that Kevin Smith's film is "based on my original idea but has a bit more of a sinister twist."
• ComicBook.com reports that Kevin Smith has included a first look at Justin Long and Michael Parks in a tweet about the editing of his upcoming film, Tusk.
• For a recap of the mid-season finale, "Cryptozoic Launch," check out ComicBook.com and TheTwoCents.
Read More