Comic Book Men
Comic Book Men Q&A – Walt Flanagan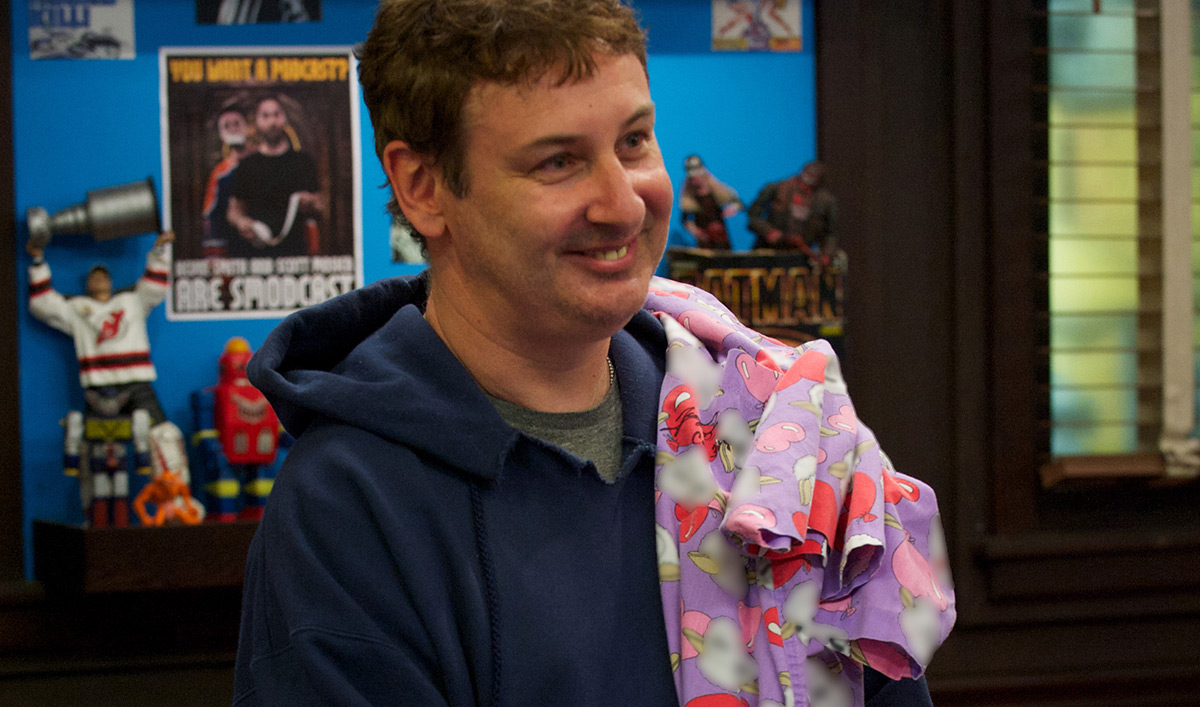 Comic Book Men star and Jay and Silent Bob's Secret Stash manager Walt Flanagan talks about creating the Cryptozoic Man comic book and meeting fans at Baltimore Comic-Con.
Q: What inspired the creation of the Cryptozoic Man character?
A: I was always interested in real-world monsters, ones that have a history of sightings. These aren't creatures of literature, these are creatures that are based on people's accounts of seeing them. No one has been able to prove that they don't exist, but no one has been able to prove that they do exist either. I once picked up this old Plastic Man cartoon from the '80s in a dollar store. In one of the episodes, there was this villain who turned into half-man, half-Bigfoot, and I just fell in love with that. So I thought I'd take that concept one step further and add these other creatures in — we'll make him one quarter man, and the rest made up of all these creatures.
Q: Have you ever had a creature sighting?
A: No, not as of yet. I mean, I'd love to, it's cool and spooky. But I'm definitely a non-believer.
Q: What was it like going through the creative process for Cryptozoic Man with the guys from the Stash?
A: It was a lot of fun. It wasn't like anything we'd done before. It was cool to throw stuff on the wall, see what sticks, and try to create a stew of something that everybody has a hand in.
Q: What were some of the more outlandish ideas that got thrown out there and by whom?
A: One of the guys wanted to have a deformed dwarf involved in the story — I think that was Ming. That didn't make the cut. There was also talk of going to a casting department and hiring a dwarf actor for the pitch, but that talk never got past the ridiculous stage. Although, I kind of liked the idea of the deformed dwarf. Maybe down the road.
Q: You guys signed autographs at Baltimore Comic-Con. What was that like? 
A: It's pretty cool to see people picking Cryptozoic Man up because it looks cool, or picking it up because they watch the show. It really doesn't matter as long as they pick it up.
Q: You said about Baltimore Comic-Con, "The costumes only are worth the price of admission." What was the most interesting costume you saw while you were there?
A: I thought one of the neatest ones was that guy from Avatar who was on stilts. His costume was so elaborate and he put so much work in it, it would have been a crime for him not to make it on the show.
Q: Have you ever had a costume that you went all-out on?
A: As a kid on Halloween, I remember going all-out and trying to get the best Kiss costume in the neighborhood. That's about the only time I can recall making that kind of effort.
Q: Were you Gene Simmons?
A: [Laughs] No, actually I was Paul Stanley. Gene was way too hard. If you wanted to have a good Gene costume, you needed chains, you needed snake boots. You needed things that in 1980 weren't easily accessible. But with Paul Stanley, you get some black stockings, cut out the bottom, paste some glittery stars on, and you're good to go.
Q: Kevin Smith surprised you guys at the Con. Did he have any advice for you regarding meeting your fans?
A: No, but I've been around him long enough to see how much respect he has and how giving he is to anybody who's good enough to come out and see him. He treats them well. So that's something that you always want to do.
Q: What would you say is the nicest thing you heard that day?
A: People who said that they were so impressed by Cryptozoic Man that they were going to make an effort to find the rest of the issues as they're released, that they were so tickled by it that they were definitely going to pick up the whole series.
Q: How is the rest of Cryptozoic Man series going?
A: Good! I'm working on the last issue right now. The second issue comes out sometime around Thanksgiving I think. So just trying to get that finished.
Q: We've been asking all of the guys this "what if" question like you do on the show: What if you had to be trapped on a desert island with just one of the Stash guys — who would you pick and why?
A: That's a good one. Bryan is my oldest friend, but he'd be useless. As much as it pains me to say this, I think the one who would be most useful would be Ming. I could see him finding a cactus and a rock and making some sort of device where we could call and get help. He'd do something! If I sent him out on a mission to find civilization, I know he'd get there. So I have to say, even though I give him a hard time, in that particular situation, I'd have to choose Ming.
Read More