Comic Book Men
Star-Ledger Interviews the Comic Book Men; Kevin Smith Hosts Superman Fan Event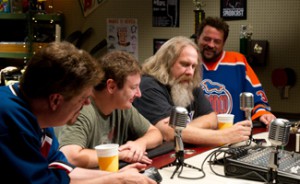 This week, the Comic Book Men cast chats with The Star-Ledger, while Kevin Smith hosts a Superman-related fan event. Plus, Walt Flanagan chats with Big Shiny Robot. Read on for more:
• The Star-Ledger talks to the Comic Book Men to figure out what goes on at Jay and Silent Bob's Secret Stash, "one of America's most recognizable comic book shops."
• Access Hollywood and ScreenCrush have accounts of a fan event hosted by Kevin Smith that featured some intel on the tentatively-titled Batman vs. Superman. ComicBookMovie.com has a video of the Q&A fan event, which featured Zack Snyder, Amy Adams and Henry Cavill.
• Big Shiny Robot interviews Walt Flanagan, who "spoke about Star Wars, Comic Book Men, Batman comics, and geek culture in general."
• TheWrap previews "Pity the Fools," which features Kevin Smith reminiscing about a PSA with singing drugs.
• Hypable has a sneak peek of two photos from "Pity the Fools."
• According to TheWrap, Kevin Smith says in the Hollywood Babble-On podcast that he got a look at the Batsuit that Ben Affleck will wear in the Man of Steel sequel and it's "mind-bending."
• For a recap of Season 3, Episode 5, "Pity the Fools," check out ComicBook.com.
Read More