Comic Book Men
ComicBook.com Previews Comic Book Men; Kevin Smith Shares Details From New Film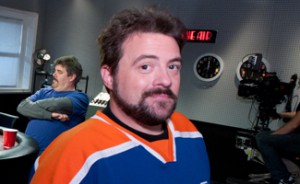 This week, ComicBook.com previews the latest episode of Comic Book Men. Plus, Kevin Smith shares details from his new film, Tusk. Read on for more:
• ComicBook.com has an exclusive clip from "Walt's Big Gamble," while Comic Book Movie features photos from the same episode.
• Dread Central highlights a photo shared by Kevin Smith from the set of his upcoming film, Tusk.
• ComicBook.com reports that the man who provided the inspiration for Tusk has been made a producer on the film by Kevin Smith.
• According to Bloody Disgusting, Kevin Smith tweeted a photo of the walrus creature diagram from the set of Tusk, which wraps production this week.
• For a recap of Season 3, Episode 6, "Walt's Big Gamble," check out ComicBook.com.
Read More