Comic Book Men
Comic Book Men Q&A – Tom Felice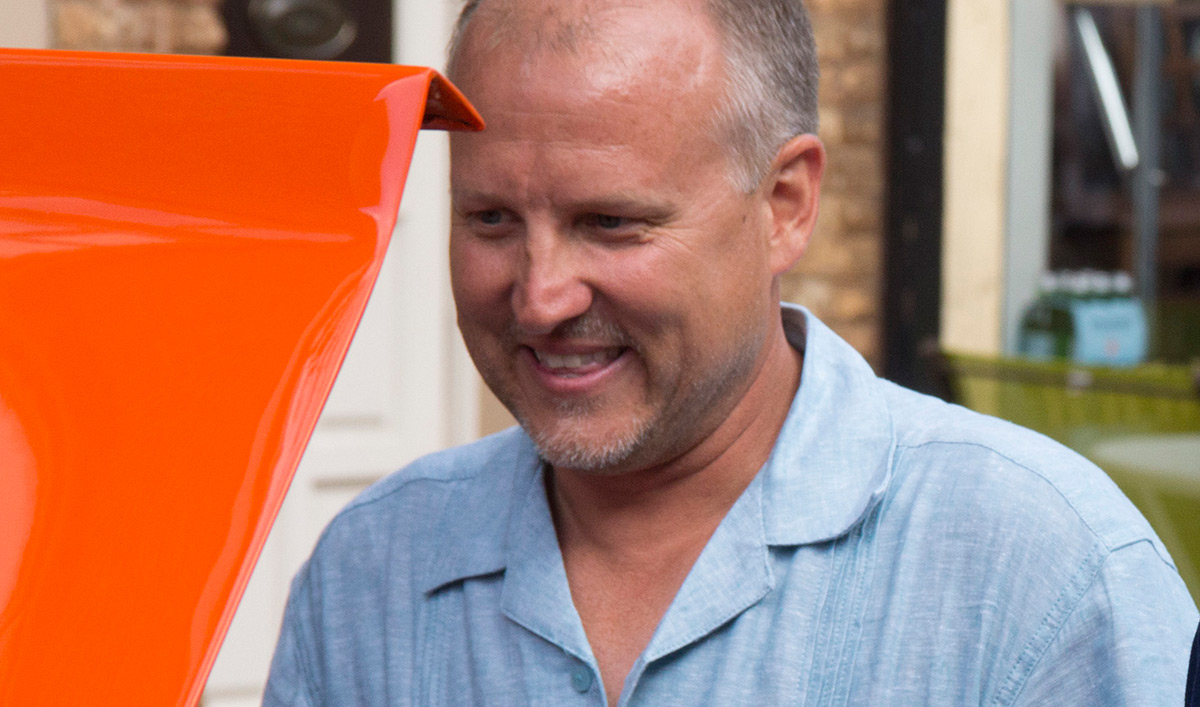 The Dukes of Hazzard enthusiast Tom Felice talks about his appearance on Comic Book Men and building his very own General Lee.
Q: When did you start collecting The Dukes of Hazzard memorabilia?
A: After I built the car. It was a green hunk of junk when I bought it. I originally bought the car to make a Daytona out of it. When my son was born, I totally changed gears and went in a different direction. My buddy sent me an email saying, "You can buy a sticker kit online for the General Lee." I said, "No way!" He said, "Yeah — the 01, the flag, you can buy it all for $65." A friend of mine did all the bodywork and paint on the car. The irony is the sticker kit that made me decide to do the car never ever ended up getting used because the painter decided to paint everything on my car instead. All the stickers ended up in my son's room, in the garage, all over the place in the house.
Q: How long did it take for you to convert that old Charger into the General Lee?
A: Altogether, it took two years and two months.
Q: What was your favorite moment from being on Comic Book Men?
A: Well, there are two. My son getting to be in the background — seeing him so happy, getting his picture taken, that just completed the whole circle for me. Also, watching Ming, Bryan and Mike all cram in the back seat of that car, like sardines [Laughs]. Oh, that was priceless.
Q: Is your son also a big fan of The Dukes of Hazzard?
A: He'll sit with me and watch the show. But, like all kids — even me when I was little — he just really likes seeing the car jump through the air and sliding through the dirt and stuff. Then he's like, "Can we do that?! Can we do that?!"
Q: Do you do that?
A: Uh, no.
Q: You take the General Lee to a lot of car shows. How did you start doing that?
A: In 2011, I saw that John Schneider (Bo Duke) was going to be at Comic Con in Philly. I also saw that the Batmobile, the Scooby-Doo van and the Back to the Future [DeLorean] were also going to be there. So I thought, "Well, there's a major factor missing there." So I took it upon myself to blast everybody at Comic Con, and they got back to me asking for pictures of the car. Then when they saw them they said, "We want it!" So I was parked next to John Schneider all weekend at Philadelphia Comic Con. My son and my wife got to meet him. I've gotten to meet a lot of great people, including every single person who's still alive from the original TV show. They've either been in the car, used the car, or signed the car.
Q: What's the best reaction you've gotten in public from driving your General Lee?
A: That General Lee has been so much fun. It's like my own parade every time I take it out of the garage. People wave, they honk the horn. They take pictures, which can sometimes be scary. They don't seem to care that they're driving while trying to hold the camera and take a picture of it, doing 60 on the highway.
Q: Aside from the General Lee, what's your favorite item in your The Dukes of Hazzard collection?
A: The guy who had the Dukes' farmhouse on his property in Georgia was told that the house was deemed, no pun intended, a hazard. Then he found out it would cost him $15,000 to take it down. So he got the idea to charge people for sections of the farmhouse. I know Ben Jones (Cooter) went there and got some items, and other stars from the show did too. I got a piece of the farmhouse wall, and it's got a notary public seal of authenticity. When I went to Comic Con, I brought it with me, and John was the first one to sign it. Eventually, I got the whole cast to sign that piece of wood. I display it along with the car when I go to shows.
Q: Is there an item that you don't have in your collection that you'd love to have?
A: I think the General Lee pedal car would be the neatest thing. It's actually a General Lee that a child can sit in and pedal to drive. I could have parked it next to my car at shows and my son could drive around in it. That would've been a kick for him. And now my daughter could drive it too. But the price is a little elusive for me. Also, when you pay $1,000 for something like that, do you let a kid get in it and drive around the driveway? Or does it just sit as part of a collection in a room? That's a tough call. So I've decided I'll just let that one remain something out of my grasp.
Read More