Comic Book Men
Comic Book Men Answers Yahoo's Questions; Mike Zapcic Appears on Talking Dead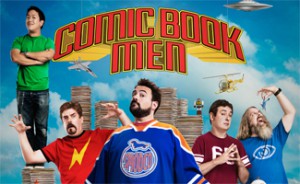 This week, the Comic Book Men answer Yahoo TV's questions, while Make Zapcic appears on Talking Dead. Plus, Ming Chen chats about playing a priest in a movie. Read on for more:
• Comic Book Men's cast answers a POPsessions questionnaire from Yahoo TV, which also shares five things you may not have known about the show's stars.
• In a crossover appearance, Mike Zapcic shows up on last week's Talking Dead to ask a question about The Walking Dead's Carol and Bob.
• redbankgreen interviews Ming Chen about appearing in Josh Bruce's feature film debut, Burn in Hell!, playing a priest.
• Monsters & Critics reports that the Comic Book Men cast showed up at Stan Lee's Comikaze Expo last weekend.
• ComicBookMovie.com and Zap2it both feature clips from last week's episode, "USS Ming."
• For a recap of Season 3, Episode 4, "USS Ming," check out ComicBook.com.
Read More