Comic Book Men
Kevin Smith Salutes Walt Flanagan; Justin Long Joins Kevin Smith Film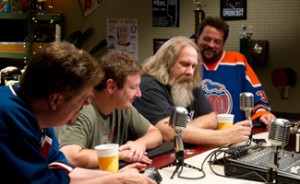 This week, Kevin Smith gives credit to Walt Flanagan. Plus, Justin Long chats with New York about his role in Smith's Tusk. Read on for more:
• Talking to Bleeding Cool, Kevin Smith credits Walter Flanagan as "the guy that showed me that you could enjoy comics out loud and proud."
• Justin Long talks to New York about joining Kevin Smith's Tusk.
• According to The Hollywood Reporter, Kevin Smith's movie revue web series, Spoilers, will produce a second season exclusively for Canada's The Comedy Network.
• Brian O'Halloran, who made his feature film debut in Kevin Smith's Clerks, tells Dearborn (Mich.) Press and Guide that he'll make a Comic Book Men appearance for the second season in a row.
• For a recap of Season 3, Episode 3, "Super Friends," check out ComicBook.com.
Read More